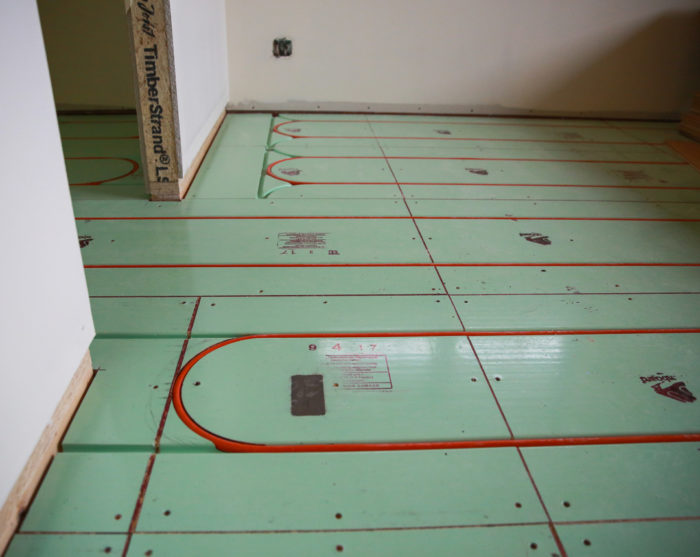 Steve Mackay is already committed to radiant floor heat in the house he is building. Why not, he wonders, use the same system for cooling?
"I've read a lot of the pros and cons about using radiant floor heating in a well designed home and I understand that we probably should go with forced air," Mackay writes in Q&A post. "There are a number of reasons why I am still looking at radiant floor heating, most of which are not technical justifications but more because we really really want it . . . Having made a decision on radiant floor heating, does it make sense to go with radiant floor cooling?"
In areas with high summer humidity, water vapor can condense on cold water lines. Similarly, water can accumulate on flooring cooled by a radiant floor cooling system. But Mackay writes that he is building in Climate Zone 6A where humidity ranges between 20% and 35%. The house will be well insulated and well sealed — walls insulated to R-30, the roof insulated to R-60, and airtightness at 1.5 ach50. In other words, Mackay is planning a much better than code-minimum house.
Mackay refers to an article that mentions several successful radiant cooling systems. But they were in airports and schools, not private homes.
"Is this even a thing in a residential home?" Mackay asks. "I understand that we will have to be careful about set points to ensure we don't have condensation buildup on the floors. We are planning polished concrete floors on the basement and on the first floor. (I understand that extra structural support is required for the first floor.) There will be no wood or installed carpet; we will likely have a few rugs here and there. It seems like radiant floor heating combined with a cooling solution might make…
Weekly Newsletter
Get building science and energy efficiency advice, plus special offers, in your inbox.
This article is only available to GBA Prime Members
Sign up for a free trial and get instant access to this article as well as GBA's complete library of premium articles and construction details.
Start Free Trial
Already a member? Log in