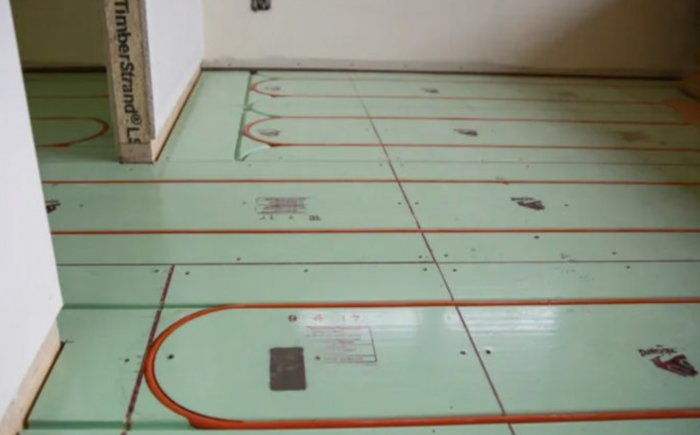 Hydronic heating systems—where water is the medium for transferring heat—use one of several types of radiators, including wall-mounted, baseboard, and those old cast iron classics that stand on the floor. But when someone says "radiant heating" they are usually referring to radiant-floor heating, a heat distribution system that relies on tubing that's completely hidden from view.
The absence of visible radiators is one of the attractive characteristics of these heating systems. They also run soundlessly. Heat is distributed evenly, quietly, and without the annoying off-and-on modulation of a forced-air system. Homeowners won't have to arrange furniture to accommodate hot-air registers or bulky radiators. It's basically a set-it-and-forget-it system.
There are some downsides, too. Among them are high cost, the difficulty of repair in some types of systems, and the inevitable disappointment among homeowners when they discover that their feet will not, in fact, feel warm all winter long.
In short, opinions on these systems are divided. Some homeowners love them. Some designers don't see a place for radiant-floor heating systems in well-insulated, tightly built homes. Martin Holladay, the former editor at Green Building Advisor, even objects to the term "radiant-floor," preferring instead the longer but more accurate phrase "in-floor hydronic tubing."
But let's start with a look at how these systems are put together, consider the electric radiant alternative, and then turn to the question of whether the same network of tubing that delivers heat in the winter also can cool the living space in summer. (Much of the technical information cited in this article comes from previously published work by Holladay, Alex Wilson and others, which is referenced in the text or in the "Related Articles" list at the bottom of the page.)
Tubing is typically in the floor
Tubing can be placed in the walls or ceiling (Messana is a company that offers this type of system), but radiant floor heating systems are usually built around tubing that's either stapled to the under side of the floor sheathing (staple-up systems) or embedded in a layer of concrete or gypcrete. Alternately, tubing can be placed in special kind of grooved underlayment before it is capped with the finish flooring.
Tubing is made from a very tough plastic called PEX, short for cross-linked polyethylene. Loops of the tubing are connected to manifolds which are, in turn, fed by a supply line from a boiler or a water heater. The water circulating in the tubing is usually at a lower temperature than water that would supply baseboard or wall-mounted radiators. Even in the dead of a New England winter, circulating water might be only about 80°F.
Concrete floors have a lot of mass, so they are slower to warm up and slower to cool down than a wood floor. Radiantec, a company that specializes in radiant heating systems, says a concrete slab installation is the simplest and most efficient option, as long as it is done correctly. Tubing also can be placed in thin slabs that are installed over wood framing (Radiantec calls these "suspended slab" systems). One thing to keep in mind is that when tubing embedded in concrete springs a leak, repairs will be difficult, messy, and expensive.
Staple-up systems sometimes include aluminum transfer plates that help warm the floor more efficiently. Joist bays may also get a reflective barrier and a layer of insulation to direct heat upward. Warmboard makes a structural subfloor panel that incorporates a reflective layer. It's grooved to accept PEX tubing.
Hey, my feet are chilly
Homeowners who think a radiant-floor system will guarantee warm feet all winter long may be in for a surprise. In a well insulated house, this is probably not going to happen.
Even on a very cold day the floor will be only a few degrees warmer than the room. If the thermostat is set for 70°, let's say, the floor temperature will be 75° or so—a lot cooler than the bottom of an unshod foot. If the slab were warmed to the point where it felt like your favorite pair of fleece slippers the room would be overheated.
Well-insulated houses that have been carefully air-sealed have low heating loads. A radiant floor system powered by a boiler that produces 75,000 or 80,000 Btu per hour is overkill, what Theodore Bernstein would call an "atomic flyswatter." The case for an expensive heating system built around a powerful boiler begins to collapse as the building enclosure becomes better insulated and air-sealed.
Here are a few other issues that frequently come up:
Are radiant floor systems cheaper to operate? Water temperatures from the boiler can be lower, but savings are unlikely to be significant, according to Wilson's research. For one thing, circulating pumps that move the water through the tubing have to run a lot.
Although some proponents of radiant-floor systems argue that homeowners feel comfortable with lower thermostat settings, there's no data we know of supporting this claim.
Radiant-floor systems installed in slab-on-grade houses need sufficient insulation beneath the slab to avoid losing a good deal of heat to the earth. If this need isn't addressed, it could potentially mean higher, not lower, energy consumption.
Does the tubing have to go in the floor? No. Radiant panels installed in the ceiling are not as common, but as Lloyd Alter notes in this discussion, panels made by Messana have some advantages. They are easier to install, can handle higher water temperatures, and have less of a lag when temperatures are adjusted. Plus, they can be used for cooling as well as heating, providing indoor humidity levels can be controlled.
The electric option
Floors also can be heated with electric mats. Because electricity is a relatively expensive fuel in many parts of the country, electric radiant heat typically is relegated to small areas—a bathroom, for example, where you just want spot heating for short amounts of time.
Electric mats can be installed under tile in a bathroom or mudroom. There also are versions designed for installation under wood, vinyl, and laminate flooring. Nuheat is one manufacturer.
The economics of electric heat depend a lot on whether the house has solar panels that can offset the cost of electricity through net metering, as well as how tight and well insulated the building enclosure is. That's probably not a big deal when a couple of warming mats are installed around the house.
What about radiant cooling?
Radiant-floor heating systems usually do not include a provision for cooling. The same tubing that circulates hot water in winter could potentially be used to keep people cool in the summer. But while these dual systems are entirely possible, they are, at least so far, rare in U.S. homes.
One reason is the potential for water damage as moisture in the air accumulates on surfaces that have been chilled below the dew point. To avoid this, indoor relative humidity has to be controlled, a more difficult job in parts of the country where latent cooling loads are high. Installing a dedicated dehumidifier is one solution.
Finding a mechanical contractor to design and install a radiant cooling system probably won't be easy, either. But radiant cooling has been widely used in Europe, according to this article posted at Heating Plumbing Air Conditioning, and has been successfully installed in a variety of commercial buildings in Canada.
_________________________________________________________________________
Scott Gibson is a contributing writer at Fine Homebuilding magazine and Green Building Advisor.
Weekly Newsletter
Get building science and energy efficiency advice, plus special offers, in your inbox.