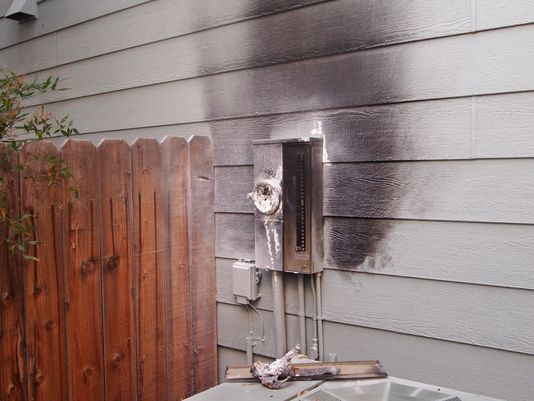 The Nevada Public Utilities Commission has opened an investigation into the safety of smart meters after fire chiefs in two cities, Reno and Sparks, connected them to nine fires in their communities, The Reno Gazette-Journal said in a story posted on October 16.
NV Energy has installed smart meters on more than 1 million homes in Nevada since 2011, with a total of 70 of the devices reported as "consumed," meaning the meter housings were either burned or breached.
The PUC has asked the utility to provide documents with information on meter failures, including the number of fires, the results of any internal investigations, and whether any lawsuits have resulted. Regulators want to find out whether fires are affecting smart meters any more often than conventional meters, the newspaper said.
Traditional analog meters, which are read by utility workers, are being replaced with wireless smart meters all over the country. A smart meter automatically transmits data about electrical use, which can be used by consumers and the utilities to manage electrical loads and costs. The meters are central to creating what utilities call a "smart grid."
But the meters have been targeted by advocacy groups like the California-based EMF Safety Network and Stop Smart Meters Massachusetts. In addition to the risk of fires, critics say the meters are expensive and may cause health problems.
Richard Defendorf wrote about resistance to smart meters in a January 2012 news article. GBA senior editor Martin Holladay also discusses them in a blog on the implications of smart appliances.
Fires linked to Sensus meters, but nothing is conclusive
In July, a 61-year-old Reno woman died from injuries she suffered in one of the fires, the Reno newspaper said. The fire department listed the case of the fire as "undetermined," but an outside expert hired by the city said the Sensus smart meter manufactured by the North Carolina-based company couldn't be ruled out as the cause.
NV Energy hired its own expert, who determined it was "not physically possible" for the fire to have originated in the meter. The utility's vice president said the consumed meter rate of 0.006 percent is "extremely low relative to industry standard."
"We tried diligently to determine the scope of the potential problem," Sparks Fire Chief Tom Garrison told the newspaper. "We've done many things to conclusively explain why these fires were starting. So far, we don't have a definitive reason."
Meters have been replaced elsewhere
Officials in both the U.S. and Canada also are concerned about the possible connection between fires and Sensus smart meters, and thousands of them have been replaced, according to accounts posted at EMF Safety Network and published reports.
In Portland, Oregon, the utility Portland General Electric replaced 70,000 Sensus meters last July after reports of three "small fires." In 2012, a Philadelphia utility replaced 186,000 Sensus meters. SaskPower in Saskatchewan, Canada, is pulling 105,000 Sensus meters after eight unexplained fires, CBC News said. That recall will cost an estimated $15 million.
EMF Safety Network lists a number of incidents at its website and suggests readers contact the U.S. Consumer Products Safety Commission directly with smart meter problems. The agency maintains a database of complaints at SaferProducts.gov, where a search turned up only seven "smart meter" problems dating back to early 2013 and a single report involving a Sensus meter.
After the recall in Oregon, Sensus posted a statement saying it was studying problems that affected "a small number" of meters.
"Results to date point to contributing external factors such as water intrusion due to holes in meter boxes, hot socket conditions in the meter box and over voltage in the distribution system," the company said.
Weekly Newsletter
Get building science and energy efficiency advice, plus special offers, in your inbox.