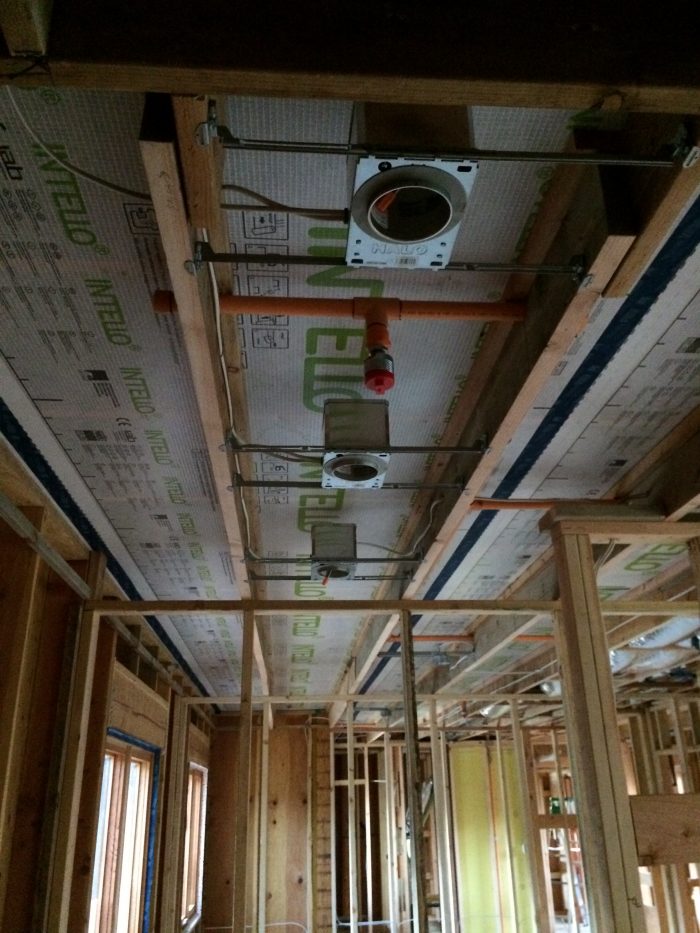 There are many construction methods and materials designed to make a home close to airtight. Their success depends on continuity of the air barrier that separates conditioned spaces from those outside the building envelope. Continuity is easily achieved when there's nothing penetrating the air barrier. But there are occasions when plumbing, electrical, and/or ductwork systems end up outside the building. For example, forced-air heating and cooling ducts that leave the conditioned space because there was no space to keep them inside the house. The solution to this problem is to integrate a service cavity.
A service cavity is an intentional space between the finished side of a wall, ceiling, or floor and the air barrier. This space or cavity is designed to contain mechanical, electrical, and plumbing (MEP) systems. The service cavity might be large enough to house heating and cooling ducts, or small, to hide electrical wires.
Air barrier continuity

The easiest way to keep MEP systems inside the building envelope is to make the exterior sheathing on the walls and roof, along with whatever system is used for the floor, the primary air barrier (see Joe Lstiburek's Perfect Wall). Building this way makes the entire structure a service cavity. This is a great way to build but there may be instances when you can't—or don't want to—use the exterior sheathing as the air barrier (for example, my recent Barndominium project did not have structural sheathing).
Most homes in my cold climate combine air and vapor control in one layer. This strategy often uses a membrane attached to the "warm-in-winter" side of an exterior wall or ceiling. (This assembly can include an interior vapor barrier and should not be used in hot-humid climates.) Traditionally, the structure is framed and installation of the…
Weekly Newsletter
Get building science and energy efficiency advice, plus special offers, in your inbox.
This article is only available to GBA Prime Members
Sign up for a free trial and get instant access to this article as well as GBA's complete library of premium articles and construction details.
Start Free Trial
Already a member? Log in