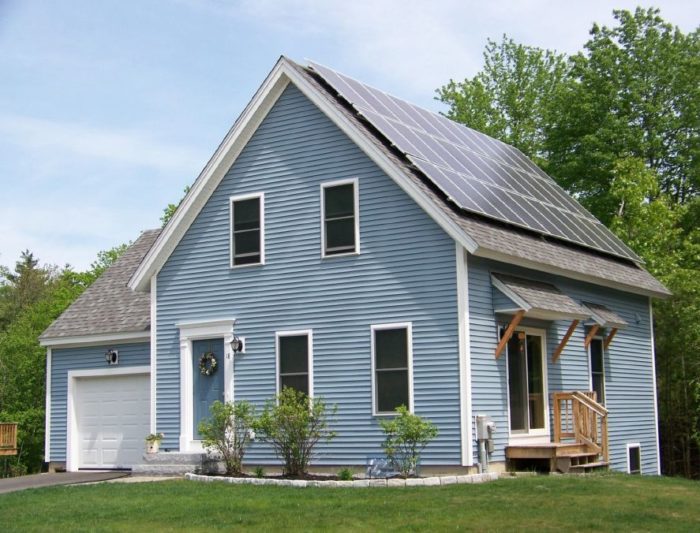 Carter Scott was one of the first builders bold enough to build a cold-climate home heated by only two ductless minisplit units (one in the downstairs living room, and one in the upstairs hallway). Skeptics predicted that the unheated bedrooms would be cold and uncomfortable. Yet Scott was confident that the home's excellent thermal envelope — with high-R walls, triple-glazed windows, and low levels of air leakage — would keep the homeowners comfortable even when the bedroom doors were closed.
Scott owns a construction company called Transformations in Townsend, Massachusetts. He built his pioneering two-minisplit house in Townsend in 2008; the inclusion of a 5.7-kW roof-mounted photovoltaic array made it into a zero-energy house.
The skeptics' "cold bedroom" predictions were unfounded. "We have since built several houses in which the upstairs minisplit unit isn't even being used until the outdoor temperature drops below 20 degrees," Scott said. "Typically the response from homeowners is, 'Wow, these houses have even indoor temperatures' and 'these houses are quiet.' And the fact that there are no utility bill makes people excited."
Carter Scott's first net-zero energy house
A ductless minisplit is a type of air-source heat pump that can provide space heating as well as air conditioning. Most of the ductless minisplits sold in the U.S. are manufactured in Japan or South Korea; the best known brands are Daikin, Fujitsu, and Mitsubishi.
The first zero-energy house built by Scott's company, Transformations, was designed by architect Ben Nickerson. Dubbed the Needham model, it was built at 18 Coppersmith Way in Townsend in 2008. Here are the home's specifications:
Weekly Newsletter
Get building science and energy efficiency advice, plus special offers, in your inbox.
This article is only available to GBA Prime Members
Sign up for a free trial and get instant access to this article as well as GBA's complete library of premium articles and construction details.
Start Free Trial
Already a member? Log in