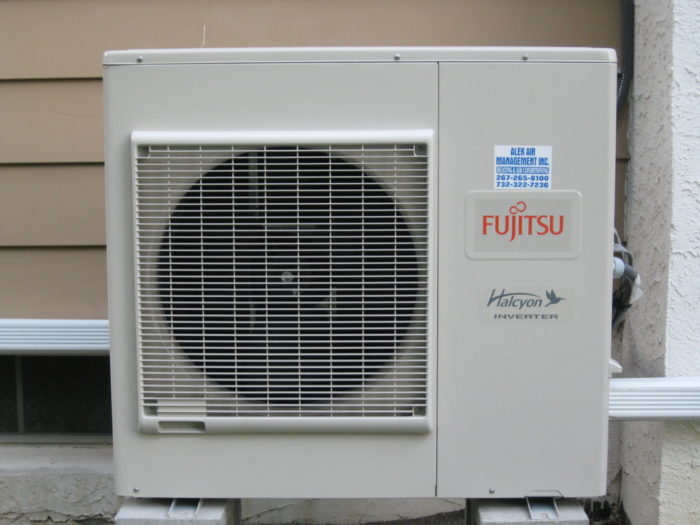 With the exception of one week in February 2011 where I switched back to the oil boiler to take some data before it went away, the Fujitsu 12RLS has now been heating the house for two years. The dedicated meter for the heat-pump system reads 2,584 kWh. So, it cost about $250 per year to heat our house, in mostly milder-than-normal weather. This is about 1/4 the cost of operating the oil heating system.
Most houses in the Northeast have a boiler and forced hot water heating, and most of the rest have a forced-air furnace; both are central heat systems. Without some energy retrofit work, most houses can't be converted over to a single-zone minisplit and have adequate heat throughout the house.
In cases where the central heating system is due for replacement, a multizone minisplit may be worth considering. We've done just that at South Mountain Company for a client with a 30-year-old boiler and a poorly designed distribution system. That system cost over $20,000 installed, though.
Put a minisplit head in the living room
A single-zone minisplit costs about $4,000 installed. In cases where the entire house doesn't need to be fully heated, or houses in which a point-source heater can carry the load of the house in mild winter weather, a minisplit can be a great retrofit.
In the Pacific Northwest, a major study has been conducted using a single-zone minisplit as a retrofit to the many electrically homes there. On average they have shown a 40% reduction in heating energy, with some homeowners experiencing much higher savings (the ones most likely that kept the doors to the bedrooms open!)
In the studied homes, the electric-resistance heating units were left in place, to be used as needed. It's very possible to consider a similar approach in fossil-fuel-heated homes. The best candidates are houses with open plans, so the heat pump can heat a good portion of the kitchen/dining/living space, and houses where the other rooms are located where natural convection (warm air rising) can transport heat to them.
It would be best for the existing heating system to be one that has more than one zone, so that the zone(s) not well heated by the heat pump can still be heated by the existing system.
A return to the days before central heating?
Best suited might be houses where a number of the rooms are not occupied: for example, a large house with a single occupant who needs a bedroom, bath, and the public areas heated, but not the other four bedrooms and two baths. In essence, it's going back to the days when a central hearth kept the public spaces warm and the peripheral spaces were much cooler.
These changes will likely be driven by fuel prices, so they are more appropriate where there isn't any natural gas available: houses where oil, propane, and electric resistance are the primary heating fuels. As of the 2009 EIA energy use surveys, there were almost 9 million households in the Northeast (New England and mid-Atlantic states) using those fuels as the main heating source. That's a significant opportunity.
Variations in energy use
Last year, during November and December 2011, our net energy purchased from the grid was 98 kWh — that is, we imported 98 kWh more than we used. This year, during the same period, that figure was three times higher: 299 kWh net import. Why so different?
For one thing, it was cloudier. The PV system made 68 kWh more last year during this time.
The larger difference is that we used more electricity: 947 kWh this year vs. 814 kWh last year. How come? I can think of three things:
It was colder this year — 1,580 heating degree days (base 68°F) vs. 1,296 in the same period last year, mostly in a colder-than-average (yes, we still have those occasionally!) November. So the heat pump ran more — 98.5 kWh more, in fact. That's the big one.
Jill is working three long days a week instead of going to work five days/week, so she's home more, using lighting, a higher thermostat setting, the computer. A small impact, but it's likely real.
Jill's Christmas cookie marathon, in which she made 16 different types of cookies. Lotta oven usage, plus kitchen appliances and lighting, plus dishwasher, plus more hot water cleaning up. This extra usage of energy is very well appreciated by many cookie recipients!
You can see that the big difference is weather-related: it was colder and cloudier. The lower energy use a house has, the larger these year-to-year variations will be on a percentage basis. Yet the benefit of solar-driven, energy-efficient building is that the percentage variations may be high, but the absolute difference in dollars is small. So the difference in our net energy flow over those two months year to year is about $37 total.
Marc Rosenbaum is director of engineering at South Mountain Company on the island of Martha's Vineyard in Massachusetts. He writes a blog called Thriving on Low Carbon.
Weekly Newsletter
Get building science and energy efficiency advice, plus special offers, in your inbox.