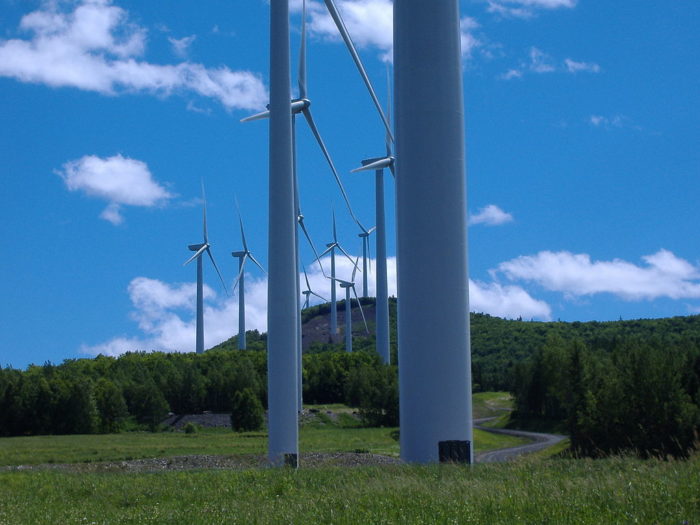 A long-simmering feud between the state's Republican governor and advocates for wind energy has landed in court.
Maine has more wind capacity than the rest of New England combined — 378 wind turbines with a capacity of 901 megawatts — but development of additional wind farms in lightly populated parts of the state has now become a political and legal football.
Late last month, Governor Paul LePage ordered state agencies not to issue any permits for wind development in western and coastal Maine, The Portland Press Herald reported. He also took steps to create a commission to study the impact of wind development and exempted the group from the state's open meeting laws, allowing it to meet in secret with no public accountability.
LePage said at the time that out-of-state interests were "eager to exploit" Maine's western mountains to serve their own political agendas and urged the new Maine Wind Energy Advisory Commission to take what time it needed to develop policies that "balance tourism, the needs of the communities, the environment and development."
Two advocacy groups have struck back in court.
In a superior court filing last week, the non-profit Maine Renewable Energy Association, a trade group representing renewable energy interests, charged LePage with "unconstitutional executive overreach." The Conservation Law Foundation has filed a separate court challenge of the governor's order.
"While the governor may not support wind power, no executive authority exists for him to arbitrarily decide which industries and their permit applications may be afforded a comprehensive regulatory review," Jeremy Payne, the association's executive director, said in a prepared statement. "Our Constitution clearly lays out the separation of powers between our co-equal branches of government, and this order directly contradicts that separation."
The lawsuit calls the governor's order a "blatant violation of the separation of powers at the heart of the Maine Constitution," and a "brazen attempt to unilaterally and unconstitutionally suspend duly enacted" state law.
Asked for a reaction, Julie Rabinowitz, the governor's press secretary, said by email, "We cannot comment on pending litigation."
Governor says that wind is a threat to tourism
A statement issued by the governor's office on January 24 cites concerns over the impact of wind turbines on the state's multi-billion-dollar tourism industry, although no specific evidence was offered to support the case.
"Tourism, especially returning visitors, is a major driver for the Maine economy," the statement said. "We cannot afford to damage our natural assets in ways that would deter visitors from returning to Maine." LePage said that in 2016, the state attracted more than 35 million visitors who spent nearly $6 billion — numbers that he said were eclipsed the following year.
The governor's dig at "out-of-state interests" is an apparent reference to Maine's New England neighbors who buy power from Maine wind farms to satisfy their renewable energy portfolios while having little wind development of their own.
LePage is by no means alone in opposing increased wind development. Richard McDonald, who heads the Moosehead Region Futures Committee and the anti-wind group Saving Maine, told the Press Herald that there was nothing wrong with the governor's concerns. "It's time we know if wind development is hurting our economy," he said. "If this industry is so robust, a few months shouldn't put it out of business. There's very strong support for this timeout and the impact study in the Moosehead and Rangeley areas."
Another group, Friends of Maine's Mountains, also has been sharply critical of wind development, suggesting that southern New England states have protected their own backyards from wind development because Maine was willing to allow "ugly wind projects" within its own borders.
In an op-ed piece in the Press Herald, Chris O'Neil, the group's public affairs director, said that popular tourist destinations in the state's lakes and mountain districts are "directly threatened" by wind farms.
O'Neil has been particularly critical of Massachusetts and has ridiculed upscale residents of southern Maine as he bores in on long-standing cultural and economic differences between northern and southern parts of the state. "Lots of folks in Portland in their BMWs and fine dining restaurants are OK knowing those country bumpkins are getting those wonderful wind turbines so we can have a clean, green conscience," O'Neil told the Associated Press.
The moratorium is called a blow to that state's reputation
Payne, however, says that an overwhelming majority of state residents support the development of wind energy and the industry has not been the divisive force that O'Neil suggests.
"This is a narrative that has been pushed by people who oppose wind power," he said in a telephone call. "Their numbers are not growing larger, their voices are just growing louder." Communities where wind projects are located are more likely to talk about the direct benefits that wind development have brought — money to hire a new police officer in Lincoln, for example, or the $300 quarterly checks that residents of Roxbury get.
The makeup of the governor's study commission has yet to be announced, but Payne is holding out little hope that its members would find anything favorable to say about wind.
"It's my belief that what we will likely see is a group of people who are predisposed to hate wind and will thus produce a product that serves the governor's desired purpose, which is to convey to the public that this group of 10 or 15 people who have met in secret over the course of many months agree that wind is bad for tourism," he said. "It's not exactly the kind of transparent and public process the governor has promised us on a whole host of issues."
The governor was instrumental in a decision by Norway's Statoil to walk away from a planned offshore wind farm five years ago, objecting chiefly to the high cost of the electricity that the turbines would produce. Now, Payne said, the objections seem to be about tourism.
"So we're not quite sure what it is we're trying to address in terms of the governor's concerns," he said. "We stand ready to have those conversation. But if the rules of the game and the concerns he's raising are forever changing, it's relatively difficult for an industry to address those concerns in a meaningful way.
"If there were ten concerns the administration would cite with wind power, and if we went through and addressed all of them, tomorrow there would be ten more," he continued. "So at a certain point you have to agree to disagree and move forward as best you can."
Wind permitting system also attacked
Another bone of contention is a ten-year-old state law that sets out an expedited permitting process for wind projects in some parts of the state. Some residents of rural areas have objected to the turbines, and two years ago 40 towns and lightly populated areas called "plantations" were taken out of the expedited area, the Press Herald said.
In the current legislative session, LePage has introduced a bill that would rewrite the rules, expanding the area around proposed turbines that could be included in visual impact studies from 8 miles to 40 miles.
To Payne, it all adds up to an unattractive landscape for renewable energy developers and a potential threat to a $40 million Department of Energy grant funding for an experimental offshore wind project developed at the University of Maine.
"We will go from having half a dozen to a dozen to zero companies developing offshore wind in Maine in just five years," he said. "Not exactly the type of crowing achievement the state was looking for. And it's not just about offshore wind, it's not even about renewable energy, it's about what is the reputation of the state nationally and internationally."
Weekly Newsletter
Get building science and energy efficiency advice, plus special offers, in your inbox.