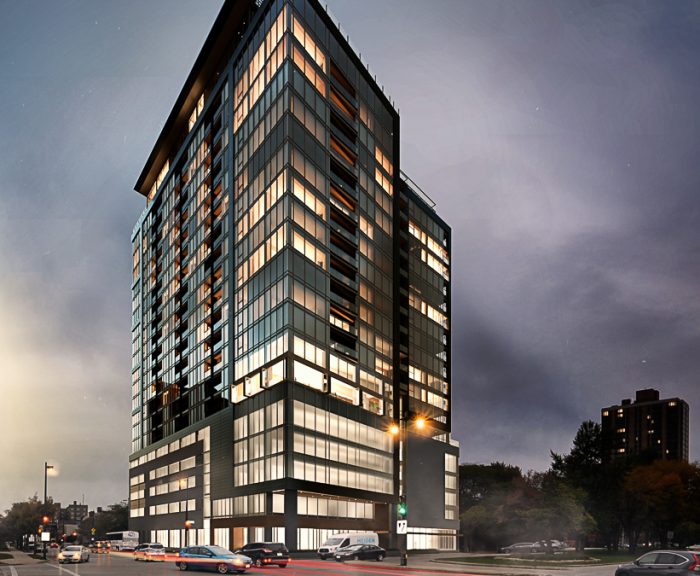 It's only been a year since the City of Milwaukee officially unveiled the Ascent, the 25-story high-rise apartment building that earned the distinction of world's tallest mass timber building, comprising a composite of cross-laminated timber (CLT) and glulam. It was also certified by the Council on Tall Buildings and Urban Habitat (CTUBH), in July 2022, as the world's tallest timber-concrete hybrid building, owing to the Ascent's six-story concrete podium. But who's counting?
It turns out, everyone. And when it comes to employing mass timber materials for luxury high-rises in one global city after the next, developers aren't just fixated on one-upping one another, but themselves too. When Milwaukee city officials approved plans for the Ascent, in 2018, the building was slated to be 21 stories. Upon opening, at 25, it surpassed the previous record holder, the 18-story, mixed-use Mjøstårnet, in Brumunddal, Norway.
Today, The Neutral Project, a sustainability-focused real estate developer with offices in Madison and Milwaukee, is building The Edison, a 32-story luxury apartment building that—you guessed it—will become the world's tallest mass timber structure. (In January 2022, the Edison was planned for 15 stories, with a three-story concrete base and 12 floors of mass timber; as of last February, plans indicated 28 stories, with an unspecified breakdown of concrete vs. timber.) Not to make too fine a point, but assuming the Edison remains steady at 32 stories, it will soon be eclipsed, in 2026, by Atlassian Central in Sydney, Australia, a mass timber high-rise that's planned to be 42 stories and 599 feet tall. (It was 39 stories just a few months ago.)
What's it really mean—broad scope?
For better or for worse, mass timber's race to the sky isn't ending any time soon. If anything, the intervals between world record holders in this building category are growing shorter and, consequently, directing the public's attention away from what really matters, which is the environmental impacts and broader significance of using mass timber to build high-rises in urban centers.
When the Ascent got certified, Daniel Safarik, CTBUH's director of research and thought leadership, stated publicly that the building "is helping advance the conversation about how we build more sustainable and healthy cities, especially in the face of mass urbanization and the increasing effects of climate change." Although well intended, this is a questionable assertion.
The benefits of building with mass timber are well documented, chief among them being long-term carbon sequestration. But success in this arena is contingent on several factors, namely, responsible forest management. If the pine forestlands of the U.S.—those that are prime regional sources for lumber used for structural timber materials—are not responsibly maintained, then harvesting all that lumber becomes a zero-sum game. At that point, even if that virgin lumber eventually becomes a building, clear-cutting entire hectares of young conifers hardly constitutes an offset for another building made of steel and concrete that emits several thousand metric tons of CO2. And to the mass timber evangelists who are fond of proffering how a timber building is the carbon inverse of a concrete one, your math is funky.
As for Safarik's take on building "more sustainable and healthy cities," he's definitely onto something. But are buildings like the Ascent and the Edison part of that solution? It's doubtful.
According to Patrick Doss-Smith, a structural technician with design and engineering firm HGA, "Of course we need more density in our cities. But in terms of scale, how do you justify the sustainability [of these projects] with the knowledge we currently have about our limited resources and constrictions in the market?" Doss-Smith adds, "At that height, you lose all your benefits from fire codes because the actual timber has to be covered up. So, you lose that lifecycle analysis benefit."
Height matters (and other considerations)

To be fair, the Edison has some sustainability bona fides worth celebrating. The building's HVAC design features a high-efficiency variable refrigerant flow (VRF) system, an energy recovery ventilator, and a mix of low- and no-VOC finishings. A representative from the Neutral Project confirmed that they "plan on meeting all criteria necessary to achieve Passive House Certification." Taken as a whole, that's not nothing. Whether the building itself is contributing to greater density and sustainable urbanization, the fact that it's a luxury residential property going up in Milwaukee's already commercially and culturally thriving Deer District makes the whole thing feel much less impactful.
"Taller isn't better. It certainly doesn't make the project more sustainable from a material standpoint," says Jacob Mans, associate professor of architecture at the University of Minnesota and founding partner of Decentralized Design Lab. "If we as architects aren't digging into the ecology of the things we're building and looking at the details of those details, then we're avoiding the important questions—the ones that are more difficult to answer than what can be measured with a ruler."
Mans's research focuses on the manufacturing processes and practical applications of mass timber, among other things. He's a staunch advocate for using the technology to build smaller and at scales other than straight up. He also believes that the design community, despite excelling time and again at the height question, has been very slow to innovate when it comes understanding the ecological impacts and long-term carbon performance of the things getting built. To get to that point, Mans makes the case for including forestry and land management experts in integrated design teams to complement the usual makeup of architects, GC's, MEP engineers, structural engineers, and other subconsultants. "It's great to be sequestering carbon long term in these tall wood buildings," he says. "But these forest ecosystems and habitats, and the communities that live in them, that's a huge part of carbon sequestration as well."
The engineered timber industry has done nothing but innovate within the last decade. Building heights have grown exponentially not because of some endemic desire to stroke one's ego, or at least not solely because of that. It's occurred due to continued advancements in seismic resistance, fire suppression, and structural integrity. But to Mans's point, technological advancements in mass timber have not occurred in tandem with like-minded advancements in forest management practices. If the former continues to move forward without the latter, then we can pretty much do away with all our eco-conscious arithmetic about mass timber construction constituting one big carbon sink.
________________________________________________________________________
Justin R. Wolf is a Maine-based writer who covers green building trends and energy policy.
Weekly Newsletter
Get building science and energy efficiency advice, plus special offers, in your inbox.