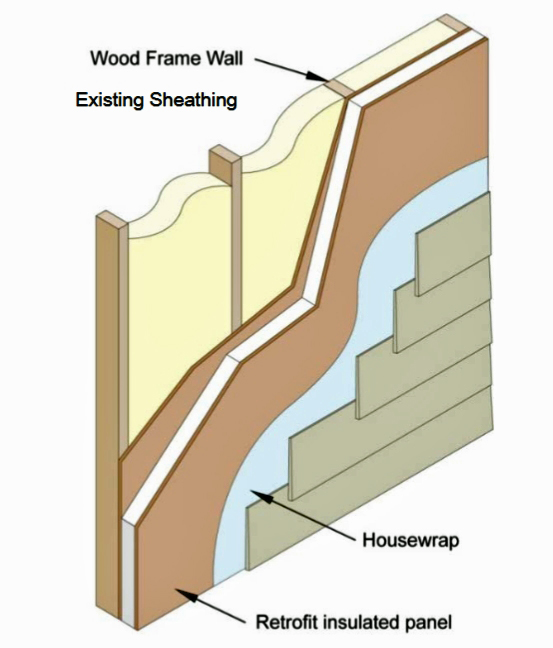 These days, lots of builders are installing a continuous layer of rigid foam on the exterior side of their wall sheathing. The usual approach is to sheathe the wall with OSB or plywood, and then to install one or more layers of rigid foam outboard of the sheathing.
Some builders are beginning to simplify this process by switching to nailbase panels — rigid foam panels with a layer of OSB or plywood glued to one side. Since nailbase panels provide sheathing and foam insulation in a single panel, they should (in theory) simplify the construction process.
Although nailbase panels were originally developed for use on roofs, an increasing number of nailbase manufacturers are beginning to realize that they can also market their products for use on walls.
At least four manufacturers have developed nailbase-like panels designed specifically for walls:
Styrofoam SIS panels from Ox Building Products;
Zip-R panels from Huber Engineered Wood;
ThermalStar LCi-SS from Atlas EPS; and
Insulfoam ci Panel from Premier SIPs.
In addition to these three products, a great many brands of nailbase panels designed for roofs are now being marketed for use on walls.
This article will attempt to address several technical questions surrounding the use of nailbase panels on walls, including these:
Should the rigid foam face the exterior or the interior?
Can nailbase panels be used to brace a wall?
What's the minimum R-value for a nailbase panel in Climate Zone 4? Zone 5? Zone 6? Zone 7?
Does this type of panel limit siding choices?
Styrofoam SIS
Dow Building Products introduced SIS ("structural insulated sheathing") panels in 2008. Four years later, in July 2012, Dow stopped making the product; however, another company, Ox Building Products of Constantine, Michigan, obtained the licensing rights to SIS and is now manufacturing and distributing the panels under the name…
Weekly Newsletter
Get building science and energy efficiency advice, plus special offers, in your inbox.
This article is only available to GBA Prime Members
Sign up for a free trial and get instant access to this article as well as GBA's complete library of premium articles and construction details.
Start Free Trial
Already a member? Log in