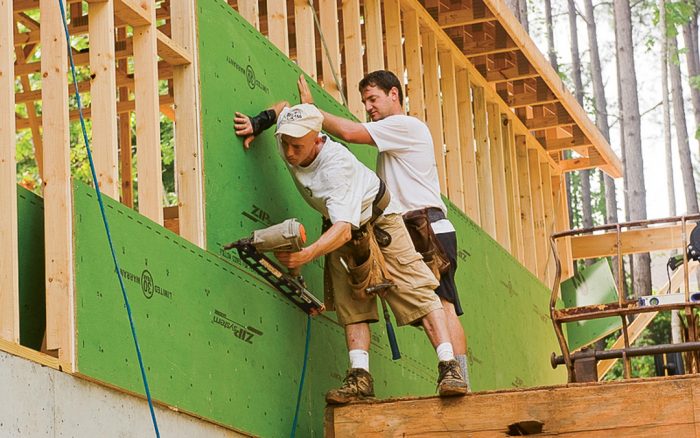 Wall assemblies that are both well insulated and free of long-term moisture problems are a frequent topic for the Q&A Spotlight. Hasn't this subject been raked over enough in the past to answer just about every possible question?
Not according to Nat, a GBA reader and structural engineer who is planning his own house in Climate Zone 5. Even after poring through GBA and other websites, Nat finds himself uncertain about the planned wall assembly on his budget-conscious new home.
The house design is simple. A plain box with a gable roof and a full basement, roughly 1,100 square feet per floor. Nat wants to keep detailing as simple as possible. His plans for exterior walls include clapboard siding over a rainscreen, then Zip R-9 sheathing—a combination of OSB and polyisocyanurate insulation—and a 2×6 wall insulated with mineral wool batts in the stud cavities.
"Despite a lot of reading I'm finding a hard time getting full comfort with the Zip R-9," Nat writes in a Q&A post. While the ratio of batt insulation to exterior rigid insulation appears safe, the insulation rather than the OSB becomes the condensing surface should moisture move through the assembly.
"I see plenty of drawbacks with the Zip-R and I know it's probably not the best R for my money—but I really like how it seems to involve very little atypical detailing and very easy to make sure it's well executed," Nat says. "Is this a safe and reasonable assembly for my zone?"
That's the key question here, but Nat's initial post opens the door to other options, such as the pros and cons of an exterior layer of insulation over the sheathing. For more on those topics, use the link above to check the full text…
Weekly Newsletter
Get building science and energy efficiency advice, plus special offers, in your inbox.
This article is only available to GBA Prime Members
Sign up for a free trial and get instant access to this article as well as GBA's complete library of premium articles and construction details.
Start Free Trial
Already a member? Log in