A house built to the Passive House standard in upstate New York has been recognized in this year's Cross Border Challenge for having the lowest HERS Index score among U.S. custom built homes.
The Rochester Passive House, submitted for certification with the Passive House Institute U.S., has a HERS Index of 22, meaning it should use 78% less energy than a house built to the 2006 International Energy Conservation Code, and do so without any renewable energy systems. Garbacik Construction built the house for Matt Bowers, a HERS rater who works for Airtight Services, a Passive House designer and energy subcontractor, in the Rochester suburb of Honeoye Falls.
On the Canadian side of the border, Signature Homes of Kingston, Ontario, won the custom builder category with a HERS Index of 40.
The Cross Border Builder Challenge is an annual competition sponsored by Residential Energy Services Network, which developed the HERS Index. RESNET describes the contest as a "friendly competition between American and Canadian home builders to determine just how energy-efficient builders can build." Winners in the custom category were among a number of builders recognized at a RESNET conference in Arizona last month.
Heating with a single ductless minisplit head
Bowers' blog documents many steps in the construction process and lists virtually every building material used on the house, from the sub-slab radon barrier to the brand and model of his kitchen appliances. Bowers, his wife, and two children moved into the all-electric house last October.
In a late-winter blog entry, Bowers wrote that he expected to spend less than $150 for heat this winter — this in a Climate Zone 5 community with an average of about 6,400 heating degree days per year. In January, typically the coldest month of the year, the 453 kilowatt hours of electricity he needed for heat amounted to $46.18.
"The house has maintained about 70 degrees on the 1st and 2nd floor and about 66 in the basement where there is no heat to speak of," he wrote.
The two-story, 2,800-square-foot house is heated with a single 9,000 Btu/h Mitsubishi ductless minisplit located on the first floor. Bowers installed a second head in the master bedroom on the second floor; it wasn't needed for heat this year, but he expects to use it for cooling in the summer. Each head is served by its own compressor. "We have two [heads] but only needed one," he said by telephone. "We have two independent systems. The engineer in me wanted redundancy if one failed."
The house is built on an insulating concrete form foundation. The double-stud walls consist of two 2×4 walls separated by a 7-inch air gap, insulated with blown-in cellulose. (For a more detailed look at the wall design, take a look at this entry in Bowers' blog).
A blower door test measured air leakage at 0.08 air changes per hour at a pressure difference of 50 pascals (47 cubic feet per minute at 50 pascals), Bowers said. That's only a small fraction of what's allowed under the Passive House standard.
Comfort may be the best design feature
The house specs are impressive, but Bowers says that he and his family have been struck by how comfortable the house is. Their children never got around to digging out their winter pajamas this year, he said, and the house has proved quiet, evenly heated, and well-lit. The family lives next door to a landscaper, but no one hears the trucks that deliver loads of mulch. Burn popcorn in the microwave and an hour later the odor is completely gone, thanks to whole-house ventilation.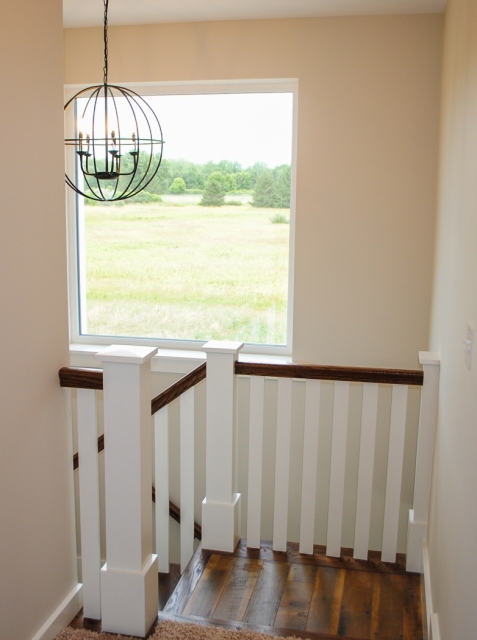 "There's a whole bunch of other things that a lot of people don't consider when they think of comfort," he said. "Most people want to be warm. But there are a lot of other things that we're noticing that are just more comfortable."
Bowers built the house, garage, and breezeway for $122 per square foot ($162 a square foot if he adds the land, driveway, and septic).
He said they saved money by "frequenting the clearance racks" at building supply centers, buying light fixtures online, shopping at the local Habitat for Humanity ReStore, making the house shape simple, and maximizing fixed-glass windows where possible. They saved 75% on siding by buying a discontinued color, and hired a local Amish company to make their kitchen cabinets.
"It doesn't have to be expensive," he said.
Bowers said the house would serve as a "showcase" for the work of his employer as well as the builder, Garbacik Construction, and the architects, Tim Burke and Bill Grater of Grater Architects. Airtight Services has done a lot of consulting in the Rochester area, he added, but hadn't been able to get any clients to go the full Passive House route.
"Our goal from the beginning of the project was to make it simple but not strange looking," he said. "There's a lot of misperception, at least around here, that a really super-efficient house can't have any windows and it's going to look funny. We wanted it to fit the area and showcase all of the really cool things that Passive House has to offer."
The Cross Border Challenge
The Cross Border Builder Challenge is now in its fourth year. The contest was open to all houses that obtained a third-party HERS rating between January 2016 and January 2017. According to Rod Buchalter of RenewABILITY Energy, a RESNET member and sponsor, HERS scores for eight U.S. houses and three Canadian houses were submitted. The lowest HERS Index in each category won.
Participation rates in the Challenge were quite low: A total of 206,583 homes were HERS rated in 2016 in the U.S. (with an average score of 61), according to Buchalter. In Canada, 1,342 homes were HERS rated, mainly in the greater Toronto area. The average score was 48. Canadian and U.S. HERS scores have been calculated in slightly different ways, but that will change as both sides of the border begin using the same ANSI software.
Other awards from this year's competition went to Greenhill Contracting of New Paltz, New York, for Net Zero American Builder, with a house scoring -11; Highmark Homes of Whitby, Ontario, for lowest HERS score for a Canadian mid production builder, with a HERS score of 43; and Doug Tarry Homes of St. Thomas, Ontario, for Net Zero Canadian Builder, with a HERS score of 1.
Brookfield Residential won both the Canadian and U.S. Lowest HERS Index for a production builder: 42 in the U.S. and 34 in Canada.
There were two President's Awards, one for an American production builder with the highest percentage of homes with a HERS score of less than 54, and one for the Canadian production builder meeting the same criterion. The U.S. winner was KB Homes (with 20%); the Canadian winner was Starlane Homes of Vaughan, Ontario (90%).
"Please keep in mind that KB is about 10 times bigger in annual homes production with a presence in a number of states, compared to Starlane Homes, which is only Toronto based," Buchalter said in an email. "Given KB's size, they actually rated more homes under HERS 54 than any other builder we are aware of."
RESNET has been lowering the cutoff HERS score in the President's Award category over time, Buchalter said.
NOTE: This post was updated on April 5 with new information from RESNET about the Cross Border Builder Challenge.
Weekly Newsletter
Get building science and energy efficiency advice, plus special offers, in your inbox.