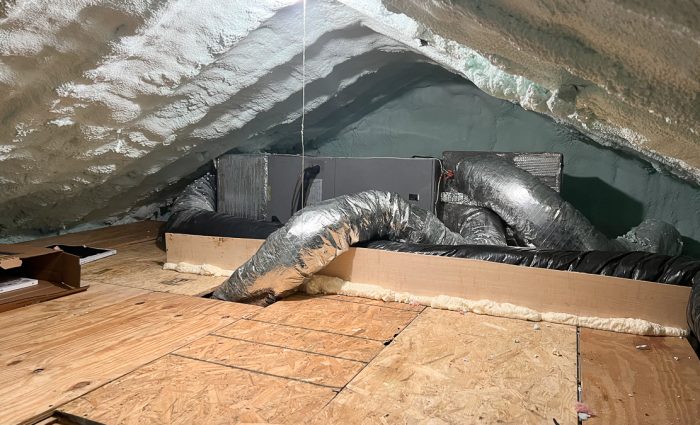 Spray foam insulation that continues to give off an unpleasant odor longer than it should has been the subject of a number of posts at GBA over the years as homeowners shared their concerns about health and air quality.
In a recent Q&A post, a reader named Gespo relates his own insulation "horror story" in hopes of getting some advice. The work took place in the attic of Gespo's Washington, D.C., home after the existing vermiculite had been removed from the attic floor. A contractor sprayed 4 in. of closed-cell foam into the roof and gable-end walls, originally telling Gespo that the foam components were made by Natural-Therm but later correcting himself to say it was BASF Spraytite.
"The guys spraying failed to use proper ventilation during application, despite my repeated questioning of them and the company office," Gespo writes. "They assured me that 24 hours with the windows open and bath fans running would be plenty of time to remove the foam odor. Of course, it wasn't."
The company eventually set up a fan in the attic to circulate air. The air quality improved, and the foam manufacturer assured Gespo that despite a failure to follow its ventilation guidance during installation the problem should go away.
"I'd like to find a third party who specializes in inspecting this work who can help me get a grasp on whether ventilation was the only mistake, or if there are underlying problems with the foam," Gespo says. "I'm probably overreacting, but I've got an infant who has to sleep right below this stuff, so I'm not sure I'll even be fully satisfied just by the smell greatly decreasing."
Is Gespo a worrywart, or does he have legitimate grounds for concern? That's the topic for…
Weekly Newsletter
Get building science and energy efficiency advice, plus special offers, in your inbox.
This article is only available to GBA Prime Members
Sign up for a free trial and get instant access to this article as well as GBA's complete library of premium articles and construction details.
Start Free Trial
Already a member? Log in