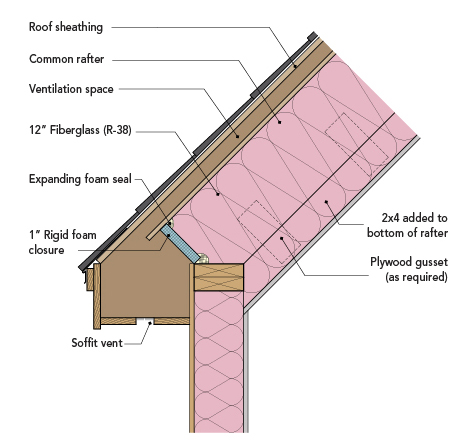 When GBA readers post questions about cathedral ceiling insulation, they are often directed to a 3,800-word article from 2011 called "How to Build an Insulated Cathedral Ceiling." While the comprehensive information in that article—including detailed discussions of vapor diffusion, condensation risks, and failure modes—is useful, it may represent information overload for many builders.
This article will cut to the chase by providing simple descriptions of five cathedral ceilings that work. While these five assemblies are probably the most common approaches used, note that there are other acceptable ways to insulate a cathedral ceiling.
General principles
R-value minimums. In Climate Zones 4, 5, 6, 7, and 8, most prescriptive building codes require ceiling insulation to have a minimum R-value of R-49. In Zones 2 and 3, the minimum requirement is R-38, while in Zone 1, it's R-30. (Here is a link to a climate zone map.)
That said, local codes may differ from these general guidelines, so it's worth asking your local building department about minimum R-value requirements in your community.
For more information on minimum R-values for cathedral ceilings, see "Three Code-Approved Tricks for Reducing Insulation Thickness."
Rafter depth. Note that 2×10 rafters equipped with a 1-inch-deep ventilation space have room for only 8 inches of insulation. If you are insulating with fiberglass, that's not enough space for the minimum R-values required by building codes unless you live in Climate Zone 1. So if you hope to insulate your ceiling with a fluffy insulation material like fiberglass batts, and you plan to install all of the insulation between your rafters, you'll either need very deep rafters, or you'll need to scab on some extra framing material (for example, 2x4s) to your rafters with plywood gussets to get enough depth for the minimum insulation levels required by building codes.
Air sealing. Most cathedral ceiling moisture…
Weekly Newsletter
Get building science and energy efficiency advice, plus special offers, in your inbox.
This article is only available to GBA Prime Members
Sign up for a free trial and get instant access to this article as well as GBA's complete library of premium articles and construction details.
Start Free Trial
Already a member? Log in