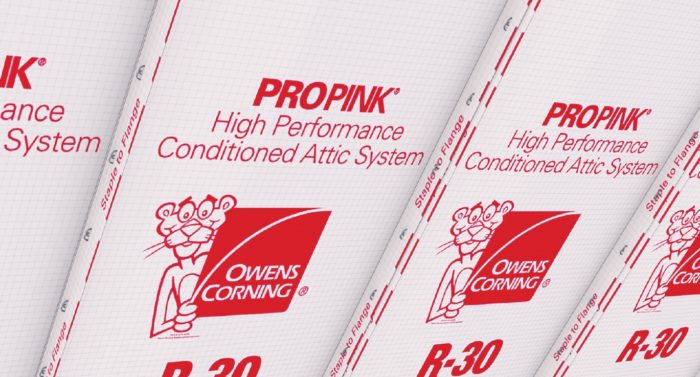 In an unlikely corporate reversal, Owens Corning has backed off its criticism of spray polyurethane foam (SPF) and purchased an Illinois foam manufacturer in a move that will enable it to expand its reach into the residential insulation market.
The building materials giant announced it will acquire Natural Polymers LLC, a Cortland, Illinois, manufacturer with annual sales of $100 million. Terms of the deal were not disclosed and the acquisition was still subject to regulatory approval.
Owens Corning, based in Toledo, Ohio, makes a variety of building products and reported annual sales of $8.5 billion in 2021. One of its better-known product lines is fiberglass insulation with its familiar mascot, the Pink Panther. It also produces mineral wool insulation and extruded polystyrene rigid foam insulation panels.
Natural Polymers makes open- and closed-cell foam and a hybrid called Natural Therm Zero whose chemistry, according to the company, has no global warming potential (GWP). The technical data sheet for the foam says its thermal performance is R-6.2 per inch and has "bio-based" content of 15%. It is GreenGuard certified, a designation marking low VOC content. Its closed-cell foam, called Natural-Therm 2.0 HFO, uses a hydrofluoroolefin (HFO) blowing agent made by Chemours called Opteon with a low GWP.
Until now, Owens Corning has focused its attention on the downsides of spray polyurethane foam. In a sales brochure dating from 2014, the company listed a variety of reasons why fiberglass insulation was a better choice than spray foam, including the risk of job site installation failures with foam, health and safety concerns, construction delays as the foam cures, and high levels of embodied energy. At the end of their publication, titled "Spray Polyurethane Foam. Separating fact from fiction," the company said, "We are often asked 'Why isn't Owners Corning in the SPF business?' Now you know."
But times change. Mike Swift, vice president and general manager of Owens Corning's North American Building Insulation business, said in an email that customers have been asking the company to begin offering spray foam insulation.
"We've evaluated this product category for a long time," Swift wrote. "As we considered entering the SPF industry, safety, sustainability, and product performance were top-of-mind. We've watched the North American spray foam industry make many advancements over the last several years that make the material much more attractive to us. Examples include the innovation in spray foam chemistry and robust training for installers that standardizes installation practices to maximize safety conditions.
"In particular," he continued, "Natural Polymers's focus on developing products with low-VOC emissions made us feel that this was the right time and the right company with whom to enter the spray foam industry."
Swift said that Natural Polymers's "Ultra-Pure" product has some of the lowest VOC emissions on the market and that many of the company's products are GreenGuard Gold Certified.
Swift was non-committal when asked whether Owens Corning envisioned additional acquisitions of manufacturers or distributors in the future, but he said the company liked how spray foam complements its current portfolio of products.
"Our customers could decide to use spray foam for general applications, or to combine [it] with some of our products in a multi-material system," he said.
Spray polyurethane foam has some performance advantages over other types of insulation—it can be a highly effective air and vapor seal, it fills voids in wall and ceiling cavities, and it's typically cheaper. But fiberglass batts are still king, with an estimated 52% of the single-family market, according to this 2019 market survey by the Home Innovation Research Labs. The same study pegs spray foam with about 11% of the market for new, single-family homes.
---
Scott Gibson is a contributing writer at GBA and Fine Homebuilding magazine.
Weekly Newsletter
Get building science and energy efficiency advice, plus special offers, in your inbox.