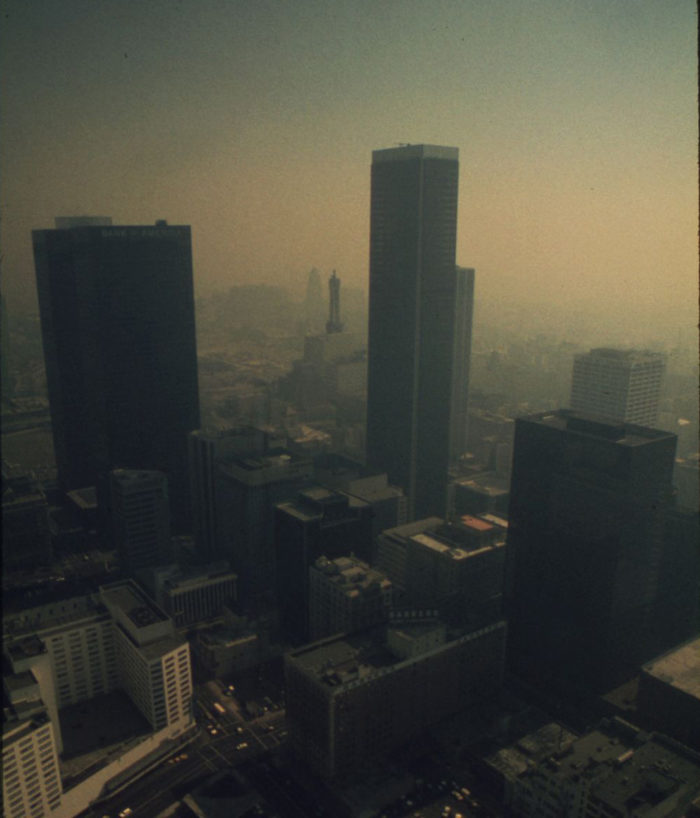 Long familiar in major urban areas, smog — what we experts call "ground-level ozone" pollution — is quickly becoming a serious problem in the rural mountain west, thanks to rapid expansion in oil and gas development.
Smog has serious health impacts like aggravated asthma, chronic bronchitis, heart attacks, and even premature death. In areas like the Upper Green River Basin in Wyoming, smog levels have sometimes rivaled those in Los Angeles.
Now, the Environmental Protection Agency and several western states are putting the pieces in place to fix this problem: EPA through proposed revisions to the health-based ozone standard that will better protect people from pollution, and states like Wyoming and Colorado through strong policies that are helping to reduce the sources of ozone pollution in the oil and gas industry.
In official public comments filed this week with EPA, the Environmental Defense Fund and a broad coalition of western environmental and conservation groups supported a more protective ozone standard and pointed out the importance of this issue to the intermountain West — where most of the country's oil and gas production from federal lands occurs.
Ozone is a story with important public health consequences that calls to mind the old Western, "The Good, the Bad and the Ugly," though perhaps in a slightly different order.
The bad
Ozone is a harmful air pollutant, and bad news from a health perspective. Countless studies (including those in the mountain west) have shown that elevated levels of ozone pollution can cause painful breathing, lung inflammation, and are associated with increased hospital admissions and emergency room visits. EPA's independent expert science panel, on the basis of the latest scientific evidence, unanimously recommended a stronger federal ozone limit to protect public health with an adequate margin of safety, as the law requires.
Strong ozone standards are just as necessary today in intermountain West — where many residents are living amidst large-scale oil and gas developments — as in urban settings. That's why our comments urge EPA to revise the existing federal ozone pollution standard of 75 parts per billion (ppb) to a more protective 60 ppb.
The ugly
As drilling has rapidly increased in areas like Wyoming's Upper Green River Basin, Utah's Uinta Basin, the San Juan Basin in New Mexico and in suburban areas of Denver, Colorado, so too have harmful ozone levels. In all, as many as thirty-three counties currently in attainment across the intermountain West have experienced ozone levels above the range recommended by EPA's Clean Air Scientific Advisory Committee. Of these 33 counties, 17 (52%) are home to oil and gas development.
Specifically:
Wyoming: Fremont, Laramie, Teton, Uinta, Campbell, Carbon counties;
Colorado: El Paso, La Plata, Montezuma, Mesa, Rio Blanco and Garfield counties;
Utah: Weber, Utah, Tooele, Washington, Box Elder, Carbon, San Juan, Salt Lake, Davis, Duchesne, and Cache counties;
New Mexico: Dona Ana, Bernalillo, Eddy, San Juan, Valencia, Luna, Lea, Santa Fe, Grant, and Sandoval counties.
To be clear, the latest available science and EPA's independent scientific advisors along with the nation's leading public health and medical societies all suggest a stronger standard is needed to protect public health; this is not a problem of EPA's making.
Citizens in these counties already face exposure to potentially unhealthy levels of ozone pollution. The only thing that's changing is that EPA is acting, consistent with its responsibilities under the nation's clean air laws, to strengthen those standards so they reflect latest scientific information and can provide people with transparent information about air quality in their communities.
Without additional commonsense air quality measures, growing oil and gas development expected in the mountain west could only compound this problem. In Wyoming, for instance, there are plans for as many as 34,246 new oil and gas wells across the state, some in locations that impact existing ozone nonattainment areas, and some that may cause future compliance concerns.
The good
Fortunately, it's not too late to fix the problem. Several states have already enacted or are finalizing emissions reduction requirements on pollution from the oil and gas industry that will bring about substantial reductions in emissions and help to reduce ozone pollution:
Colorado's nationally leading rules that substantially reduce emissions of methane and volatile organic compounds from oil and gas production.
Wyoming's recently instituted requirements to reduce pollution from new and modified oil and gas sources in the Upper Green River Basin through regular, mandatory leak detection inspections. A statewide approach is needed to better target new problem areas, but the state deserves praise for a proposal to extend these strong requirements to existing pollution sources in the basin as well.
Utah has made some positive steps, in particular, by requiring that devices known as pneumatic controllers used by the oil and gas industry be retrofitted with lower emitting models.
Coupled with recently announced plans for a federal methane rule from EPA and rule to minimize waste from the Bureau of Land Management, these state requirements will have positive impacts for air quality. Moreover, policies that keep methane — the main ingredient in natural gas — out of the air and in the pipeline benefit not only the environment, but also the industry (through additional gas sales) as well as the beneficiaries of the royalties paid on a resource that's no longer being wasted.
Better standards are needed to protect us all from ozone pollution, but luckily, sensible controls on the major sources of this pollution in the western U.S. are there for the taking. As states in the region and federal regulators continue to lead toward better pollution reduction rules, this can be one Western with a happy ending.
Jon Goldstein is senior policy manager at the Environmental Defense Fund, where this blog originally appeared. It is used here with permission.
Weekly Newsletter
Get building science and energy efficiency advice, plus special offers, in your inbox.