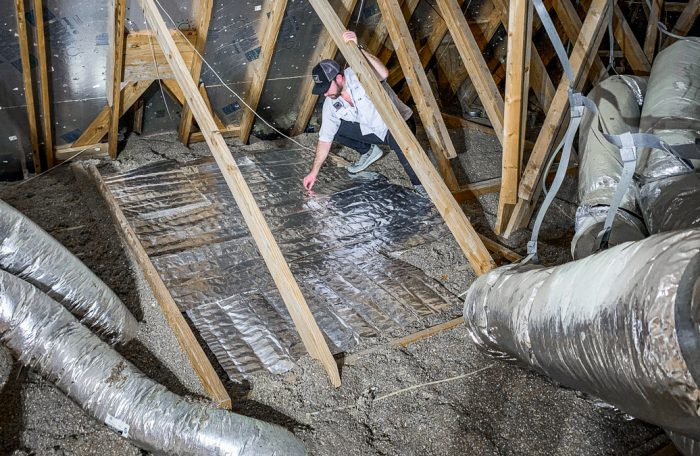 National Gypsum caught the attention of energy-efficiency advocates a dozen years ago with an announcement that it would soon introduce a new type of gypsum drywall capable of absorbing and releasing heat in a cyclical process that would lower heating and cooling costs.
The wallboard, which National Gypsum planned to call ThermalCore, was developed around a wax-based material from the chemical giant BFAS. When the compound reached a certain temperature—in this case 73°F—it began to melt and, in the process, absorbed heat. When the material cooled below that transition temperature later in the day, it would solidify and release the stored heat. This "phase change"—from a solid to a liquid and back again—looked like the foundation for a new family of building materials, a passive process that could moderate temperature swings and lower demand on heating and cooling systems.
ThermalCore was announced at a Greenbuild conference in Phoenix in 2009. According to a report from Alex Wilson at the time, the phase change material (PCM) consisted of tiny beads of paraffin wax encapsulated in acrylic shells, which BSAF called Micronal. Wilson thought the product had real potential, assuming the cost wasn't too high; "I look forward to tracking ThermalCore's roll-out," he wrote.
National Gypsum wasn't alone in exploring PCMs. Knauf, DuPont, Armstrong, and Saint Gobain reportedly were developing their own versions of paraffin-based PCM building materials. It looked like the start of something big. And then, nothing. ThermalCore was never fully commercialized. Knauf, a multinational firm with operations in the U.S. and several European countries, does not offer its PCM drywall here, and said it had been withdrawn from the U.K. market "due to a lack of demand." If there were other PCM drywalls on the cusp of commercial development, they didn't seem to materialize.
What happened?
"It was very, very heavy, and it only achieved a nominal 8 or 10% savings," said Gary Gray, head of Research and Development and Product Design for a PCM company called QE2. "What they had when they had the sheetrock that was impregnated with paraffin wax was a candle. It burned like a torch, and they couldn't figure out how to stop that without making it weigh 150 lb. per sheet and cost $150 per sheet. It's just not practical."
It was a lot more expensive than conventional drywall, and not easily integrated into energy modeling software. Nor was the performance equal across all climate zones. It worked better in regions like the Southwest, where temperature fluctuations between night and day were more dramatic but not as well in climates like South Florida's where it might not get cool enough at night to regenerate the PCM to a solid state.
Today, there are no known PCM drywall products on the market.
New directions
Although National Gypsum's enhanced drywall never took off, the idea of using PCMs to improve the energy performance of residential and commercial buildings is anything but dead. Research is active and ongoing, and a number of companies have commercialized products that do the same thing as the drywall was supposed to do—store latent heat energy to reduce run times for HVAC equipment and save energy dollars. But instead of using encapsulated paraffin, many of these newer products use hydrated salts as the phase-change agent. At the same time, work continues on developing new types of PCMs that will be especially helpful as the country relies more heavily on renewable energy sources and needs more effective ways of storing energy for off-peak use.
Typical of the newer generation of salt-based PCMs is QE2 Platinum, a 1-1/2-ft. by 4-ft. blanket that can be placed on top of existing attic insulation or installed in wall cavities. The 3/8-in.-thick blanket, which weighs about 1 lb. per sq. ft., consists of sodium sulfate encased in a plastic and foil film. The blanket retails for $2 per sq. ft. and the casing is self-healing in the event it's punctured—by a nail, for example, when a homeowner is hanging a picture on the wall.
In a telephone interview, Gray and QE2 National Accounts Manager Preston Nix Jr. said the salt compounds cost less and have a higher latent heat capacity per unit of weight than paraffin, and they don't carry the same fire risks. By modifying the crystal size and shape, the temperature at which the material changes phases can be adjusted to suit specific building needs, they said.
Gray explained that in a cooling climate, blankets placed in an attic absorb heat in the air and then give it up when temperatures cool, reducing the amount of time an air conditioning system needs to run to keep indoor temperatures comfortable. In a heating climate, Gray said, the PCM blanket can be placed between the room interior and the insulation in a stud cavity so it absorbs energy generated by the mechanical heating system during the day and radiates it back into the room when temperatures cool.
The company recommends that the PCM "always communicate with the hot side" of the enclosure. In a cooling climate, the material should be exposed to the ambient air/sunlit surface, and in a heating climate with the conditioned space.
The blankets can be stapled into wall cavities and cut to size along welded seams in order to fit into odd spaces.
Insolcorp's "Templok" product line is similar. The North Carolina company sells 16-in. by 24-in. and 24-in.-sq. panels that can be used in wall and ceiling framing. Buyers can choose one of several temperatures at which the phase change occurs. In addition, the company sells PCM commercial roofing panels.
"ENRG Blanket" is among the PCMs sold by Phase Change Solutions. It's intended for installations in drop ceilings. The company said the phase-change material, which it calls BioPCM, is plant-based and non-toxic, although it's not clear exactly what it is (the company did not respond to phone messages or emails). The company also sells PCMS intended not only for buildings but also for food delivery, and pharmaceuticals.
Dörken, a German-based company that makes a variety of building materials, also has an entry into this market with its Delta Cool 24, a salt hydrate available in several forms, including pouches, balls, and dimple sheets. The product is 100% recyclable, non-toxic, and is a flame retardant, according to Dörken.
Claims for energy savings
These products are designed to moderate temperature ups and downs by behaving as thermal mass—absorbing and releasing energy at different times of the day. According to the Phase Change website, using the 2-ft. by 4-ft. blanket in a dropped ceiling would reduce HVAC costs by between 25% and 35%, cut run times for HVAC equipment by between 15% and 20% and reduce HVAC cycling by 20% to 25%. A PCM blanket stores as much heat as a 24-in.-thick block of concrete, the company says, and has a 100-year-plus lifespan. It's not clear what third-party testing if any is behind those statements.
QE2 made similar claims, and Phase Change Solutions has posted a number of case studies at its website detailing energy savings with the use of its products.
"What we can say and what we've been able to demonstrate in about 40 houses or so in Louisiana and Texas is between 20% and 30% average reduction year over year in kilowatt hours used," Gray said. "That payback time varies." Asked if the same energy savings would be possible in a heating climate, Gray said, "I think that could be achieved, yes."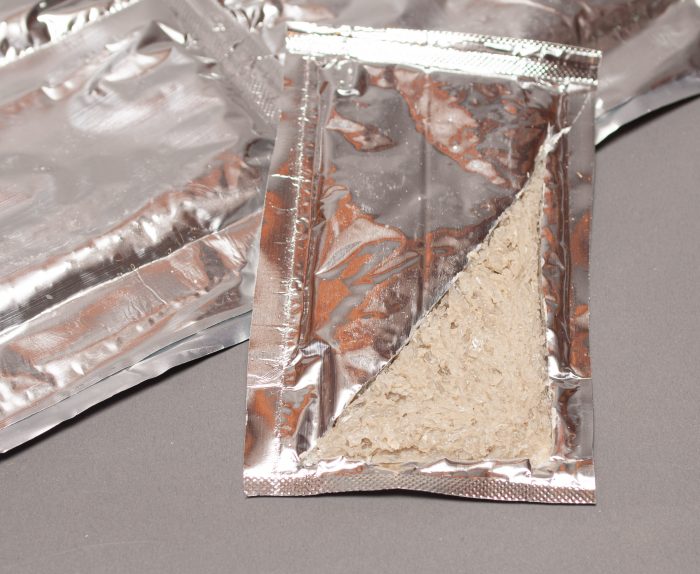 Gray said laboratory tests are currently underway that would confirm those claims, but he added, "The short answer is no, we haven't done any proof of testing in the real world. That's a function of lack of focus in that area. We'd love to do that."
Dörken said that using Delta Cool 24 in the ceiling of a room kept at 77°F reduced required mechanical cooling from 50 watts per sq. m. to 20W/m2 while flattening out the temperature profile inside.
David Toups, a marketing consultant for Insolcorp, said that installing PCM tiles in the ceiling could reduce HVAC costs by between 20 and 30%. Several studies with the Department of Energy are underway to verify energy savings, he said.
But choosing the right transition temperature is the key to performance, Toups added. In a cold climate, the right temperature might be 69°F, while in Houston or Arizona he would lean toward a higher transition temperature. In a cold spot like northern New England, having a PCM with a temperature that's too high means the material never gets the chance to store heat because the PCM can't melt. In a cooling-dominated climate, too low a transition temperature means the PCM never turns back into a solid.
"The magic of a phase change material is when it actually melts and freezes," he said in an interview. "As long as you can get that material to transition from a liquid state to a solid state and back again, that's when it acts like a rechargeable battery."
The road ahead
Although the mechanics of PCMs seem relatively simple, integrating them into building envelopes is complex, says Marcus Bianchi, senior research engineer and business development lead at the National Renewable Energy Laboratory in Golden, CO, who has studied PCMs for more than a decade.
Current building energy codes do not have a way to account for the phase change effect of these materials, Bianchi said in a telephone call, and they are effective only when there is a cyclical temperature swing allowing the PCMs to melt and then reset themselves when temperatures fall below the melt point.
"If you have, let's say, a very cold temperature outside, day in and day out, and you have a hot temperature inside, day in and day out, the product sits there doing nothing," Bianchi said. "You need to have the cyclical temperature change that makes the PCM change phase back and forth. If that doesn't happen, the product doesn't give you anything. Building codes don't have a prescriptive path, a way, to accommodate this transient nature of PCMs."
One reason that houses typically don't have PCM materials in building assemblies today is that building codes don't recognize them as an alternative to insulation. PCMs become what Bianchi called a "product of choice," akin to the granite countertops that are derided as an unimportant frill that still help to sell houses. PCMs are not a "pretty product," and it can be hard to explain their benefits while cosmetic features like stone countertops and fancy  bathrooms can be immediately appealing.
"This has to be done at the builder level," he said of incorporating PCMs into the building envelope. "Maybe there are some very good, sophisticated builders who would do it, yes, but there are few who are interested in explaining the benefits of such a system. It's too complex. And I think that complexity is what makes this product difficult."
What might help make PCM building materials more prevalent in the years ahead, however, is the explosive growth of renewable energy in the U.S. pushed forward by the increasingly dire warnings of climate change caused by burning fossil fuels. What's the connection? PCMs can become thermal batteries, storing heat energy when it's cheap to produce and releasing it when needed later.
"The whole push for renewables is changing the game because renewables are not dispatchable," he said. "You have renewables at certain times, then the wind dies down. You have to have storage. When you have a lot of electricity available you charge a system, and when you don't' have a lot of electricity available you use the charge that you have to actually run the systems. This is true for electricity, but it's also true for thermal. Thermal is about 50% of the loads of a U.S. building, and batteries are not cheap. If you can't have multiple batteries to store all of the energy you need, creating a thermal battery is pretty attractive."
The concept is especially appealing for people who have time-of-day electric rates. For example, during the morning when rates are low you crank up the air conditioning and charge any PCMs  in the building envelope—that is, bring the PCM to a solid state. As the day progressed, and temperatures begin to go up, the PCM is able to absorb heat and go to a gel or liquid state. That helps to minimize temperature fluctuations and delay the need for mechanical cooling inside.
Bianchi continued, "There is an aspect of the envelope that's very important that maybe we're not touching yet. There is the energy piece of it, but there's also the comfort piece of it. You could actually create an environment that provides more comfort by having a larger thermal mass, so the temperature swings outside don't translate into temperature swings on the inside."
But, Bianchi said, choosing the transition temperature of the PCM is key. If the material melts at, say, 76°F and the homeowner keeps the thermostat set at 72°F, there's no benefit because the material never gets the chance to go through a phase change. In fact, an article that Bianchi helped write says that incorporating PCMs into building walls doesn't always lead to improved performance. "Incorrect applications of PCMs can substantially increase energy use in buildings," this report says.
At the moment, salt hydrates seem to have several advantages over paraffin wax PCMs, including lower cost and a higher energy density, but they have their own disadvantages and researchers continue to look at these and other possibilities. Among ongoing projects, Bianchi said, is the development of a new generation of PCMs whose transition point can be adjusted, making them as valuable in winter as they would be in summer and in a range of climates and building types.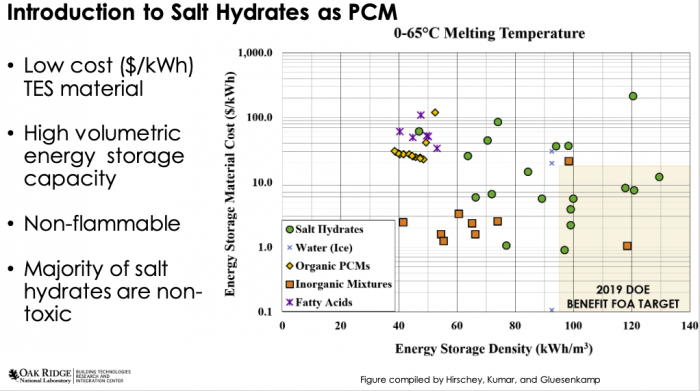 Optimizing the material
There may be many ways in which PCMs as part of the building enclosure or its mechanical systems can bolster energy efficiency. Some of them build on the original but ill-fated enthusiasm of PCM drywall. For example, researchers have looked at composites in which microencapsulated PCMs could be mixed with foamed concrete, opening the possibility of a new kind of lightweight cladding panel that could be used on building exteriors to reduce external heat gain.
PCMs may prove useful in HVAC systems, a path now being explored in commercial cold-storage systems by companies such as Viking Cold Solutions. In the U.K., a company called Sunamp sells a PCM thermal battery that can be charged with different energy sources—solar panels, ground- and air-source heat pumps—and used for  space heating or to produce domestic hot water. The devices use a PCM material called "Plentigrade," typically a salt.
Sunamp, launched in 2009, is well established in Europe and last month opened offices in New York. General Manager Tom Sottile said in a telephone call that the company hoped to begin selling its thermal batteries in the U.S. in the fourth quarter of this year. The Sunamp water heater, called a Thermino, is made in four sizes, the equivalent of 20, 40, 60, and 80 gal. All of them have a footprint of 14-1/2 in. by 23 in. and can be charged either with an electric heating element or a heat pump. When fully charged, the 80-gal. Thermino will produce 80 gal. of water at 140°F before it needs recharging, a process that takes between two and three hours.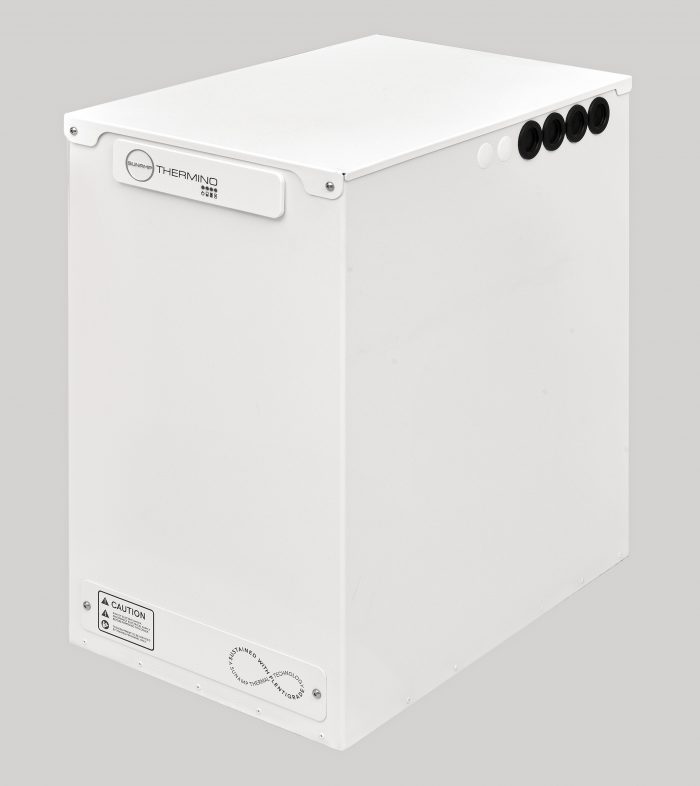 The water heaters store only a couple of quarts of water. Heat loss is half or less that of a conventional tank-style water heater, Sottile said, and the PCM has been tested through 40,000 cycles. That's enough for two charging cycles per day for 50 years. Larger models could be used for space heating.
Sottile said the company is still working on pricing but he expected the biggest water heater would sell for between $3000 and $4000 when it becomes available here.
Sunamp's products address that market niche that Bianchi thinks will be key in the years ahead—storing energy produced off-peak when it's cheaper and used during peak loads when energy is more expensive. One model designed for space heating, for example, can store 375,000 Btu of energy.
"We're not proposing it as an alternative to the central heating system," Sottile said. "We're proposing it as a way to either store heat when it's less expensive to make it, or to help with peak loads."
---
Scott Gibson is a contributing writer at GBA and Fine Homebuilding magazine.
Weekly Newsletter
Get building science and energy efficiency advice, plus special offers, in your inbox.