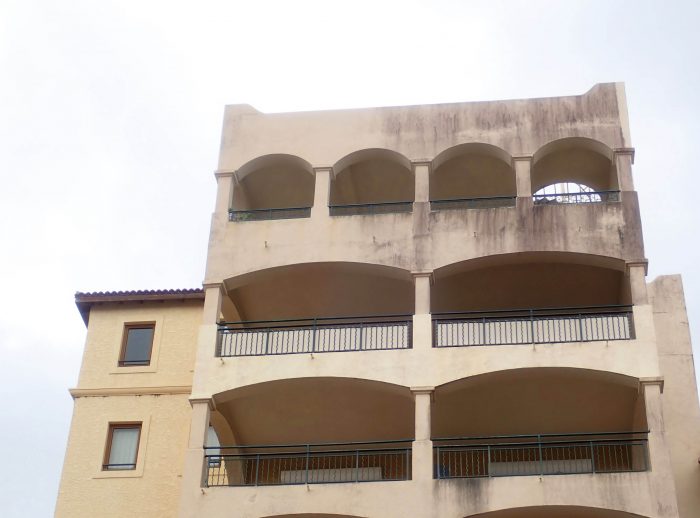 Like all buildings, stucco-clad buildings benefit from roof overhangs. If a stucco building lacks roof overhangs, it needs, at a minimum, some type of coping flashing or roof flashing—flashing with a lip—at the top of the parapet wall. The point of the roof overhang or the extended flashing is to limit the amount of rainwater that dribbles down the wall.
What happens when water dribbles down a stucco wall? Well, the wall stays wet and algae begins to grow. Unsightly algae isn't fatal, of course, and it is fairly easily covered up by regular repainting. But the need for repainting would be substantially reduced if architects understood the benefits of roof overhangs and dripedges.
Why don't architects understand these benefits? I'm not sure, but I imagine that it has to do with deficiencies in architecture school curricula.
Overhangs can't eliminate rain exposure—but they can certainly reduce it
Of course, roof overhangs and flashing dripedges can't prevent all of the rain from reaching a stuccoed wall; these details can only reduce the amount of water that ends up dribbling down the wall. But reducing the amount of water that dribbles down the wall makes a big difference in the amount of algae on the wall, and a big difference in the frequency of stucco painting.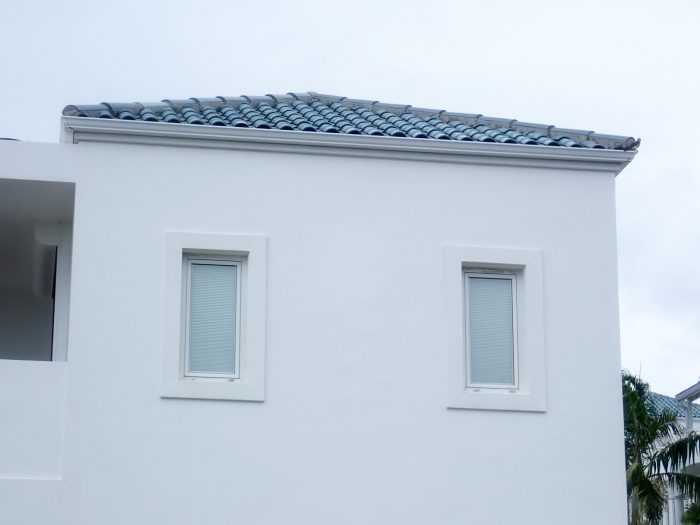 If you live in an area with lots of stucco, stroll down a few sidewalks and pay attention to algae patterns. You'll begin to see which types of walls stay clean, and which types of walls develop algae.
Weekly Newsletter
Get building science and energy efficiency advice, plus special offers, in your inbox.
This article is only available to GBA Prime Members
Sign up for a free trial and get instant access to this article as well as GBA's complete library of premium articles and construction details.
Start Free Trial
Already a member? Log in