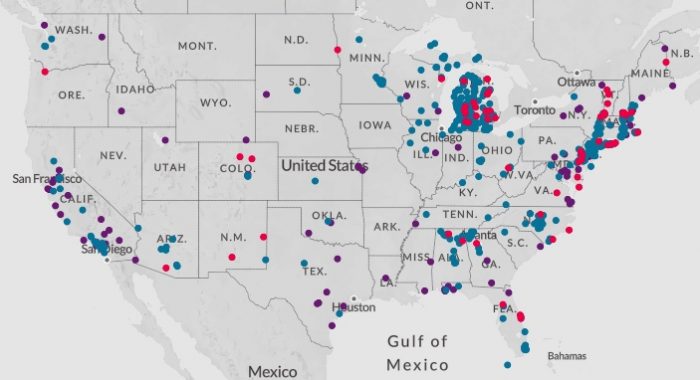 Drinking water systems serving 19 million Americans are contaminated with highly toxic chemical compounds called PFAS as the number of locations where pollution has been found continues to grow, according to a new report from the Environmental Working Group.
As of March, at least 610 locations in 43 states were known to be affected, including water systems, military bases, airports, and firefighting training sites. When last updated in July 2018, the list included 172 sites in 40 states, less than one-third the total of the most recent total.
Linked to a variety of health issues, the chemicals are perfluoroalkyl and polyfluoroalkyl, manufactured since the 1940s and used in a variety of consumer products including non-stick pots and pans, food packaging, firefighting foam, and waterproof clothing.
The information has been compiled on an interactive map by EWG, a nonprofit environmental advocacy group headquartered in Washington, D.C., and the Social Science Environmental Health Research Institute at Northwestern University.
EWG said the new list draws on data from the federal Safe Drinking Water Information System, the Department of Defense, and from news reports collected by Northwestern.
The U.S. Environmental Protection Agency phased out some types of PFAS once used in products like Scotchgard and Teflon, called PFOA and PFOS, when they were linked to cancer, thyroid disease, and other health issues, EWG said. Those compounds were replaced by PFAS with slightly different chemical makeups that were not adequately tested for safety before they went on the market, the group said, and they now can be found in the blood of virtually all Americans.
Michigan appears to be the unlucky winner with the most known pollution sites, 192 in all. California is next with 47, and then New Jersey with 43.
Impact on drinking water is only a guess
EWG's report estimates that the drinking water of 19 million people might be compromised but acknowledges that's only a guess. Although public water systems know how many homes and businesses they serve, they don't necessarily know how many people live or work there. The total, however, could be much higher.
"An EWG analysis of unreleased EPA test data estimated that more than 1,500 drinking water systems, serving up to 110 million Americans, may be contaminated with PFAS chemicals," the report says.
According to the EPA, the chemicals are found just about everywhere — in food packaged with materials that contain PFAS, in stain-resistant and water-resistant fabrics, waxes, paints, in the workplace, and in living organisms.
PFOA and PFOS are both "very persistent" in the environment and in the human body, the EPA says, and because they don't break down they can accumulate over time.
In February, the EPA announced an action plan for dealing with PFAS. Among the steps the agency said it would take were developing a "maximum contaminant level" for PFOA and PFOS, making interim groundwater cleanup recommendations, and expanding scientific research.
EWG said that the EPA's approach would only make the problem worse because it did not stop the introduction of new PFAS chemicals, end the use of PFAS in products that many Americans use, or clean up contaminated water supplies.
Scott Faber, the senior vice president for government affairs at EWG, said, "Once again, Donald Trump has demonstrated that he is the nation's first pro-cancer president."
EPA says that the new map could be misleading
After reporting on EWG's new survey, the Huffington Post received a statement from the EPA saying the map showing PFAS pollution sites could be misleading.
"Because EPA has not fully reviewed the quality of the underlying data, and based on the agency's commitment to good risk communication with the public, EPA cannot recommend the map be used to determine where public health risks associated with PFAS chemicals may or may not exist," the statement said.
The agency pointed to a health advisory for PFOA and PFOS of 70 parts per trillion that it issued in 2016 and said its "robust efforts" were reflected in its action plan.
Legislation introduced in the U.S. House of Representatives last month would force the EPA to set legal limits on PFAS in drinking water within two years, a step the EPA's action plan did not include.
Weekly Newsletter
Get building science and energy efficiency advice, plus special offers, in your inbox.