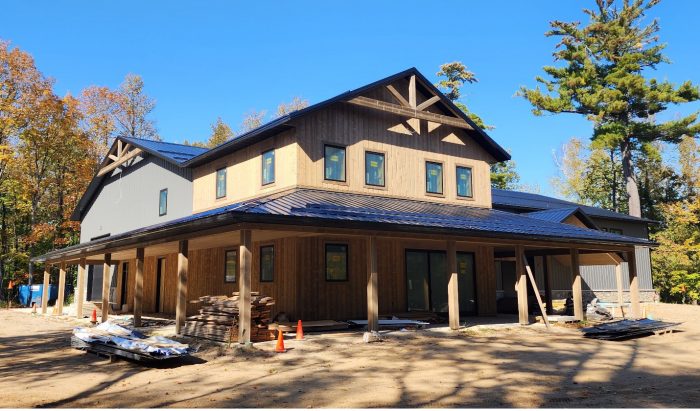 Work on the "barndominium" project is nearly complete after 18 months of construction. (You can read about the full scope of the project by following the links at the bottom of this post.) In this final update, I will discuss the mechanical systems and blower-door test results, along with the challenges and benefits of this type of building method.
Heat loss calculation
Because this project was constructed in a heating-dominated climate (climate zone 7), it was critical to get the heating system design right. We started by calculating heat loss. The heat pump manufacturer performed the calculation using Wrightsoft HVAC design and sizing software. They knew the design, construction type, and insulation levels, as well as the projected airtightness. Their simplified method for calculating air infiltration uses a poor, good, or best range of airtightness instead of using actual air infiltration rates.
Our goal for airtightness of the entire building was 1 ACH50. I don't believe the manufacturer thought that level could be achieved with post-and-frame construction, which resulted in a much higher air infiltration estimate on the heat loss calculation. (More on the actual blower door–test results later.)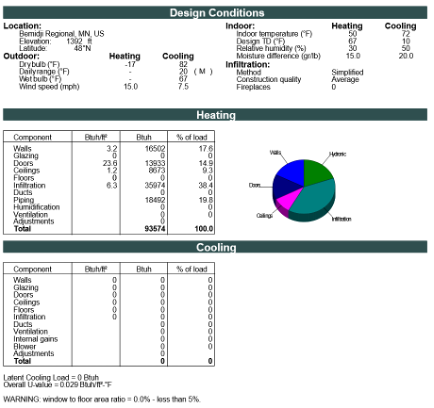 The heating load for the 3480 sq. ft. of living quarters was calculated at 46,767 Btuh at the heating design temperature of -17°F. As you can see by the heating and cooling calculation depicted in Design Conditions chart 1, infiltration rates are projected to be nearly 44% of the heating load with walls and window heat loss accounting for the majority of the remaining losses.
I don't have the inputs used to calculate the load, but I believe they are oversized by around 10,000 Btuh. Cooling loads for this project are minimal, but part of the system includes a forced-air, ground-source heat pump that is supplying the upper level with heat as well as the…
Weekly Newsletter
Get building science and energy efficiency advice, plus special offers, in your inbox.
This article is only available to GBA Prime Members
Sign up for a free trial and get instant access to this article as well as GBA's complete library of premium articles and construction details.
Start Free Trial
Already a member? Log in