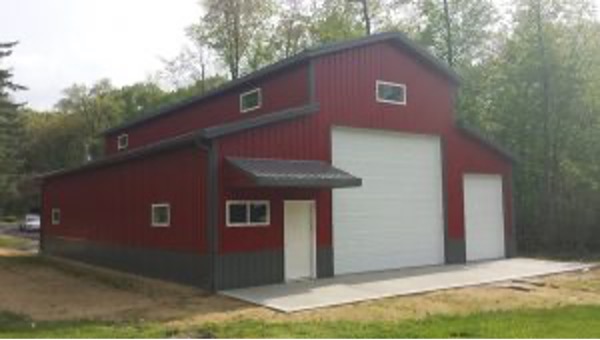 In my area of Grand Rapids, Minnesota, a new kind of construction method for building home / storage structures is gaining traction. The technique uses the shell of a typically less expensive barn or post-and-frame structure to build a single-family house. (Don't confuse post and frame with timber frame.) This "house" often includes a large garage or shop space. Actually, it might be more accurate to say the garage or shop area includes living quarters. The adopted term for this type of structure is "barndominium."
I've worked on several of these types of structures, many of which were simply large storage spaces converted into homes. One project kept the original skin of the barn and added an entire cabin inside of it. The cabin overlooks a small lake; the original sliding doors on the lake side of the barn can be closed when the place is not occupied, completely hiding the cabin inside.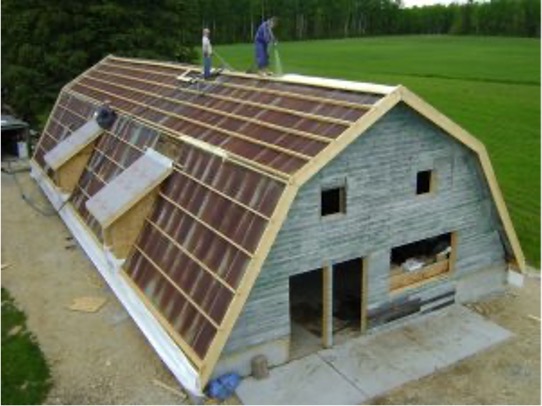 The photo to the left shows a barndominium I worked on in 2009. The original barn was built, I believe, in the 1930s. (Not surprisingly, the structure is very crooked and out of square, which is both part of the character and the challenge of working on such a building.) The owner had the top roof section removed and placed on a slab. We were hired to complete the shell. We used closed-cell spray foam outboard of the original roof. The idea was to leave the inside ceiling untouched, exposing the up to 24-in.-wide old-growth pine roof boards.
I can attest to the growing popularity of post-and-frame structures being built for or converted into living spaces but I have noticed, too, how unpopular they are with the high-performance building community. But the reality is there's a market for this type of construction, so how can we…
Weekly Newsletter
Get building science and energy efficiency advice, plus special offers, in your inbox.
This article is only available to GBA Prime Members
Sign up for a free trial and get instant access to this article as well as GBA's complete library of premium articles and construction details.
Start Free Trial
Already a member? Log in