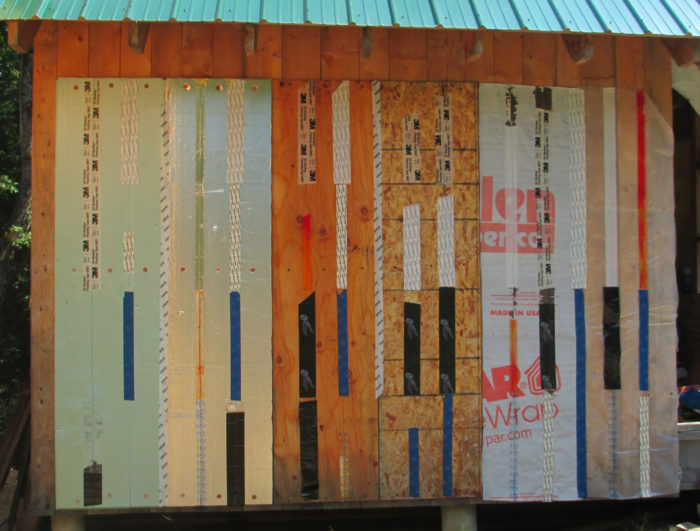 UPDATED on September 7, 2017 with a new postscript.
In the fall of 2012, I tested the performance of 11 air-sealing tapes by attaching samples to six different substrates mounted on the exterior wall of my woodshed. A month later, I tried to remove the tape samples to determine which tapes were most tenacious. I reported my findings in the April/May 2013 issue of Fine Homebuilding. (The details of the test set-up can be found in that article, "Backyard Tape Test.")
The tape samples have remained in place for almost a year. Rather than dismantling the components and throwing them away, I recently decided to see which tapes have held up best over the last 10 months.
Here's the good news: several of the tested tapes are still remarkably tenacious. In fact, a few tapes even seem to have gotten more tenacious as time has passed.
Peeling back the tapes
After trimming the flapping edges of all of the tape samples that hadn't blown away in the wind, I repeated the tenacity tests that I originally performed in October 2012.
As I wrote in the original article, "I peeled back about 3 inches of each tape to judge its tenacity. Some samples were so tightly attached that it was impossible to pull them back that far. The ratings given in my test report are based on my own judgment of tenacity. … I didn't use any tools other than my eyes and my bare hands, so this backyard test makes no claims to scientific validity. I rated a tape highly if it was difficult to peel back. … While it seems logical to me to favor tenacious tapes over tapes that don't hold very well, I'll leave it to readers to judge whether my criterion was valid."
The best-performing tapes — the ones that…
Weekly Newsletter
Get building science and energy efficiency advice, plus special offers, in your inbox.
This article is only available to GBA Prime Members
Sign up for a free trial and get instant access to this article as well as GBA's complete library of premium articles and construction details.
Start Free Trial
Already a member? Log in