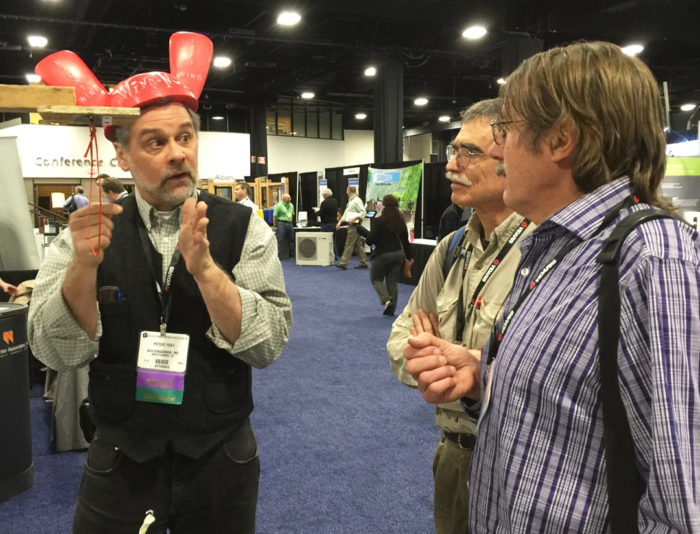 Regular visitors to GBA probably know that I'm a big fan of backyard product tests. (In the past, I've reported on my tape tests, flexible flashing tests, and liquid-applied flashing tests.) So when I noticed that Peter Yost and Dave Gauthier would be giving a presentation titled "Sticky Business: Tape Testing, Round Two" at the BuildingEnergy 16 conference in Boston, I showed up early to make sure I got a good seat.
Peter Yost is GBA's technical director, while Dave Gauthier is a sales representative for Atlas EPS. The two backyard scientists conducted a series of tests in Yost's shed (christened the "Wingnut Test Facility"); from my perspective, their light-hearted approach brings just the right amount of irreverence to these research efforts.
At the conference in Boston, Yost began by providing "context and caveats." He pointed out that this was "pro bono work" — the two friends have no funding for their research, so expenses come out of their pockets.
"Our sample size is two," Yost said. In other words, each test included only two samples of each tested product, which is "not statistically significant." He noted, "Our tests are limited. We are not here to recommend a tape. We are not here to say, 'This is the product to use.'"
A partial list of the ASTM test protocols that tape manufacturers can choose from.
Lab testing vs. job-site testing
In theory, the American Society for Testing and Materials (ASTM) should, by now, have developed some testing protocols for tapes used by residential and commercial builders. They have — sort of — but the standardized tests aren't very relevant.
Yost explained that tape manufacturers can choose from "a panoply of ASTM tests. It's like a buffet. So what do they do? Pick the test that they do best at."
Weekly Newsletter
Get building science and energy efficiency advice, plus special offers, in your inbox.
This article is only available to GBA Prime Members
Sign up for a free trial and get instant access to this article as well as GBA's complete library of premium articles and construction details.
Start Free Trial
Already a member? Log in