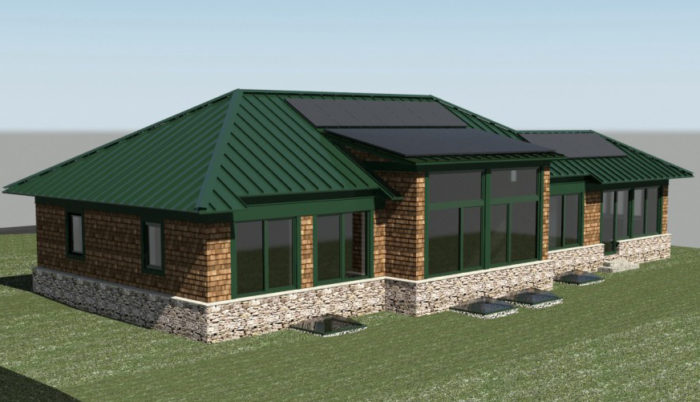 [Editor's note: Roger and Lynn Normand are building a [no-glossary]Passivhaus[/no-glossary] in Maine. This is the 17th article in a series that will follow their project from planning through construction.]
Getting an appraisal to value green enhancements requires the appraiser to take two actions: (1) To recognize and list the green enhancements on the appraisal form; and (2) To assign a value to these enhancements.
Appraisers are usually required to note a home's energy features
The first action is the easiest hurdle; the "big guys" in the mortgage market – Freddie Mac and Fannie Mae, who create the secondary mortgage market – are firmly on your side. Their standard appraisal form includes a data field for energy-efficient upgrades; the appraiser is required to note these upgrades.
Here are more details about this requirement:
How should these features be valued?
While the Freddie Mac Form 70 guidelines require the appraiser to list energy efficiency features, they leave it to local institutions to specify how these items should be valued. Valuing these items is not an impossible task. There is plenty of guidance available to help an appraiser equitably value green property features:
The Appraisal Institute offers classes on this topic — for example, "Case Studies in Appraising Green Residential Buildings — Includes Real Case Studies" and "Valuation of Green Residential Properties.
The Appraisal Institute offers an online class "Valuation of Green Residential Properties."
The Appraisal Institute offers a textbook (released in June 2010) entitled "An Introduction to Green Homes."
The Appraisal Institute offers a free podcast by the author of the textbook "An Introduction to Green Homes." The podcast discusses valuing green homes via the three standard approaches: cost, sales, and income. The author suggests that because green building is a relatively new phenomenon, the sales approach may not be the best choice, and suggests the appraiser instead rely more heavily than usual on the cost or perhaps income approach. He says a good alternative method to recognize energy efficient upgrades is to value the monthly energy savings of the green home compared to a conventionally built home. Calculate the net present value of the savings over an extended period of time and apply the total as a real life adjustment to the property value. Aside from what the Appraisal Institute may offer, authoritative data such as that from the U.S. Department of Energy Buildings Energy Data Book is readily available to perform this analysis.
Marshall and Swift, an internationally renowned source of residential and commercial cost-to-build data, provides a Green Training Seminar with Green Building Cost Book as a continuing education tool. The green building cost data set is now part of the full residential handbook. (Previously it was a separate book available at extra cost). Course content includes information on site and design, energy, materials, indoor environmental quality, and green appraisal standards. Attendees can earn a National Green Valuation Specialist Designation.
Freddie Mac guidance for new home construction (issued September 2011) states on page 6 that the following costs may be included in calculating construction costs: "energy-efficient components, systems and installation" and "architectural, engineering, survey and legal fees." So even in the absence of sales data from realtors multiple listing service to prepare a sales cost approach to valuation, there is ample guidance and techniques to realistically and equitably value green properties.
A legislative solution is in the offing
So if you're seeing red on what should have been a green appraisal, as we did, work with the lender to get it revised, or have it reassigned to another more qualified appraiser.
In the future, perhaps getting a fair shake on green properties will be the rule rather than the exception — that is, if Congress adopts and the President signs a bipartisan bill recently introduced into the U.S. Senate to account for energy costs in mortgage underwriting. The Sensible Accounting to Value Energy Act would include the homeowner's expected energy costs when evaluating a homeowner's ability to make mortgage payments. In effect, the traditional PITI (principal, interest, taxes, insurance) mortgage lending ratio would become PIETI — with the "E" representing the home's energy costs.
Just don't hold your breath that this Congress will do the right thing.
Meanwhile, we await the results of our third attempt an an appraisal for EdgewaterHaus.
The first article in this series was Kicking the Tires on a Passivhaus Project. Roger Normand's construction blog is called EdgewaterHaus.
Weekly Newsletter
Get building science and energy efficiency advice, plus special offers, in your inbox.