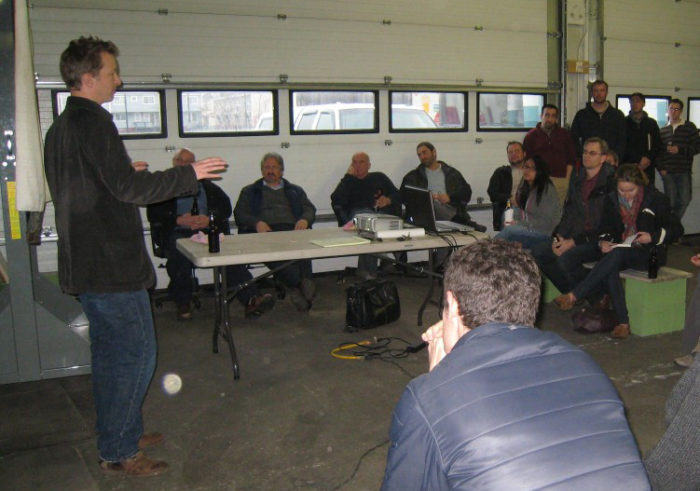 [Editor's note: Roger and Lynn Normand are building a Passivhaus in Maine. Their goals are modest: "Passivhaus, LEED Platinum, net zero, universal access, and sustainable." This is the first article in a series that will follow their project from planning through construction.]
There is small but broad-based cadre of building professionals in southern Maine who are very interested in pursuing green building initiatives. Each month, Maine Green Building Supply
brings together interested architects, engineers, builders, energy auditors, insulators, solar installers, and other building trades at its store in Portland to discuss a broad spectrum of green building topics. One month last year, the topic up for discussion was our Passivhaus plans.
The April 5, 2011 meeting began with an informal social of beer, hot dogs, chips and other nutritious delights (not a canapé in sight). Our architect, Chris Briley
, came prepared with architectural scale (1/4″ = 1′) drawings of our project. For some 2 1/2 hours, the 50 participants questioned, poked and prodded Chris on the whats and whys of the German Passivhaus building standard in general, and the particulars of our project.
Energy modeling shows that the heating load is high
While there was a good-natured banter back and forth, the questions were both perceptive and probing. No softball pitches here! It was sobering to have heard earlier in the day from Marc Rosenbaum, our Passivhaus consultant, that the initial heating load calculation was 7.7 KBTU/sq. ft./yr. versus the Passivhaus standard of 4.8 KBTU/sq. ft./yr. The design is reasonably close, but not up to standard yet.
Here's a sampling of the discussion:
Why do most Passivhaus buildings look so ugly (homes designed as rectangular boxes are more economical to insulate to the very high Passive House standards)?
How do you translate the Passivhaus heating/cooling and total source energy standards to units that are easier to understand? (For the former, a 2,000-square-foot home can expect to use only 100 gallons of oil per year for heating, which is dramatically less than other Maine homes; the latter standard for source energy is harder to compare.)
Are there follow-on tests that confirm the continued air tightness of Passivhaus homes in the years after they are certified and occupied? (Post-occupancy testing has just started; some early results indicate that performance drops slightly in the years following certification, perhaps as a result of occupant behavior, drying of building components.)
Does it make sense/"cents" to achieve the full Passivhaus standard if it is cheaper to install some active alternative source (e.g., solar) to achieve that same level of energy efficiency? (Hmmm….)
How durable is Zip System tape?
There were numerous comments regarding the design of our home:
– Suggest changing the perimeter drain in the room designated as the study so that it is at the same elevation as the footer (yep – drawing showed it just below grade)
– Do you plan to include fly ash into the concrete to reduce the carbon penalty for concrete production and increase strength (will investigate it's availability – expect that will contribute to LEED points)
– Consider an alternate means for subslab insulation that runs the EPS insulation continuously below the slab and between the footer and the ICF basement walls (will consider)
– Consider using Grade D building paper instead of Tyvek or Typar. It's much cheaper and just as effective (hmmm…)
– Consider adding fibermesh to strengthen concrete for floors and reduce chances of cracking (will consider)
– Consider alternate means of attaching the floor joists to the ICF walls to achieve greater insulation at that weak point in the building assembly. Options discussed included using Simpson strong ties, using an ICF course with an interior brick ledge to support the floor joist (will consider)
– Consider wrapping peel-and-stick membrane around the top of the main floor top wall plate as a means on providing a continuous air barrier from the top of the sheathing to attic (will consider)
– Adding Tyvek/Typar is cheap insurance against long term tape failure at the joints of the Zip wall sheathing (agreed — that's why it's included in the wall cross-section)
– Liked the high-compression insulation as a means of creating a thermal break between the concrete interior of the ICF wall and the concrete footer (engineer participants confirmed that the rebar ties between the ICF and footer will transfer the weight between these two sections of concrete – be sure to specify the proper size rebar!)
Probing questions yield a better design
I thought Chris did a masterful job presenting the details of our project and fielding comments. I am thankful for the insights and suggestions offered by participants in helping make our project even better.
Kudos to Maine Green Building Supply for initiating and sponsoring these monthly sessions. I look forward to attending future sessions. Knowledge is a powerful force!
The second article in this series is Goodbye Radiant Floor. Roger Normand's construction blog is called EdgewaterHaus.
Weekly Newsletter
Get building science and energy efficiency advice, plus special offers, in your inbox.