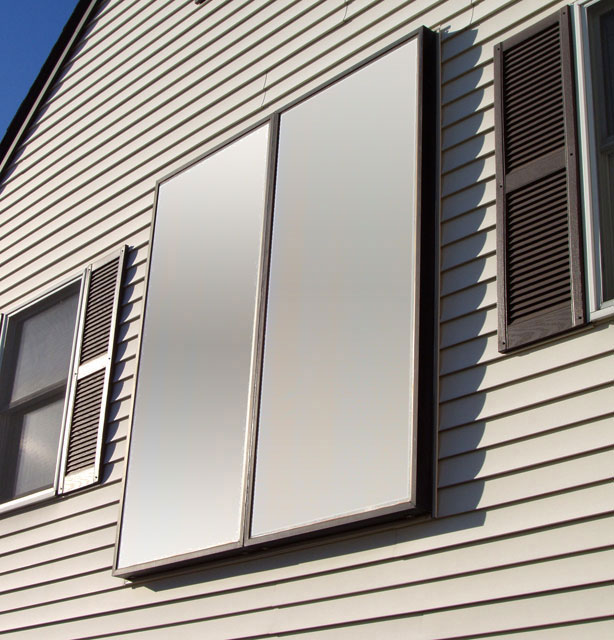 A solar hot air collector is basically a black box with glass on one side. Instead of heating fluid that circulates through tubing, a solar hot air collector is like a parked car. When the sun shines on the collector, the air inside gets hot. A solar hot air collector usually includes a hot air duct connection at the top and a return-air duct connection at the bottom. To improve efficiency, most solar hot air collectors have a black metal baffle or screen behind the glass that allows air flow on both sides.
Several manufacturers sell solar hot air collectors, including Your Solar Home of Aurora, Ontario (manufacturer of the SolarSheat collector) and Environmental Solar Systems of Methuen, Mass. (manufacturer of the SunMate collector). The SolarSheat 1500GS measures 43″ x 87″ (a little smaller than a sheet of plywood); it sells for $1,150 (without a fan) or $1,650 (with a PV-powered fan). The SunMate is smaller; it measures 34″ x 77″. Equipped with a thermostatically controlled 100-cfm fan ("turns on at 110°F and off at 90°F"), the SunMate sells for about $1,590.
These days, this type of solar collector is usually installed vertically on a south-facing wall. This makes sense, since vertical installation takes advantage of low sun angles during the winter. Manufacturers usually advise installers to drill a couple of 5-inch diameter (or larger) holes in the wall, penetrating the siding, sheathing, insulation, and drywall.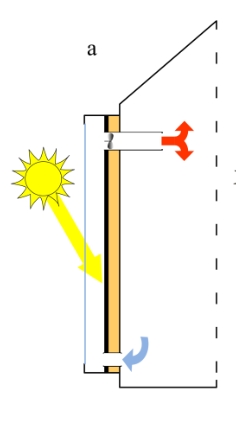 One of these holes is used for the hot air duct, and the other for the return air duct. These ducts terminate at indoor grilles installed on the drywall. In most cases, the hot air duct includes an inline DC fan that is powered by a wall cube transformer or a small PV module. The fan is usually controlled by a…
Weekly Newsletter
Get building science and energy efficiency advice, plus special offers, in your inbox.
This article is only available to GBA Prime Members
Sign up for a free trial and get instant access to this article as well as GBA's complete library of premium articles and construction details.
Start Free Trial
Already a member? Log in