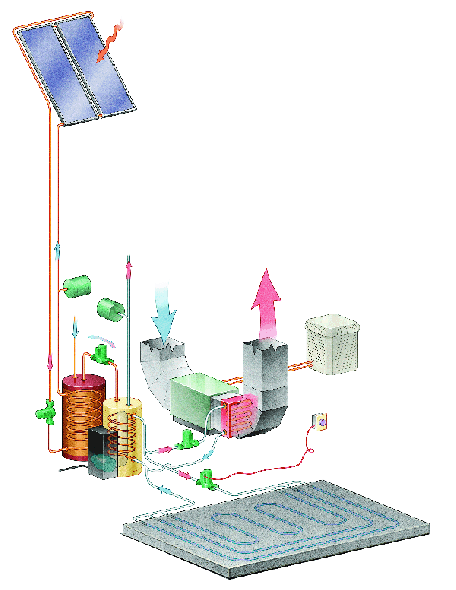 Though significantly more expensive than conventional hot water heaters to buy and install, solar hot water systems can efficiently meet as much as half the hot water needs of households in many parts of the country. And the systems' cost-effectiveness is highest, not surprisingly, in warm-weather climates.
That is part of the reason Lakeland Electric, which serves more than 100,000 customers in and around the Central Florida city of Lakeland, is ratcheting up a solar hot water program it had launched as a pilot project 12 years ago. After an accelerated version of the program was approved last week by Lakeland city commissioners, the utility said it hopes to have solar water-heating systems installed in up to 20,000 homes during the next 20 years.
Customers who agree to participate in the program pay nothing upfront, but do agree to pay $34.95 – the average monthly amount that each household would pay, at current rates, to heat water using a conventional heater – for the next 20 years, or about $8,400 over the term of the contract. The solar hot water contract also includes installation of an 80-gallon water tank.
Solar-energy specialist Regenisis Power, based in Simi Valley, California, is a collaborator on the project and said it expects to hire as many as 50 people from the Lakeland area to work on installations.
A return on the investment
Because the $34.95 monthly fee won't change, participating customers are expected to see savings when power-generation rates climb – a prospect that the utility and local officials view as inevitable.
And because state and federal regulators will eventually require utilities to offer environmentally friendly programs, there's no reason to delay getting started, Lakeland Electric's general manager, Jim Stanfield, told The Ledger, the town's local newspaper.
The utility expects to officially roll out the program in about 90 days and install 750 to 1,500 solar hot water systems within a year. Program participants who sell their home can simply leave the system in place and walk away without penalty. Those who want to leave the program but are not selling their property pay a $250 fee to help cover the cost of equipment removal.
Weekly Newsletter
Get building science and energy efficiency advice, plus special offers, in your inbox.