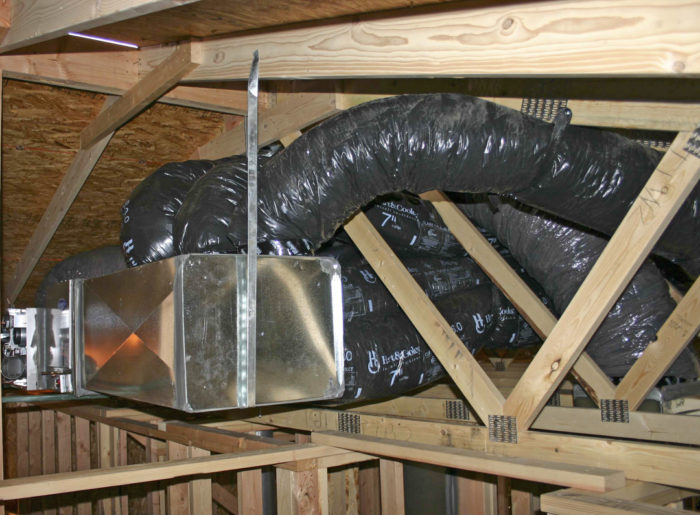 In last week's blog, I discussed the practice of burying attic ducts in deep insulation. Since burying ducts is simply one of several ways to address the energy waste associated with the decision to locate ducts in a vented unconditioned attic, it's worth taking a fresh look at all of the possible solutions to the attic duct problem.
Energy experts have been advising builders for at least thirty years that it's a bad idea to locate ducts in vented unconditioned attics, yet the practice persists. Why? Building scientist Joe Lstiburek blames the problem on architects and builders, and he's partly right. But it's also fair to blame regulators, most of whom are too timid to approve code changes that would make the practice illegal.
According to NREL researchers David Roberts and Jon Winkler, moving the ducts from a vented attic to a new location inside the conditioned space will reduce electricity used for cooling by 15% to 20%, and will reduce the size of the needed air conditioning equipment by 0.5 to 1 ton.
In this article, I'll look at a variety of solutions to the attic duct problem — a topic that I first tackled seven years ago in an article titled Keeping Ducts Indoors. The presumed reader is a designer or builder who wants to know the best way to avoid the energy penalties associated with attic ductwork.
In my 2011 article, I listed five possible solutions to this problem:
In this article, I'll also discuss…
Weekly Newsletter
Get building science and energy efficiency advice, plus special offers, in your inbox.
This article is only available to GBA Prime Members
Sign up for a free trial and get instant access to this article as well as GBA's complete library of premium articles and construction details.
Start Free Trial
Already a member? Log in