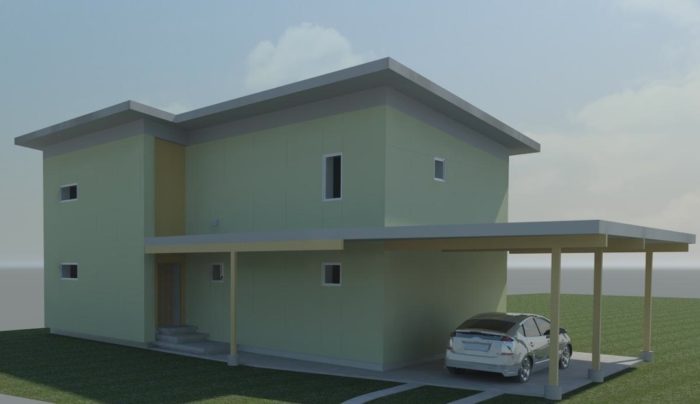 In early November, when it broke ground on a three-bedroom, two-bath home in Yellow Springs, Ohio, Green Generation Building Company began a careful and, the company's principals hope, certain march to Passive House standards.
Completion is inspected in July, although the 1,800-sq.-ft. house is far enough along to be listed for sale, at $290,000, and open to visitors during a civic celebration called the Yellow Springs Street Fair, which is scheduled for June 12. Green Generation's president, Andrew Kline, an Antioch College graduate who co-founded the company with his wife and father-in-law in 2009, told the Yellow Springs News that the durability and energy efficient performance of the house are not only good for the buyer, they're in line with his approach to environmental issues.
"Antioch was the pivotal moment where I realized what's happening in the world with respect to the environment," Kline told the paper. "That's where I got the idea to mix an environmental ethic with our construction practices, to fuse an environmental consciousness with real-world, tangible, practical things that we use every day, like buildings."
The path of maximum thermal resistance
Kline teamed up with Green Generation's design director, Alex Melamed, and Passive House consultant and engineer Eric Lang to develop a design and construction strategy for the house, which includes TJI truss-joist framing for the floors and roof, and structural insulated panels for the walls. The roof was insulated, with about 2 ft. of blown-in fiberglass, to R-100; the floors and walls were insulated to R-50.
Kline notes in a blog on the company website that SIPs offered a couple key advantages for this project: very good airtightness and relatively quick assembly. He also has been documenting the build in considerable detail via posts and progress photos on Facebook: click here for a look.
Should the house, the company's first, eventually become certified by Passive House Institute US, it will be the first new single-family residence in Ohio to meet the standard, and Kline, at age 29, will be among the youngest Passive House builders in the Midwest.
Weekly Newsletter
Get building science and energy efficiency advice, plus special offers, in your inbox.