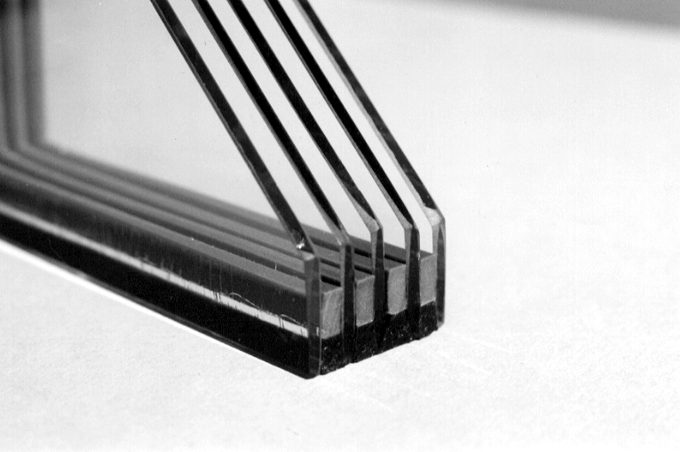 As I've said before, windows are a silent but very high-tech part of our buildings. The advances in glazing in the last 30 years have been phenomenal. Will windows keep getting better and better with no end in sight?
In recent years, an increasing number of window manufacturers have been combining and refining the features that have given us today's high-performance windows: multiple layers of glazing, multiple low-emissivity (low-e) coatings, and very-low-conductivity gases such as krypton. They've been creating super-high-performance windows, or "superwindows," a term coined by Dariush Arasteh, a staff scientist at Lawrence Berkeley National Laboratory. In the early 1990s, Arasteh predicted that advances in technology could make all windows, even north-facing windows in northern climates, net-energy-gainers. Whether or not that day has arrived is a matter of debate, but there's no doubt that the advances since the 1990s, when window buyers were dreaming of U-0.05 (R-20) windows (and window makers were making tantalizing demonstrations in that direction), have been astounding.
The superwindow race cools off…
Today, that race has cooled off to some extent in favor of climate-specific solutions. As Stephen Thwaites of Thermotech Fiberglass in Canada told me, "A window doesn't have to be R-20 to be as energy-efficient as the wall around it," due to the ability of a window to gain solar heat and provide ventilation. "A home with no windows will use more energy than a properly designed home with R-5 windows," Thwaites said.
That's a change from the mid-1990s when the prototype quintuple-glazed window shown above was built by Thermotech  as a demonstration of what was possible, with a goal of R-20. Today, ambitions have become more climate-specific.
… But it's still exciting to look for what's next
Today, R-5 windows are aspirational for many, but not really that special in the windows market. But instead of pushing past that, we are seeing more emphasis on proper design by orientation, shading, and window-to-wall ratios, and on buying the best windows for each application according to the budget.
It's still exciting to dream of what we'll see in the next 30 years. For example, vacuum glazing, in which most of the air is evacuated from the space between panes, reduces thermal conduction and convection to nearly zero (leaving radiation as the primary means of heat transfer), and can currently offer U-0.08 (R-12) with double-glazing and one advanced low-e coating. Vacuum glazing is still largely in research and development, however. The seal is tough to get right, since the vacuum puts a lot of pressure on it.
The biggest limit on energy performance is and may continue to be not what technology can do, but what the buyer can afford. Windows imported from Germany meeting the Passivhaus standard, for example, offer U-factors under 0.14 — at a cost of over $90 per square foot of window area. Triple-glazed Canadian windows typically cost $40–$50 per square foot, in contrast with a price range for more conventional double-glazed windows of $30–$35.
The problem with getting great windows is how they're sold
On the subject of price, I'm going to quote a few paragraphs here from a comment I received by email after last week's post about reading NRFC labels. This comment with some follow-up discussion is posted on last week's column.
"Your recent columns on windows have struck a raw nerve, and it's worth sharing why.  Construction has just begun on a small sunroom addition to my home. The problem with getting great windows is not product availability, but the awkward way they are sold.
"Building supply dealers seldom post prices of anything. Items which are ordered, like windows that have lots of options and sizes, are much worse — requiring the entry of data into a computer to get a quote.  The quote of course is for the whole window, making it really tedious to test out individual options. The retail staff, though both knowledgeable and helpful, cannot possibly keep prices for all those options in their heads, and nothing good can come from a customer mistaking a ballpark guess for a quote.
"Net result: it is ridiculously difficult to get a cost comparison of option A vs. option B, on anything. In my case of a south-facing sunroom where I knew I'd be starting a lot of veggie seedlings in spring, I depended on my own reading and research in preferring clear glass (full-spectrum, high solar gain), and triple pane (reduced heat loss). It took several days to get a price.
"Going through that process for the dozens of decisions in a given project is simply not going to happen.  Even a highly motivated customer has little choice but to just give up and trust the contractor to do something reasonable. And still miss here and there. You recently noted that using argon gas was a no-brainer; that column came too late, and I didn't expend the effort to price argon vs. air."
It may not help to say this, but if you've faced this window-pricing issue, you're not the only one. Martin Holladay had some great comments on this two weeks ago which I'll paraphrase here. There is little transparency on pricing in the window industry, and someone who wants to really shop around and price out different options easily faces dozens of hours of research on a new home. Hopefully they can get good cooperation from dealers, but that's not always a given. It would be great to see just one window manufacturer post accurate and complete prices online. I suspect it would make their business stronger, not weaker.
Tristan Roberts is Editorial Director at BuildingGreen, Inc., in Brattleboro, Vermont.
Weekly Newsletter
Get building science and energy efficiency advice, plus special offers, in your inbox.