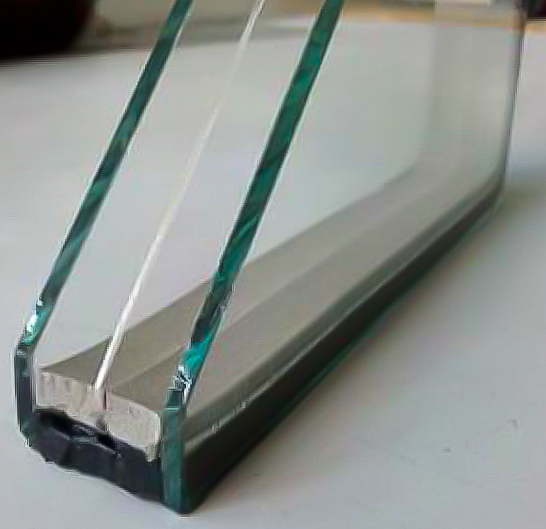 Researchers at the Lawrence Berkeley National Laboratory (LBNL) have developed a new type of triple glazing for windows that is about the same thickness and weight as a standard low-e double-glazed window but comes with twice the insulating value.
In a news release, the U.S. Department of Energy laboratory said the breakthrough is made possible by the availability of extremely thin glass for the flat screen television industry. The glass, only 0.7 mm (less than 1/32 inch) thick, is used for the center pane in the triple-glazed assembly. Krypton gas replaces the argon typically used in double-glazed units.
High-performance triple-glazed windows, such as those used in Passive House buildings, are readily available today. But they are thicker and heavier than standard double-glazed units and many builders order them from Europe, extending construction schedules or forcing builders to plan carefully. Because the glass in these new "thin triple super windows" is so thin, the assembly delivers high R-value without a redesigned window sash or frame.
The windows have a center-of-glass R-value of between R-8 and R-10, about twice that of the best low-e double-glazed windows currently on the market, the lab said.
The lab has built prototypes and is working with two manufacturers — the Andersen Corporation and Alpen High Performance Products — to build and test prototypes that would be suitable for large-scale production.
The press release noted that the laboratory's work on high-performance windows dates to the oil crisis of the 1970s when it pioneered the development of low-e coatings. Charlie Curcija, one of the LBNL researchers, said the super-window might have come along sooner had large sheets of very thin glass been available.
"The thin glass is 0.7 mm thick," he said. "Twenty years ago we couldn't find any companies that could make thin glass sheets in volume. Now the flat screen TV industry has pushed the glass industry to create precisely the glass we need for windows, and at a price the window market can afford."
The benefits of a drop-in replacement
The availability of a high-performance drop-in replacement for double-glazed sash could lower risks for manufacturers who want to begin making triple-glazed units while expanding the potential market beyond its current 2% share, said LBNL researcher Stephen Selkowitz.
"As a 'drop in' insert with virtually the same weight and width as the existing [insulated glass unit], the barriers and risks of market entry to the window manufacturer are much lower and the major added cost is the marginal cost of the extra sheet of glass, the [krypton] gas fill, and a second low-e coating plus some additional assembly," Selkowitz said in an email.
He said added costs at the manufacturer's level would be about $2 a square foot, although the consumer would pay more than that. Where the new windows replaced existing double-glazed units, payback would come in 5 to 7 years.
"We think ultimately the market will go beyond comparing the price of the two products and energy only," he added. "There will be other important benefits and value: improved thermal comfort, larger windows with better views with no penalty in energy, the potential for downsizing HVAC, and eliminating duct runs to the perimeter, etc."
Another advantage, he said, would be eliminating shipping costs and time delays that come with ordering high-performance triple-glazed windows from Europe.
The LBNL super-window is similar in design to windows made by Alpen, except that Alpen's version uses Heat Mirror, a polyester-based film manufactured by Eastman Chemical, instead of glass as the center pane. Selkowitz noted this in his email but added, "we think the thin glass will simplify their assembly process and lower their costs."
Alpen CEO Brad Begin said by telephone the thin triple technology could become part of the company's product lineup, but as a complement to Heat Mirror rather than a replacement.
"We've been making Heat Mirror successfully for over 30 years and remain very committed to the technology and find it to be very effective," he said. "Having said that, as a company known for commercializing innovative technologies, we're intrigued by the opportunities to at least experiment with thin glass."
Begin said that it's probably too early to say whether the thin-glass triple units would be less expensive to manufacture than Alpen's Heat Mirror windows. "The jury is still very much out on that," he said, adding that the technology could be very attractive to window manufacturers who are not accustomed to working with thick glazing, what Begin calls "wide pockets."
Production decisions lie ahead
One key question is when windows with the new glazing might be commercially available. It's really too soon to say with any certainty, according to Selkowitz, although a small company conceivably could be offering windows with the glazing in low volume in a year.
"As you might imagine, the decision-making process and timeline is different for different companies," he said, "so our goal is to provide them with the technical information needed [as a] step in the process to proceed along that decision-making timeline as rapidly as possible."
At this point, LBNL is working on market acceptance, durability, and fabrication issues. Part of that involves hand making some prototypes for use in field tests this coming winter. The next step for manufacturers would be to explore scaled-up production on semi-automated or automated production lines.
But so far, so good.
"We produced our first window last week," Begin said. "The question is how far out is realistic [for manufacturing]? We're still doing our testing, still doing our collaborative work with LBNL to make sure it's got the durability and all the things we need. But it's manufacturable today … For the larger current insulated glass manufacturers, my guess is if their customers wanted them to make it they could figure how to make it fairly quickly.
"It's been remarkably easy so far, but I don't think we've come close to testing the size of the units that may be necessary to realistically commercialize the product, assuming that it will get more and more challenging as it gets bigger. But it's been surprisingly easy so far."
Andersen's representative on the research team is Katherine Graham, the company's glass competency team leader. She could not be reached for comment.
Weekly Newsletter
Get building science and energy efficiency advice, plus special offers, in your inbox.