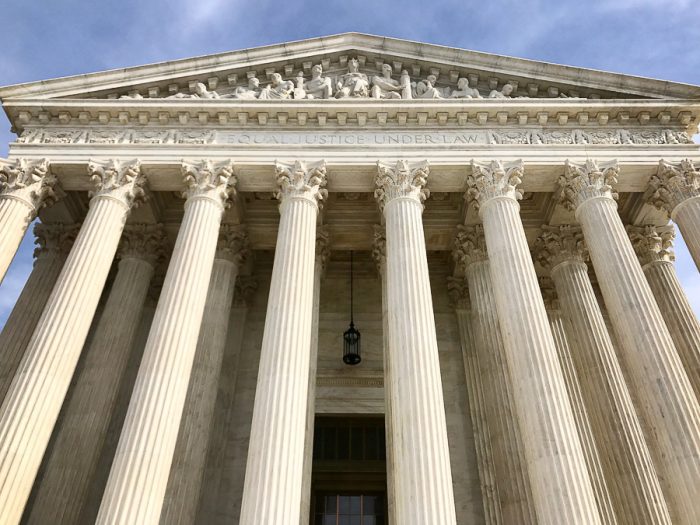 The U.S. Supreme Court's decision blocking the Environmental Protection Agency (EPA) from regulating greenhouse gas emissions at the nation's power plants will make it harder for the U.S. to hit its carbon reduction goals, but it doesn't pose any immediate challenges for the building industry, legal and policy experts say.
The court's 6-3 ruling, announced on the last day of the court's term, June 30, was a rebuke to the EPA for overstepping its authority under the Clean Air Act, and a victory for the coal industry. Congress, the court said, had not given the agency the authority to make the far-reaching changes in the power-generating industry that it wanted.
Coal country cheered while only three justices on the court appeared concerned with the looming disaster of climate change caused by carbon emissions. While the EPA will have to look for other ways to regulate the power industry, a variety of energy regulations and policies that affect residential builders directly are untouched by the ruling. Building and energy codes, renewable portfolio standards, and tighter standards for refrigerants and blowing agents used in certain types of insulation all remain unscathed—at least for now.
How, and even whether, the decision has a ripple effect for builders in the future isn't clear.
In the wake of the decision, GBA contacted a variety of legal and policy experts to ask whether the ruling in West Virginia vs. EPA will scuttle efforts to require more energy-efficient buildings, reduce emissions from a variety of building materials, or require utilities to provide minimum levels of renewable power in their energy mix.
Typical of the replies was this email from Patrick Parenteau, a professor at the Vermont Law School and the author of this analysis posted recently at The Conversation, a website.
"I don't think the [West Virginia] decision will have any direct impact on building codes or renewable portfolio standards adopted by states and municipalities," he said. "It deals specifically with agency interpretations of federal statutes. Chief Justice Roberts's opinion says it is a narrow ruling that EPA lacks authority to use 'generation shifting' as a tool to reduce carbon emissions from power plants."
Parenteau continued, "The troublesome aspect is the use of the so-called 'major questions doctrine,' which is a dramatic change in the way the court reviews agency regulations. Depending on how far the court goes with this it could have implications for a wide variety of energy and environmental regulations including rules adopted by FERC and DOE that could limit policies to promote efficiency and the shift to renewables. Too soon to know exactly how this will play out."
David Doniger of the Natural Resources Defense Council, who with Lissa Lynch wrote this analysis at the NRDC blog, said the spill0ver effect of the court's ruling into areas affecting buildings and energy policy isn't clear yet. "We think it is too early to speculate on these questions," he said in an email.
The ruling dealt with policy set by a federal agency. Building and energy codes have a direct impact on what builders do. But the International Code Council, which publishes the so-called I-codes, is not a governmental body and its codes are adopted voluntarily on a state-by-state basis. There is no national building code. Likewise, states are free to adopt their own renewable portfolio standards, which require electricity providers to offer a minimum share of renewables to their customers. There is no national RPS.
The building industry is directly affected by government regulations on such things as refrigerants used in heating and cooling equipment and as blowing agents in several types of insulation, as well as lead, volatile organic compounds, asbestos and other materials that are considered hazardous. Would the Supreme Court ruling have any bearing on those kinds of regulations? Probably not, experts say, because those compounds are recognized as materials legitimately regulated under existing law, or have been the subject of past litigation that's already been settled.
Attention will turn to states
Lesley Jantarasami, an EPA veteran who helped develop national greenhouse gas regulations and is now managing director of the energy program at the Bipartisan Policy Center in Washington, said the court's ruling will put more pressure on states to cut greenhouse gas emissions.
"It does make it harder for those who want to push for 100% clean electricity," she said in a telephone call. "The impetus is now going to be on state governments for pushing more aggressive policies for 100% clean electricity . . . The onus is now on people and states and regions that want to look for a faster time frame for decarbonizing electricity generation. They're going to have to do things like update their portfolio standards."
Now that the Obama-era Clean Power Plan is out the window, she said, the EPA will have to go back to the drawing board and issue a new proposal for reducing power plant emissions and go through the rule-making process all over again. That in itself will take a year or more, and the result could end right back in court.
"Who knows how long it will be stuck in the courts," she said. "I do think that people aren't really thinking that robust emissions reductions are going to come from EPA's new rule-making. It's going to be driven more by market forces. Coal-fired generation is much more expensive compared to wind and solar on a levelized cost basis, so we're seeing market forces in general leading to the retirement of coal-fired generation faster than even the original Clean Power Plan that this whole case was about. For the building sector, it's mostly an indirect impact and will continue to be something that motivates states to step up where the federal government has so far been lacking in leadership."
---
Scott Gibson is a contributing writer at GBA and Fine Homebuilding magazine.
Weekly Newsletter
Get building science and energy efficiency advice, plus special offers, in your inbox.