Report faults government enforcement of water safety laws
Violations of national rules designed to keep lead out of drinking water are common, with 18 million Americans getting drinking water from providers that have violated federal laws, The Guardian reports.
Citing a report from the National Resources Defense Council, The Guardian said the discovery in Flint, Michigan, that public water supplies were tainted with lead is "not anomalous." The NRDC's analysis of data from the Environmental Protection Agency found 5,363 water systems in the U.S. violated the federal Lead and Copper Rule in 2015. Collectively, these systems provide water to more than 18 million people.
Violations occurred in most states. The most serious involved water provided by 1,100 community water utilities that exposed more than 3.9 million people to levels of lead exceeding the EPA's actionable limit.
Even so, few of the water suppliers were punished. Enforcement action was taken in just 11% of the 8,000 violations; the government sought penalties in only 3% of the cases.
"This lack of accountability sends a clear message to water suppliers that knowingly violate the Lead and Copper Rule, with state and federal complicity," the NRDC report said. "There is no cop on the beat.
"In the Flint lead crisis (from 2014 to the present) and previously in Washington, D.C. (from 2001 to 2004), the EPA failed to act, downplayed the problem, and emboldened the actions of some water systems and primacy agencies," the NRDC report continued. "These experiences and the data showing widespread lack of enforcement highlight a need for a culture change at the EPA and among state regulatory bodies to ensure that violations are taken seriously and public health threats are addressed promptly."
The EPA responded by saying many of the water systems that violated rules last year have already corrected the problems, The Guardian reported, while the agency has "intensified work" with state drinking water programs to make sure the Lead and Copper Rule is enforced.
In a separate report, The Guardian said documents it requested from 80 of the biggest cities east of Mississippi showed 33 of them were using water-testing methods the EPA advised against earlier this year. Some of the water districts were using testing methods that can mask the actual amount of lead in drinking water.
Even at very low levels, lead can do serious and irreversible harm to babies and young children, the NRDC report notes, decreasing cognitive abilities and causing a variety of behavioral problems that follow them into adulthood.
LEED announces Home Award winners
A combined faculty residence and learning lab for students at a private school in Connecticut has won top honors among single-family projects in the annual LEED Home Awards.
The U.S. Green Building Council (USGBC), which oversees the Leadership in Energy and Environmental Design program, said the project at The Taft School in Watertown, Connecticut, was the first building in the state to be certified as LEED Platinum under the Building Design and Construction rating system using new and more stringent LEED v4 rules.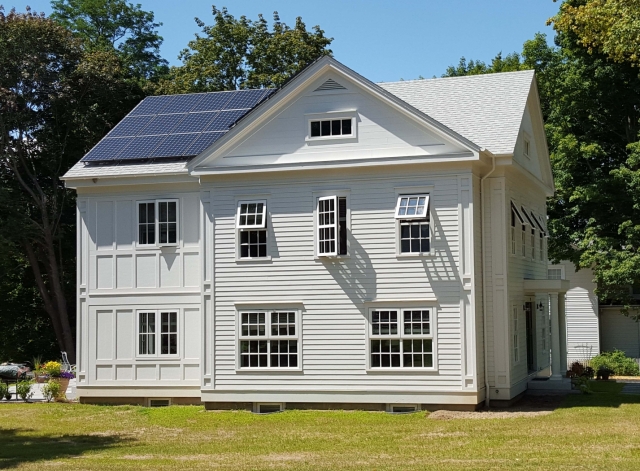 The net-zero energy house is used as a teaching tool for science classes as well as a house. Students monitor energy use while tending a vegetable garden and raising chickens on what the USGBC called a "comprehensive sustainability site."
The house has total living space of 3,388 square feet on three levels, including the basement, with three bedrooms, 2.5 bathrooms, a small laundry, an office, a kitchen, plus living and dining rooms. It was designed by Trillium Architects and built by BPC Green Builders.
Exterior walls are double-stud 2×4 construction with a space between the two rows of studs and a total depth of 10 1/2 inches. Walls are insulated with 2 inches of closed-cell spray foam, 8 1/2 inches of dense-packed cellulose, and 1 1/2-inch Zip R sheathing with taped seams (R-47.5). The attic is insulated with 24 inches of cellulose, with 8 inches of expanded polystyrene beneath the slab. Foundation walls are insulated on the inside with 3 inches of closed-cell foam plus dense-packed cellulose to R-29.6.
Heating and cooling are provided by Mitsubishi minisplit heat pumps. There's also a 13-kilowatt photovoltaic array on the roof.
The house has been certified by the Passive House Institute U.S. Other sustainable features include proximity to the school for a smaller "transportation footprint," deconstruction of a house that previously occupied the site, WaterSense certification, and on-site rainwater management.
The USGBC also announced winning projects in a number of other categories. The overall project of the year, developed by SolTerra in Portland, Oregon, is an 18-unit mixed use apartment building (see Image #2, below) called The Woodlawn. Other winners included the Frankel Building Group of Houston, Texas, outstanding single-family builder; National Church Residences of Columbus, Ohio, outstanding affordable builder; the 32-unit Brookside Village Housing, Farmington, Maine, outstanding affordable project; Tilley Lofts, Watervliet, New York, outstanding multifamily project; and Forest City Realty Trust of Cleveland, Ohio, outstanding multifamily developer.
Passive House conference program now downloadable
If you missed the North American Passive House Network conference in New York City earlier this month, you can still have a look at the program with a downloadable PDF and flipbook called "Passive House Accelerates."
The free online book is divided into a number of topic areas — including policy, economics, resilience, and systems — and recaps presentations made during the two-day conference. The list includes Carri Beer and Michael Hindle, authors of an ongoing guest blog series at Green Building Advisor, and Chris Corson of Maine-based Ecocor, which has started producing a line of prefabricated Passive House buildings in collaboration with architect Richard Pedranti.
There are descriptions of a variety of residential and commercial projects, both new construction and retrofits.
Ken Levenson, co-president of the North American Passive House Network, said that the book doesn't cover every aspect of the conference but should still be useful to designers and builders who weren't able to make it to New York.
A continental pledge for more renewables
Half of the electricity produced collectively by Canada, Mexico, and the U.S. will come from renewable energy and nuclear sources by 2025 under terms of a deal between the three countries announced in the Canadian capital.
The 50% target is the average for all three countries, not each nation. Utility Dive reports that the three-country average is now 37% renewables and nuclear power, but getting to 50% will pose some challenges. In Mexico, for example, less than 20% of electricity comes from renewables and nuclear. About one-third of the electricity produced in the U.S. comes from nuclear and other renewables — including hydro, solar and wind — and in Canada the proportion is greater than 80%.
The Obama administration's Clean Power Plan (CPP), which is now under a judicial stay from the U.S. Supreme Court, will be needed to meet the 50% goal, so that's one potential problem. Utility Dive says that even if the CPP survives this legal test, the U.S. will have to do more in the way of energy policy in order to uphold its end of the bargain.
The fate of nuclear power in the U.S. is another question mark. Currently, about 20% of U.S. electricity comes from nuclear plants, but many plants are having a tough time competing in energy markets because of cheap natural gas and lower demand. Very few new nuclear plants are in the works, so if existing plants are closed (Exelon announced last month it would retire two plants in Illinois), other sources of non-fossil generation would have to come online to replace them.
As part of the pact, Mexico agrees to join Canada and the U.S. in efforts to cut methane emissions by as much as 40% by 2025. Power trading across international borders also would become easier.
The deal was announced on June 29 in Ottawa.