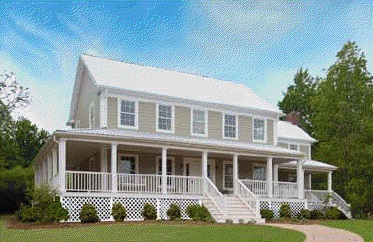 While not everyone is confident that prefab housing will gain a secure footing in the green housing market, there's evidence that the sector is continuing to do its best to boost its marketability while embracing sustainable materials and energy efficient performance.
San Francisco-based ZETA Communities opened its own factory in September, and the same month Blu Homes, based in Waltham, Massachusetts, acquired the assets of prefab advocate Michelle Kaufmann's mkDesigns, including green modular-home designs for Glidehouse, mkLotus, and Sunset Breezehouse.
And last week, factory-home specialist New World Home, based in New York City, celebrated the completion of a home in Youngsville, New York, that became the state's first prefab home without renewable-energy sources to earn a LEED for Homes Platinum certification. (The builder notes that a 5-kW solar power array was later added to the house, reducing its from-the-grid energy use to 60% below that of a comparably sized home built to minimally comply with code.)
In a New World Home press release, Karla Donnelly, a LEED verifier with the architectural and engineering research firm Steven Winter Associates noted that the home in Youngsville is "incredibly energy efficient at its core level and is the tightest home that I've ever tested."
New World Home offers traditional-looking designs in its lineup, which currently includes seven basic styles. Its green-constructed homes, which the company markets as New Old Green Modular, cost from $115 to $180 per square foot, including the foundation, delivery of the house, and a finishing kit. The price does not include land costs or site and finishing costs. The latter typically run from $35 to $55 per square foot, the company says.
The home in Youngsville, priced at $449,000, is 2,417 sq. ft., with four bedrooms and two and a half baths. The home has R-19 exterior walls and attic rafters filled with R-40 spray foam. The windows have double-pane low-e argon-filled glazing. The flooring is strand-woven bamboo.
Weekly Newsletter
Get building science and energy efficiency advice, plus special offers, in your inbox.