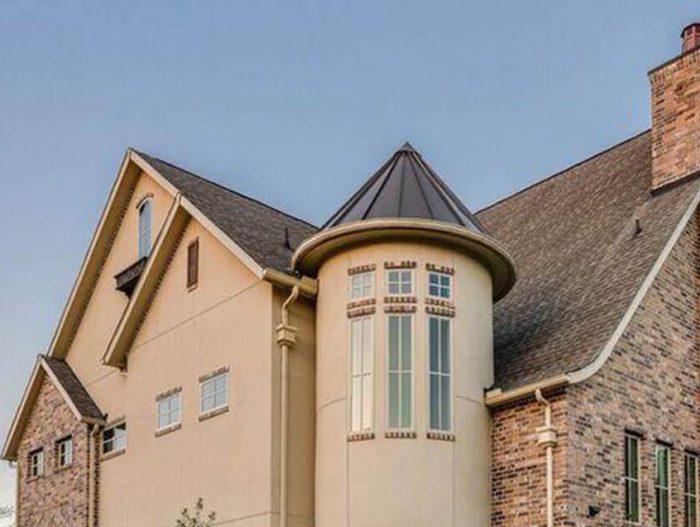 Roofers have a distinct way of looking at buildings. Scanning a building from the street, a roofer's eyes usually start at the ridge and follow an imaginary raindrop all the way to the ground. Some roofers even watch the imaginary raindrop bounce, to determine whether it will lead to splashback problems.
Roof leaks are less likely when the raindrop travels quickly than when it travels slowly. What slows a raindrop on its trip from the ridge to the eaves? Several possible impediments: moss, for example, or a collection of autumn leaves, or snow, or ice, or a narrow roof valley. If the roof has a very shallow pitch, there are other possible impediments to a raindrop's speedy voyage: frisbees, perhaps, or tennis balls.
Most architects lack a roofer's eye. While a roofer delights in the sight of a simple uninterrupted gable roof, architects entertain flights of fancy: they come up with butterfly roofs, or flat roofs surrounded by parapets and scuppers, or complicated roofs interrupted by multiple valleys and dormers.
The roofer's ideal
From a roofer's perspective, the ideal roof is a simple gable roof or saltbox without any valleys, chimneys, dormers, or skylights. The pitch is fairly steep—say, between 4-in-12 and 12-in-12. (A steep pitch reduces the chance that frisbees, tennis balls, and leaves will accumulate on the roof, and a steep pitch speeds up a raindrop's descent. Steep-pitched roofs are always more forgiving of minor leaks than shallow-pitched roofs.) The ideal roof has wide overhangs on all four sides—at the eaves as well as the rakes. Some roofers like to see gutters at the eaves; others—especially those who live in cold, snowy climates—disdain gutters, since gutters often contribute to ice dams.
A raindrop that lands near the ridge…
Weekly Newsletter
Get building science and energy efficiency advice, plus special offers, in your inbox.
This article is only available to GBA Prime Members
Sign up for a free trial and get instant access to this article as well as GBA's complete library of premium articles and construction details.
Start Free Trial
Already a member? Log in