Lots of things can go wrong with roofs: bad flashing can cause leaks, a poorly designed valley can turn into a slow-moving glacier, and misplaced gutters can do more harm than good. Experienced roofers see a lot of stupid roofs.
Soon after I dropped out of college in 1974, I got my first construction job. I was hired by Edward J. Thornton Roofing Company in Newtonville, Massachusetts. The company paid me $3.50 an hour. For the next 12 months, I installed countless bundles of asphalt shingles and mopped acres of tar-and-gravel roofs with hot asphalt. Every now and then, I also helped Ed, the company's sheet-metal worker, to install copper valleys and copper-lined cedar gutters on slate roofs.
Most of the time, I was installing asphalt shingles, back in the days before nail guns and portable compressors. We used heavy wooden extension ladders. My staging consisted of 2×12 planks laid on hardwood shingle brackets; each bracket was secured to the roof with three 16d nails. We never had any fall protection.
My tools were simple: a 16-oz. straight-claw Estwing hammer, a Stanley utility knife, a cat's paw, a chalkline, a measuring tape, a pair of metal snips, and a cotton nail bag. My tool box was so light that I was able to commute to the roofing shop on my bicycle; I strapped my tool box and my lunch box on the rack over the rear wheel. (Fortunately, my boss delivered the ladders, staging, and shingles to the job site.)
I really enjoyed shingling. I still remember the satisfaction I experienced every time I nailed the last few cap shingles on the end of a ridge — especially when the weather was sunny.
Once a roofer, always a roofer. I still shake my head when I drive by a house and see a classic, obvious mistake, like a brick chimney in the middle of a valley. But my eye also catches errors that others miss, like a shingle roof with a badly woven valley between roofs with different slopes. (When the roofer isn't paying attention, these woven valleys tend to drift to one side.)
I also hate to see asphalt shingle roofs where the slots don't line up, or a roof without drip-edge at the rakes, or badly planned shingle courses. (A classic error happens when a ridge isn't parallel to the eave; an inexperienced roofer is surprised by the discrepancy at the end of the job, and the lack of parallelism shows. An experienced roofer snaps lines to gradually correct the problem over 10 or 12 courses.)
I have strong opinions about roofs. Without apology, I hereby present my opinions.
1. Avoid valleys
If you are designing the roof of a new house, try to design a roof without any valleys. Valleys concentrate water and often clog with ice. It's far more common to have leaks or ice dam problems near valleys than in the middle of a simple sloped roof.
Many valleys exist because of a designer's conceit rather than necessity. Often, these valleys trace back to the mistaken belief that a chopped-up, complicated, multi-plane roof looks better than a simple gable. It doesn't.
2. Just say no to dormers and skylights
There's no reason for a new house to have a dormer. When I see a dormer, I conclude that the designer or the architect made a mistake. They didn't include enough interior space, and the homeowner was forced to cut a hole in the roof because the ceiling was too low to stand up.
If you want to build a multi-story house, that's fine. If you want two floors, build two floors. If you want three floors, build three floors. Then build a roof over the top floor. This roof shouldn't have any deliberate holes in it. The "no holes" rule covers both dormers and skylights.
3. An unconditioned vented attic is better than an insulated roof
It makes more sense to put insulation on the attic floor than to try to insulate a sloped roof, for several reasons:
Rafters usually aren't deep enough to hold a thick layer of insulation; on the other hand, it's usually easy to add a deep layer of insulation to the attic floor. Insulating the attic floor is also cheaper.
If you leave your rafter bays uninsulated, it will be easier to locate roof leaks.
It's easier to air seal the attic floor than a cathedral ceiling.
Damp roof sheathing will dry out quicker if it faces an attic than if it is part of a cathedral ceiling.
4. The best roof shape is a simple gable or hipped roof
In a cold climate, the ideal roof is a simple gable. Since gables don't have any valleys or hips, they are easy to vent. It's a straight shot from the soffits to the ridge. That's good.
Chopped-up roofs with a variety of intersecting planes are hard to frame, hard to keep watertight, and hard to vent. Every nook and cranny creates somewhere for pine needles and ice to accumulate. You don't want any nooks and crannies on your roof.
In a hot climate, a hipped roof makes more sense than a gable, because a hipped roof makes it easier to provide shade on all four sides of the house. In a hot climate, shade is good. Fortunately, people in hot climates rarely have to worry about ice dams — in Florida, it doesn't really matter if you choose a roof shape that is hard to vent.
In all climates, make overhangs generous. (Roof overhangs help shade south-facing windows in summer, and help keep siding dry on all orientations. Remember: every exterior door needs to be protected by a roof overhang or its own roof.)
If you're building a gable roof, don't forget the rake overhangs; most rake overhangs are too stingy. If necessary, frame the rake overhang with full-depth ladder-style outriggers.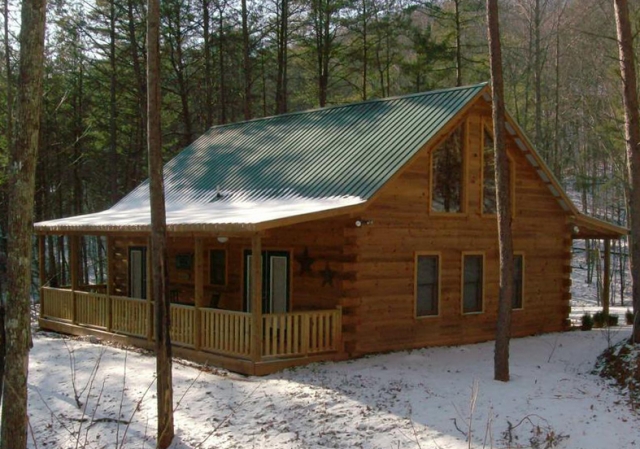 5. Don't reduce the slope of your roof halfway between the ridge and the eave
A good roof plane has a consistent slope from the ridge to the eave. A roof that changes slope at midpoint is disturbing. Especially disturbing is a steep roof that suddenly switches to a shallow pitch (for example, when a porch with a shallow-pitched roof is affixed to a house with a steep roof). Such roofs hold snow and are susceptible to leaks.
6. Asphalt felt makes more sense than synthetic roofing underlayment
Unless you plan to leave your roofing underlayment exposed to the weather for several weeks, there's no reason to buy synthetic roofing underlayment, a product that costs much more than old-fashioned asphalt felt. I like to use #30 felt, which is heavier than #15 felt.
Besides being more expensive than asphalt felt, most brands of synthetic roof underlayment are vapor-impermeable, so they don't allow the roof sheathing to dry to the exterior. According to the manufacturers of synthetic roofing underlayment, these products should never be used on unvented roof assemblies.
7. Plumbing vent pipes should penetrate the roof near the ridge
Like chimneys, plumbing vents should penetrate a roof near the ridge rather than near the eave, for two reasons:
While ridges are dry, eaves are wet. Eaves see much more water over the course of a year than ridges, so any defect near an eave will leak more water than a defect near a ridge.
If you live up north, snow and ice can tear your plumbing vent right off your roof, especially if it is located near your eave. It's much safer higher up the roof.
In a house with a vented unconditioned attic, it's easy to install a couple of 45° ells in the vent pipe so that the pipe penetrates the roof near the ridge. The same approach is also possible in a house with a cathedral ceiling, although the rafter bay in which the vent pipe is run will not be as well insulated as the other rafter bays.
8. Choose metal roofing or asphalt shingles
I'm just expressing my opinion here. Clay tiles and slate are expensive. Concrete tiles are fragile and tricky to walk on.
Cedar shingles are beautiful, but they are time-consuming to install and (because of their flammability) are illegal in some jurisdictions. Imitation slate and imitation wood shingles look like they belong on a Howard Johnson's restaurant.
EPDM and roll roofing, if visible, are ugly.
My favorite type of roofing is ordinary through-fastened steel roofing. It's available in a wide variety of colors and can be ordered cut to any length. It goes on fast, lasts a very long time, and is recyclable. It costs less than standing-seam metal roofing.
My second favorite type of roofing is good old-fashioned asphalt shingles. They have their downsides, of course — they are made from petroleum, are susceptible to algae, and don't last very long. But they are affordable, easy to install, integrate well with all types of flashing, and adapt easily to new penetrations or changes to the roof. Asphalt shingle roofing is easier to repair than other types of roofing.
In most areas of the country, it makes sense to order algae-resistant shingles. Otherwise, install a galvanized steel or copper ridge cap; leachate from the ridge cap will keep your shingles algae-free.
9. Get flashing details right
Step flashing should be generously sized; the vertical leg should be at least 6 inches high, although 8 inches is better. Remember, you aren't going to be bringing your siding down to the roof, so at least 3 inches of step flashing will remain visible under your siding. Each piece of flashing should be bent from a piece of sheet metal measuring at least 8 inches by 12 inches; crease the flashing so that it has two 6-inch-wide legs.
Each piece of step flashing only gets one nail into the roof. Never nail step flashing to the wall — that only complicates the job of replacing the step flashing in the future. If your step flashing begins at the eave, don't forget to install kick-out flashing at the eave.
When I install step flashing on an asphalt shingle roof, I like to install a sideways course of cedar shingles under the step flashing, installed at 90° to the usual shingle orientation, with the butt end of each cedar shingle facing the sidewall and the tapered edge blending into the field of the roof. (The cedar shingles are later hidden by the asphalt shingle roofing.) These imperceptible shims direct water away from the vulnerable sidewall flashing, and lighten the load of water that the kickout flashing has to deal with.
Chimneys always get two types of flashing to allow the roof to settle without breaking the flashing. I was taught to flash chimneys with 16-ounce copper flashing and lead counterflashing. These days, however, many roofers are avoiding lead because of its toxicity; it's possible to counterflash chimneys with copper instead of lead, but the copper isn't as flexible.
Unless the chimney bisects a ridge, every chimney needs a cricket. Make the cricket oversized, so that the two cricket valleys terminate away from the chimney.
Installers of steel roofing often do a sloppy job with flashing. When I install steel roofing, I always plan carefully for any roof penetrations like vent pipes, chimneys, or skylights. Ideally, you want to lap the steel panels at the penetration. One sheet of metal roofing runs from the eave to a few inches above the penetration; then the penetration is flashed. Then a second sheet of metal roofing is installed from the ridge down to a few inches below the penetration, so that the steel roofing laps at the penetration.
10. Anticipate ice dams
If you're building in a climate that gets snowy winters, your roof should include details to minimize the likelihood of ice dams:
Frame your roof with raised-heel trusses.
Make sure your ceiling is as airtight as possible.
Install a very deep layer of insulation on your attic floor. The insulation needs to cover the top plates of the home's exterior walls.
Make sure there is adequate blocking between your trusses to keep the insulation from spilling into the soffit and to prevent wind-washing.
Install ventilation baffles to maintain a ventilation channel from your soffit to the attic.
Install two or more courses of self-adhering rubber roof membrane, so that the membrane extends from the eave to a point at least 3 feet higher than the plane of your exterior wall.
If possible, make sure your roof has no valleys.
If possible, don't install gutters; if gutters are necessary, make sure that they are installed below the plane of the roofing so they won't prevent ice from sliding off the roof.
A preemptive comment directed at indignant designers
At this point, many readers are itching to comment on my arbitrary rules. Before firing off an e-mail or posting a comment in all caps, however, you should hear me out.
Yes, I know that it isn't that hard to install roofing and flashing details that keep valleys and dormers leak-free.
Yes, I know that my worries about ice dams and roof glaciers only apply in certain climates.
Yes, I know that skylights can provide welcome daylighting to dark interior spaces.
Yes, I know that many home buyers think that dormers are charming.
Yes, I know one reason that designers include dormers is because zoning height restrictions preclude unconditioned attics.
Yes, I know that design imperatives sometimes prevent chimneys from penetrating the roof at the ridge.
I have provided design rules from the perspective of a roofer. These rules, of course, are not set in stone, but they are useful principles to keep in mind. Break the rules if you must, but break them consciously, and only for good reasons.
If there is any takeaway to this list of rules, it's this: Designers who gussy up their roofs with flourishes and do-dads are often insecure. Apparently, they think that a few more Christmas ornaments will wow their clients. In contrast, classic Japanese and Shaker designers had the self-confidence and restraint to recognize that there is no shame in choosing simple, elegant shapes. In my opinion, these Zen or Shaker principles should govern roof design.
Last week's blog: "Books on Insulation and Energy-Efficient Building."