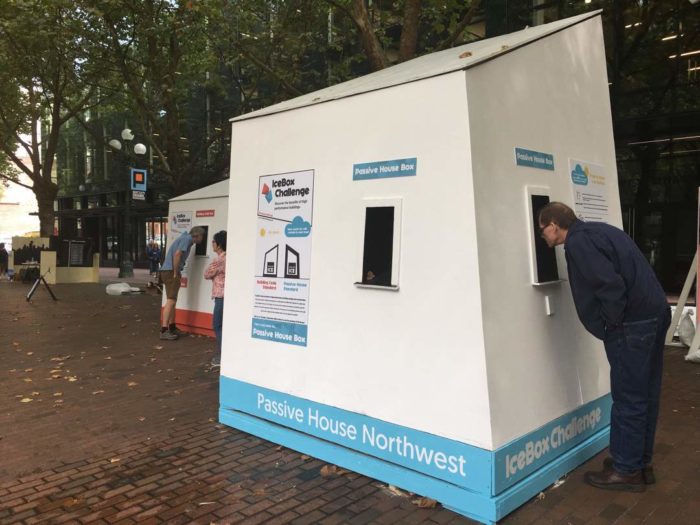 Passive House advocates in the Pacific Northwest have organized an unusual public demonstration aimed at proving just how much energy can be saved with superinsulation and airtight design, a contest not unlike a county fair come-on where visitors are asked to guess how many pebbles will fit into a one-gallon jar.
Only in this case it's how much of an original ton of ice will be left after sitting inside an unrefrigerated building in the middle of summer for several weeks.
Earlier this year, Passive House Canada (with the backing of a number of other sponsors) built two small structures and placed them on a sidewalk in Vancouver, British Columbia. One was constructed to meet the Passive House building standard, the second to the provincial building code.
Just under a metric ton (1,000 kilograms) of ice was placed in each one, and after 18 days the enclosures were removed to expose what was left. According to Canadian Consulting Engineer, the remaining ice in the Passive House structure weighed 639 kilograms, compared to the 407 kg of ice in the BC code-compliant enclosure, when the event ended on August 14. Prizes offered to the people whose guesses were the closest included tours of Passive House buildings in the Whistler and Vancouver areas.
The backdrop is a new zoning law that will eventually require all new houses in the city be built to the Passive House standard, Business Vancouver reported.
A second round in Seattle
Earlier this month, The Ice Box Challenge moved 142 miles south and set up shop at Occidental Park in Seattle, where a similar "ice reveal" was planned for today (September 28).
This time, the contest pits the Passive House standard against Seattle's building code. During the 20-day melt-down, visitors could take a peek through windows in the sides of the small buildings to see how the 1,200-pound blocks of ice were faring.
Brittany Porter, a project architect at NK Architects, one of the primary sponsors of the event, said that the idea for bringing the demonstration to Seattle was hatched at a Passive House conference in the spring attended by a number of people from the Canadian Passive House group. Similar demonstrations have taken place in Europe, where Passive House construction is more common, and the face-off seemed like a good way of introducing more people in the Northwest to Passive House features.
The houses are basically the same, with a few notable exceptions. The code-compliant building has 2×6 framing and is insulated with Roxul mineral wool cavity insulation to R-21. It has double-pane windows. The Passive House version has 2×12 framing plus cavity insulation and a continuous exterior layer of Roxul insulation for a total R-38 envelope. It gets triple-pane windows, higher quality air-sealing tapes, and a more careful window installation.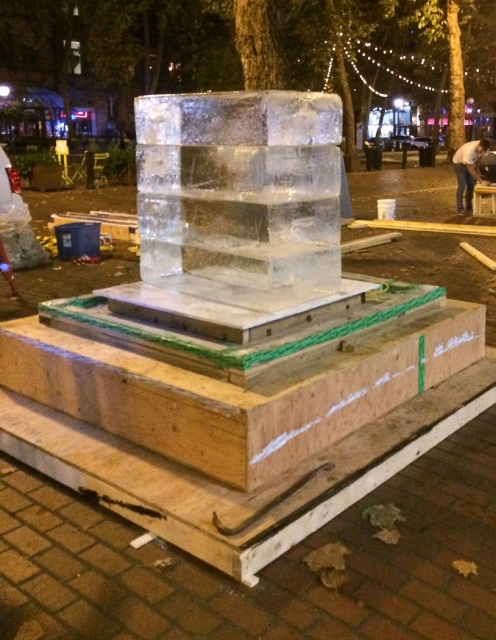 Porter says that the buildings were run through standard energy modeling to make sure they would comply with their respective standards (but there were no blower door tests).
NK Architects and Passive House Northwest weren't offering any prizes for the best guess on the ice melt, but Porter said that public interest has been high nonetheless.
"Luckily it's in Occidental Park where there are food trucks and a live music in the summer," she said by phone. "It's sort of the happening spot for lunch time. There are always people checking it out and asking questions. The biggest question is always, 'What's the difference between the two boxes?' Everyone is always pretty impressed: There is more insulation, better construction quality with the taping and the air sealing and another pane of glass. That's really all there is."
Good timing
Sponsors managed to squeeze in the project between the Seattle Design Festival opening on September 9 and this weekend's North American Passive House Network Conference (which promotes the German-based Passivhaus standard rather than a similar standard published by the Passive House Institute U.S.) Results of what Porter calls a "public science demonstration" will be revealed just as the conference gets up to speed.
"It's just a nice visual way for the public to see some of the ways in which designing a better building can save up to 75% in energy use — and I expect that will be the difference in ice melt — about 75% more ice melt in the code-built building," she said.
Seattle's Ice Box Challenge follows by a year a demonstration staged by Olson Kundig Architects on the same spot: the melting of a 10-ton block of ice to mimic how the Earth's ice caps are melting.
"I'm hoping this is sort of a hopeful, optimistic type of installation," she said. "Last year was meant to be a shock-and-awe thing, but done very beautifully. We're in the same location, in the same amount of time, and we're coming in with this piece that's just proposing a solution, and a really achievable solution. That's why we're really excited."
Next year the exhibit travels to the Oregon Museum of Science and Industry in Portland.
Weekly Newsletter
Get building science and energy efficiency advice, plus special offers, in your inbox.