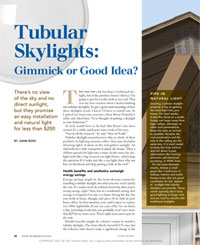 Tubular skylights are a quick and economical way to bring more natural light into your home.
Natural light is free, and getting a good dose of natural light has been shown to improve mood, work performance, and attention spans; it even can counteract the affects of seasonal affective disorder (SAD). *Fine Homebuilding* assistant editor John Ross takes a look at tubular skylights, their installation process and their accessories.
This article is only available to GBA Prime Members
Sign up for a free trial and get instant access to this article as well as GBA's complete library of premium articles and construction details.
Start Free Trial
Already a member? Log in