Everyone loves skylights. Right? They bring so much light into a room they can turn a Seattle kitchen into a bright and sunny Florida room. Especially at this time of year (in the northern hemisphere), having that extra light can brighten even the darkest days of winter.
But skylights have a dark side, too. If you're not aware of that when incorporating these roof windows into a home, you can end up with high energy bills, rooms that are unusable at certain times of the year, or expensive repairs due to moisture problems.
The benefits
Of course, the main benefit of having skylights in a home is all the natural light you get from them. This is mainly for winter because that's when we have less overall exposure to the natural light our bodies crave. Nobody likes being holed up in a dark, dim, artificially lit cavern on those overcast winter days when the sun sets shortly after it rises. (Well, maybe with the exception of video gamers and college students who are trying to sleep during the day.)
A well-placed skylight or two can make the difference between feeling OK about yourself on those dark days or becoming a psycho killer. (Qu'est-ce que c'est?) For those who suffer from Seasonal Affective Disorder (SAD) and can't spend time outdoors, being in well-lit interior spaces can make all the difference.
If you live in a cold climate, you can also get some solar heating from a skylight. To do so, you'll need to make sure that you get one with as high a solar heat gain coefficient (SHGC) as you can. (The SHGC tells you how much solar heat gain you'll get from a window or skylight. It's generally a number less than one, with lower numbers meaning the skylight will block more of solar heat from entering.)
There you have it. The two main advantages of having skylights are the extra natural light you get and the possibility of some solar heating in winter.
The drawbacks
But those two benefits come at a cost. The extra natural light and solar heat you get are welcome in winter, but in the warmer parts of the year they can be a nuisance. Before I get into the details, let me make a list of the main drawbacks of skylights:
Too much light on bright sunny days
Too much heat gain, leading to overheating
Heat loss in winter
Skylight shafts that aren't insulated or air sealed properly
Moisture problems from leaks where the skylight penetrates the roof.
Let's take a look at each of them now and discuss how you might overcome the drawbacks.
Too much light
Depending on the orientation and size of the skylight, you may end up with a room that's just too bright. When the sun shines directly on the skylight, it can make a room practically unusable at certain times of the day.
What can you do about it? One way would be to keep skylights on north-facing roof sections. That will limit the amount of direct light coming into the skylight, especially if the sunlight has to travel through a shaft to get into the room. If you can't locate it on a north-facing roof, put it higher on the roof to take advantage of a longer skylight shaft.
If you can't do those things or you still have a problem, you'll need another way of keeping the excess sunlight out — typically shades or blinds. At this point, you should ask yourself whether it might be better to chuck the whole idea of having a skylight. And we still have four drawbacks to go.
Too much heat gain
As I've written in the past, windows, including skylights, are a thermal liability. They aren't required to limit the amount of heat loss or heat gain nearly as much as walls, ceilings, or floors. Here's the table from the 2015 International Energy Conservation Code (IECC):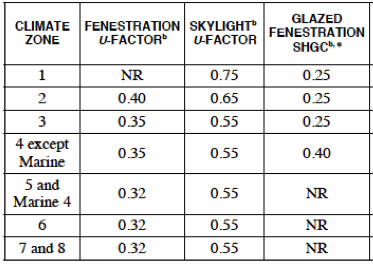 Looking at the U-factor columns, we can calculate that the equivalent R-values range from 1.3 to 3, whereas walls would be required to have insulation of R-13 (CZ 1) to R-23 (CZ 6 and higher).
How does this impact the heat loss in winter or heat gain in summer? We did a little modeling with our Manual J software (RightSuite Universal) and found out how much extra capacity you'd need for each square foot of skylight area. Let's take a look.
Florida, Climate Zone 2
First we looked at what happens in a hot climate, using the following specs:
Windows: U = 0.33 and SHGC = 0.25
Skylights: U = 0.53 and SHGC = 0.24
For summer, we got the following results:
| | | | |
| --- | --- | --- | --- |
| Orientation | Window | Skylight | Multiple |
| North | 11.7 BTU/hr/sf | 66.7 BTU/hr/sf | 5.7 |
| South | 13.6 BTU/hr/sf | 67.4 BTU/hr/sf | 5.0 |
| East or west | 30.4 BTU/hr/sf | 73.5 BTU/hr/sf | 2.4 |
The data here show that putting skylights on north-facing roof gives you the lowest heat gain of the four choices, but there's not a lot of difference between them. The bigger conclusion to draw from this is that skylights will add a lot more heat to your house than windows.
Of course, we used specs for windows and skylights that just barely meet code. By installing skylights that are much better than code, you can reduce that heat gain.
Michigan, Climate Zone 5
Then we looked at a cold climate, with the following specs:
Windows: U = 0.33 and SHGC = 0.25
Skylights: U = 0.53 and SHGC = 0.24
The window U-factor in this case doesn't quite meet the 2015 code, but the difference between 0.33 and 0.32 is negligible.
For summer, we got the following results:
| | | | |
| --- | --- | --- | --- |
| Orientation | Window | Skylight | Multiple |
| North | 10.2 BTU/hr/sf | 60.1 BTU/hr/sf | 5.9 |
| South | 16.3 BTU/hr/sf | 62.3 BTU/hr/sf | 3.8 |
| East or west | 28.8 BTU/hr/sf | 66.8 BTU/hr/sf | 2.3 |
Again, the data show that you probably ought to go with skylights that are significantly better than required by the energy code if you don't want to overheat in the summer.
Also, the heat gain calculations above don't include any skylight shaft area, as the skylight in question here was like the one shown in the photo at the top of this article. It was in a cathedral ceiling.
Heat loss in winter
We did the same calculations for winter heat loss and found this:
Florida. For winter, the windows have a heat loss of 12.1 BTU/hr per square foot. The skylight loses 19.5 BTU/hr per square foot. The skylight in this case is about 1.6 times worse than the window because it's allowed to have a higher U-factor. Solar heat gain didn't factor into the calculation because the peak heat loss occurs at night, when it's coldest.
Michigan. For winter, the windows have a heat loss of 20.2 BTU/hr per square foot. The skylight loses 32.4 BTU/hr per square foot. The skylight in this case is again about 1.6 times worse than the window.
Heat loss in winter isn't as bad as heat gain in summer in this case, but it could still create comfort problems if your skylight doesn't have good specs.
Poorly insulated or air-sealed skylight shaft
Another problem that occurs with skylights is that they sometimes go through unconditioned attics, as you see in Image #2, below. The framers will build a shaft that has 2x4s on the flat (look at the one on the left with the wire stapled to it), and that makes it difficult to insulate the shaft with traditional insulation materials. The fiberglass batts you see here, even if they weren't peeling back, would do a good job of insulating the shaft because of poor contact. These shafts often are air leakage sites as well.
What can you do? One method would be to move the building enclosure to the roofline. Just make it a conditioned attic, and now you don't have to worry about insulating the skylight shaft. Another method would be to use spray foam insulation on the shaft.
However you decide to handle this problem, you need to be aware that that skylight shaft is part of the building enclosure. If it's running through a unconditioned attic and is poorly insulated or air sealed, it's going to create a thermal liability, adding heat to the house in summer, stealing it in winter.
Moisture problems from leaks
You should always consider carefully when thinking about adding any penetrations to the roof. Yes, we have materials and methods that can minimize the risk of water leaks, but over time, things change. If you can avoid the risk by figuring out other ways to get that natural light into a home, that's probably a wiser way to go.
The bottom line
Skylights can definitely bring some necessary cheer to a home by bringing in more natural light in winter. But while you might get just the right amount in winter, you can end up paying the price later by overheating your house and making rooms unusable or uncomfortable. Here's my summary of how best to use skylights:
Install them in climates that don't get too hot in summer. (Think Seattle.)
Install them on the north-facing roofs.
Install them where they'll get shaded in summer if overheating is an issue.
Get skylights with the best specifications you can find. That means double- or triple-pane with U-factors and solar heat gain coefficients well below what the code requires.
Eliminate skylight shafts or make sure they're insulated and air-sealed.
Use the best water management materials and methods you can to reduce the risk of water leaks at the roof.
Sometimes, though, the best thing to do is just eliminate skylights altogether. If you're in the design phase, this is a lot less expensive to do than if you've already got the in your house, of course.
Allison Bailes of Decatur, Georgia, is a speaker, writer, energy consultant, RESNET-certified trainer, and the author of the Energy Vanguard Blog. Check out his in-depth course, Mastering Building Science at Heatspring Learning Institute, and follow him on Twitter at @EnergyVanguard.
Weekly Newsletter
Get building science and energy efficiency advice, plus special offers, in your inbox.