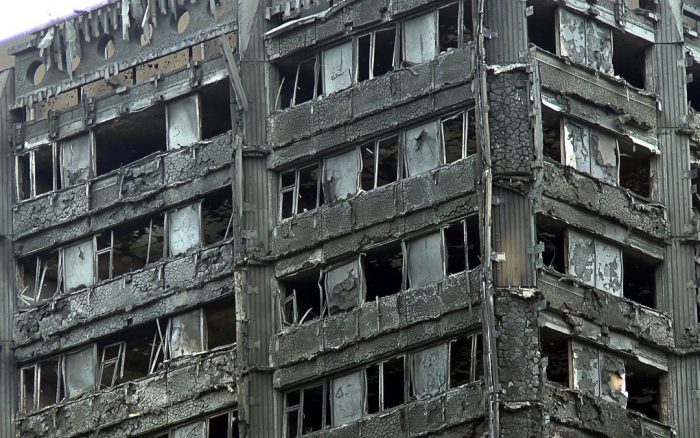 Two years after fire roared through a public housing tower in London and killed 72 people, the type of insulated cladding thought to have contributed to the blaze is still a threat to thousands of British apartments dwellers, according to published reports.
The fire at Grenfell Tower reportedly started with a faulty refrigerator in an apartment on a lower floor and spread rapidly up the outside of the 24-story building. Investigators believe that an aluminum-faced cladding with a core of polyethylene insulation helped make the fire so deadly.
The panel, called Reynobond PE, was installed over an air gap that investigators believe acted as a chimney flue to spread the flames upward. The cladding was the cheaper of two versions of Reynobond; an upgrade costing about 21 cents per square foot more has a fire-resistant mineral core.
In the aftermath of the fire, British officials promised to make sure than such a disaster could never happen again. Recently, The New York Times checked to see just how well the government has followed through on that pledge. In an article explaining its findings, the newspaper reports that the government moved "fairly quickly" to get the cladding off public high-rises. But repairs at some 8,400 of those apartments are not complete. At the same time, some 16,000 private apartments are still covered in the same type of cladding that helped make the Grenfell fire so deadly.
Among its other conclusions, the newspaper found:
The owners of private apartments with the insulated cladding feel trapped. They can't sell their apartments, and the cost of replacing the cladding is very high. Some have formed around-the-clock patrols to watch for any sign of smoke or fire.
Many regulations that allowed low-budget building practices and materials, such as the use of Reynobond PE cladding, remain in place.
Other types of flammable cladding may put another 340 apartment high-rises at risk.
Many other buildings face similar risks
After the blaze, inspectors in Britain found 433 high-rise apartment buildings with the same type of cladding and ordered that it be removed. But by this April–nearly two years after the Grenfell fire–338 of them still had the flammable aluminum cladding, the newspaper said. The government set aside the equivalent of $523 million to aid the removal of the cladding from roughly 150 public housing blocks, and so far about a third of those buildings have been fixed.
Apartment dwellers have balked at huge estimates for replacing flammable cladding. Owners of the buildings couldn't be convinced to pay for new cladding and so this month the government put up another $254 million to get the work done. Completing repairs could take years.
High-pressure laminate, another flammable material used as cladding, is banned from new buildings but can still be found on existing buildings. And other types of flammable cladding can be found on hundreds of other buildings, The Times found, including hospitals, schools and hotels.
Conclusions of inquiry delayed
The investigation into the Grenfell blaze is still very active. The Guardian, a British publication that has reported extensively on the fire and its aftermath, said last week that two experts have just been appointed to help in a public inquiry. Along with the group's chairman, the trio will start a new phase of the investigation early next year. One area of interest are the events that led up to the fire, including the retrofit that included the addition of the cladding.
A report on the fire was expected this spring, but officials now say it will be not published before October because the investigation is turning out to be a "far more complex and time-consuming task than originally anticipated," The Guardian said.
People who live in buildings with the siding continue to be under a great deal of psychological stress. Grenfell United, an advocacy group for survivors and victims' families, called the delays "disgraceful."
Flammable wall assemblies remain a global problem
Wall assemblies containing flammable components are a global problem that remains largely unaddressed, according to an official of the National Fire Protection Association, a private nonprofit that develops codes and test protocols.
Robert Solomon, the director of Building Fire Protection and Fire Protection Systems at NFPA, said the association issued a report on the issue in 2014, three years before the Grenfell Tower conflagration. It found many high-rise buildings faced similar fire risks.
"The report we issued in 2014 showed there were a lot of these out there," he said in a telephone call, "They don't all necessarily use the Reynobond product. They might have a weather resistive barrier that is of combustible material that was never tested."
Although the NFPA has developed a test protocol for evaluating fire risks of various wall assemblies, it's not always used. In the wake of the London fire, Solomon said, worried building owners wondered whether their high-rises were at the risk. But in many cases, there was no easy way to find out. Record-keeping can be haphazard, making it difficult for building owners to determine after the fact whether a material like Reynobond PE was used. And even though codes may require that building owners keep as-built drawings and manuals from component manufacturers, that's not always the case.
"The problem was that building owners, not just in the U.S. but globally, they know they've got one of these systems constructed out of MCM [metal composite material] panels but they just don't have a good way of finding out what it is," he said. "Two years out from Grenfell, whether it's in the U.S., the U.K., Asia, Australia, New Zealand–people just haven't been able to quite figure out what they're dealing with in all cases."
Even when the panel can be identified, it's still not clear how it would react in a fire, a question that the NFPA 285 test protocol was designed to answer. The NFPA also developed an assessment tool for existing buildings called EFFECT (Exterior Facade Fire Evaluation & Comparison Tool). It's designed to help building owners figure out how risky a wall assembly might be, and how the problem might be addressed.
To date, the test has been applied to only about 500 buildings worldwide, he said.
As soon as Solomon learned that Reynobond PE had been used on Grenfell Tower, he looked at the manufacturer's website and found descriptions of a number of projects that appeared to be made with the composite panel, including a Baltimore hotel.
In the case of renovations at Grenfell Tower, Solomon said there were many points in the review process where the potential for trouble might have been spotted. Somehow, it wasn't.
"How on earth do we have all these breakdowns where we have a requirement that gets summarily ignored by the architect, the contractor, the authority having jurisdiction, the group responsible for the maintenance of the building?" he asked. "You would have thought that one of these entities would have said, 'OK, time out here. What are we doing?' "
Weekly Newsletter
Get building science and energy efficiency advice, plus special offers, in your inbox.