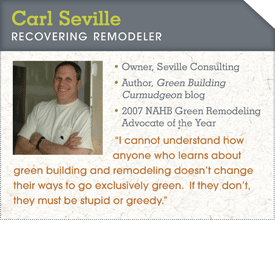 I left off last time with a caution about understanding the differences in green building and potential side effects of changes that are not clearly communicated to the entire team. Another challenge in greening your work is learning new methods and techniques, training your team to properly implement them, and coordinating with your selected green building program to make sure you get the results you are aiming for.
Depending on your current practices, green building may require minimal to extensive changes on your job sites. If you are already building high-performance homes, the changes may be as simple as material substitutions and expanded job-site recycling. Those less familiar with energy efficiency will need to learn about key components of green building, such as comprehensive air sealing, alternative insulation methods, moisture management, and HVAC system design, as well as incorporate green materials and recycling methods on their projects.
You need to become familiar with green methods and materials that will be used on the job site to effectively supervise and manage your team. Take advantage of available training, manuals and documents, and onsite consultants to prepare for greening your projects.
Green building will challenge you, alter your thinking, and maybe even scare you a little as you learn new ways to build. Be prepared to change the way you and your team work as you include more and more green building methods into your homes.
One of the major challenges in green building is interpreting the program checklists, collecting all the required paperwork, and projecting how your house will score and test out before any of the work starts. LEED for Homes requires you to use a provider to advise you through the process, collect the documents, and submit everything for final certification. NAHB uses verifiers to review the checklist and inspect the house during the process and after completion.
Local programs have their own checklists and procedures, which, while similar to the national programs, also have some distinct differences. One renovation project I worked on involved expanding the attic into new bedrooms and baths on an early 20th-century bungalow. We sold the clients on an EarthCraft Renovation, a new program in Atlanta at the time.
All the work was done well, very high-performance insulation, air sealing, glazing, and HVAC, but the owners had a tight budget and didn't go for sealing up the first floor as we had suggested. As the project wrapped up, we had a blower door test done. The older section of the house was still so leaky that the house did not meet the requirements to be EarthCraft certified. It took a lot of explaining before the homeowners understood why the house wasn't EarthCraft, and luckily they were satisfied with our reasoning and happy with the project. Part of the problem was our inexperience with the checklist—it was still a new program—and our inability to accurately project how the house would test out. This particular project ended up with happy clients, but it could have easily gone south if they had been less understanding.
Weekly Newsletter
Get building science and energy efficiency advice, plus special offers, in your inbox.