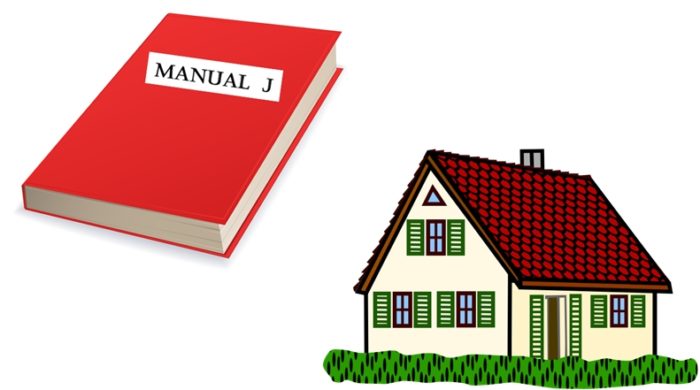 To design a residential heating or cooling system, the first step is to perform a load calculation. (A load calculation determines the size of a building's heating load on one of the coldest nights of the year and the size of a building's cooling load on one of the hottest afternoons of the year.) It's important to know the size of these loads to determine the size of the required heating and cooling equipment.
The best way to determine residential heating and cooling loads is with Manual J, a load calculation method developed by the Air Conditioning Contractors of America (ACCA). Manual J calculations are made with a Manual J software program — for example, Adtek AccuLoads, Cool Calc, Elite RHVAC, EnergyGauge, or Wrightsoft RightSuite Universal.
Manual J software doesn't just provide the heating and cooling load for the entire house; it provides the heating and cooling load of each room in the house. Room-by-room calculations are required, because without them, it's impossible to design a home's heating and cooling distribution system (ducts in the case of cooling, and either hydronic tubing or ducts in the case of heating).
Accurate load calculations aren't just a good idea; they are required by most building codes. In the 2012 IRC, the requirement can be found in Section M1401.3: "Heating and cooling equipment and appliances shall be sized in accordance with ACCA Manual S based on building loads calculated in accordance with ACCA Manual J or other approved heating and cooling calculation methodologies."
Even though contractors are supposed to show a local code official proof that a load calculation was performed, enforcement of this requirement is spotty. When Allison Bailes was in Aspen, Colorado, a local official mentioned a conversation he had had with other Colorado code officials…
Weekly Newsletter
Get building science and energy efficiency advice, plus special offers, in your inbox.
This article is only available to GBA Prime Members
Sign up for a free trial and get instant access to this article as well as GBA's complete library of premium articles and construction details.
Start Free Trial
Already a member? Log in