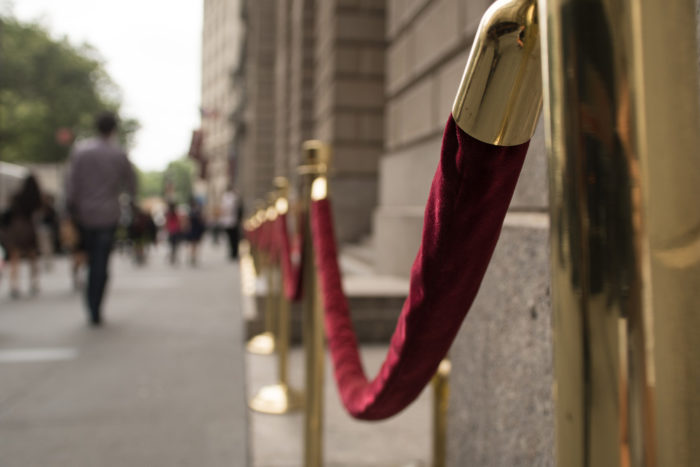 The real estate industry knows there's huge demand for less expensive homes. It's aware that millions of people in Canada and the U.S. don't have the financial means for a million-dollar mortgage. It gets that this is a growing problem. But real estate developers aren't that interested in solving it. Land in cities such as Vancouver and Toronto is expensive. Developers — and the industry at large — make much bigger profits building luxury homes for wealthy people than affordable homes for the rest of us. It's why so few new developments are targeted towards average incomes.
But the real estate industry is not only making a financial calculation. It's making a social calculation as well. Income inequality has been growing steadily for the past few decades. It's now at levels not seen in over a century. The real estate industry predicts the gap between rich and poor will continue to widen. It's aligning itself with our society's wealthiest members. And it's ignoring the middle class.
Those are some of the takeaways from Emerging Trends in Real Estate — United States and Canada 2017, a report produced by PwC and the Urban Land Institute. Its authors describe it as "one of the most highly regarded and widely read forecast reports in the real estate industry." Its conclusions were drawn from a wide-ranging survey of investors, developers, advisers, consultants and other real estate industry leaders. "Researchers personally interviewed more than 500 individuals and survey responses were received from more than 1,500 individuals," the report explains.
A shortage of "regular rents"
The report's authors declined an interview. But many of the experts quoted in the report spoke candidly about the industry. Some of them are concerned about the direction it's heading. "We're not paying enough attention to affordable housing, and I don't mean low-income or government-subsidized. Just regular rents. No new buildings are providing that kind of product," said one CEO. "Time will tell if that's going to come back to haunt us. Not everybody makes $75,000 to $100,000 a year."
Housing has become so expensive in cities like Vancouver, San Francisco, and New York that the industry has amended its definition of "affordable." There is now a "distinction between 'big-A' and 'small-A' affordability," the report explains. Big-A affordable housing is what most of us are familiar with. It refers to housing for our society's poorest members, often built with the support of governments. Small-A affordable housing refers to the needs of people earning $31,000 to $87,000 per year. "In many markets," the report observes, "middle-income households… are housing stressed, spending more than a third of their income on housing costs."
The industry knows that this is a problem. A society in which a majority of people can no longer afford your product is bad for business. Increasing numbers of real estate leaders seem to be paying attention. "Housing costs and availability were rated by Emerging Trends survey participants as being 'considerably important' issues," the report reads, "increasing in importance this year when compared with the 'moderate importance' given to future home prices and affordable/workforce housing in our survey a year ago." But acknowledging a problem is only the first step. The real estate industry doesn't seem interested in actually addressing it.
Many industry leaders have opted to blame others instead. The reason housing is so expensive in cities like Vancouver, they believe, is because local communities are resistant to new development. "[These communities] are engaged in a rear-guard action, contrary to their own self-interest," the report reads. And governments are also blamed: they must lift restrictions and approve projects faster. "Government needs to increase the supply [of new homes]," one respondent told the report's authors. "If there was enough supply, there would be no affordability issue."
Housing for the wealthy
But not everyone in the industry is convinced. "Supply constrained — really?" joked one investment manager. He was referring to huge amounts of new housing being built in ultra-expensive cities like New York and San Francisco. The real issue seems to be that most of this new housing is for rich people. The newest housing tower in Vancouver, for instance, is selling studio apartments for over $1 million. "A lot of construction is happening but a lot of the new projects don't seem to be affordable to locals," Simon Fraser University professor Josh Gordon recently told the CBC.
Many leaders within the real-estate industry share the assessment. "New homes that are developed tend to be for a high-income market," reads PwC's Emerging Trends report. "Few builders are targeting middle-income buyers." High land and labor costs are partly to blame. "We can't afford not to develop apartments at the high end," one respondent said. But so is the real estate industry's business model. Because affordable homes tend to generate "incremental profits rather than large windfalls," it reads, most "builders have been targeting more affluent buyers."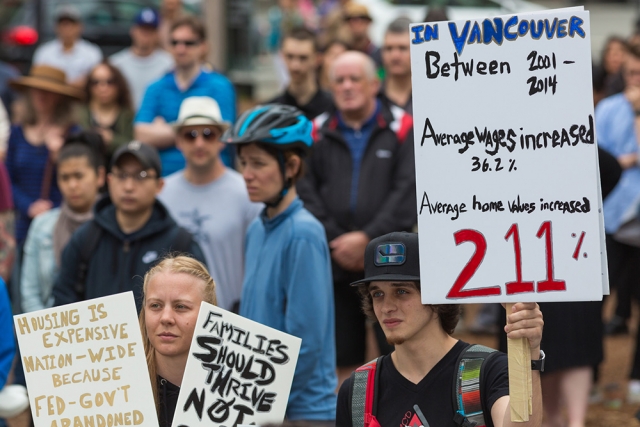 Yet the reasons for this aren't only financial. They also reflect a social calculation. The real estate industry knows that income inequality is at record highs in Canada and the U.S. It believes this gap will continue to grow. One result of income disparity is to make our society's top cities inaccessible to regular people. The report likened the experience of living in these cities to attending an invitation-only party. "At the entrance to fashionable nightclubs or red-carpet opening nights, access is controlled through use of velvet ropes on brass stanchions," it observed. "Bouncers let only select individuals gain entry — the others have to stand and look in from the outside."
The implication is clear. Cities like Vancouver have become exclusive hangouts for the wealthy. The rest of us are now passive observers of civic life, staring longingly from the periphery. "Just as the downtowns of cities 'hollowed out' in the second half of the last century, so too the middle class has been hollowing out," the report reads. This is not just confined to places like Toronto, New York, and Los Angeles. Inequality is now spreading to secondary cities across the continent. "For these areas and many others, the velvet rope means increasing income segregation," it reads. The real estate industry wants to be inside the velvet rope. It wants the company of rich people. And it's abandoned the middle class on the sidelines.
Many leaders within the industry realize that this is a risky strategy. By focusing so heavily on affluent customers the industry is alienating big sections of our society. "Rents are hitting levels that are unaffordable to most of the younger workforce," the report explains. And with affordability overall "on the decline," it adds, "the related strain on the social fabric is getting high-level attention." Real estate leaders know that if prices keep rising there will come a point when the majority of people can simply no longer afford them. "Affordable housing may be the real estate industry's vulnerable flank," it reads. But for now many developers are opting to ignore it.
Geoff Dembicki is a reporter for The Tyee, where this article was originally published. His book, Are We Screwed? How a New Generation Is Fighting to Survive Climate Change will be published later this year.
Weekly Newsletter
Get building science and energy efficiency advice, plus special offers, in your inbox.