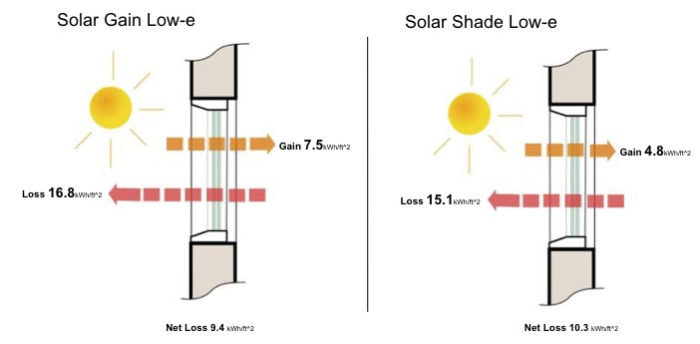 UPDATED on March 18, 2015
The common perception that windows are "energy holes" is a bad rap. Since today's high-solar-gain triple-glazed windows gather more heat than they lose, good windows perform better than an insulated wall. After all, a wall can only lose energy, while windows can gain energy during the day to balance energy lost at night.
The Canadian window-rating system
In Canada, windows are rated according to the ER (Energy Rating) method. For those who live in cold climates, the Canadian ER system is arguably an easier-to-understand method of rating windows than any system used in the U.S., where NFRC window labels cause a fair amount of head-scratching.
According to a Natural Resources Canada document explaining the original ER rating system, "A window's ER rating is a measure of its overall performance, based on three factors: 1) solar heat gains; 2) heat loss through frames, spacer and glass; and 3) air leakage heat loss. A number is established in watts per square meter, which is either positive or negative, depending on heat gain or loss during the heating season."
Under the original ER rating system, windows with a negative ER were "energy holes," while windows with a positive ER acted like heaters. Poorly designed windows had ER ratings as low as -25, while the best-performing triple-glazed windows had an ER of about +1 (for operable windows) or +8 (for fixed windows).
Window manufacturers weren't happy to discover that many of their windows ended up with negative ratings. Canadian authorities decided to respond to manufacturers' complaints by instituting a type of grade inflation: 40 points were simply added to every window's old ER score. With a stroke of the pen, -10 became 30, and 1 became 41.
South-facing windows produce the most energy
Consider a 1-square-meter fixed window equipped with the best available triple glazing…
Weekly Newsletter
Get building science and energy efficiency advice, plus special offers, in your inbox.
This article is only available to GBA Prime Members
Sign up for a free trial and get instant access to this article as well as GBA's complete library of premium articles and construction details.
Start Free Trial
Already a member? Log in