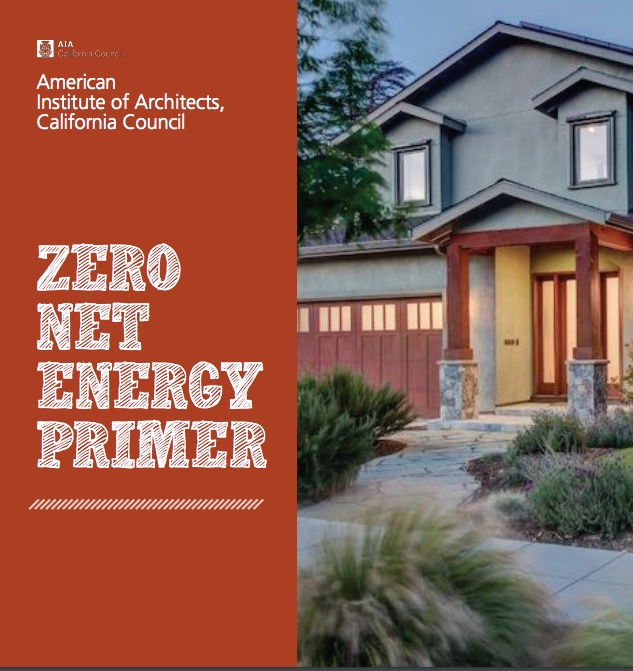 California's steady move toward net-zero energy construction has prompted the publication of a new guide for architects called the Zero Net Energy Primer.
Written by architect Ann V. Edminster the ZNE Primer was published by the American Institute of Architects, California Council and financed by Pacific Gas & Electric. It comes against a backdrop of increasingly stringent requirements in Title 24, the state's efficiency code for buildings.
California has the largest concentration of net-zero homes in the country. A 2017 report from the Net Zero Energy Coalition said that 5,279 of the 13,906 net-zero residential units in North America are located in California. More will be on the way in the wake of a vote by the California Energy Commission earlier this month to require single-family to include solar panels beginning in 2020.
"Significantly, more than 90% of these homes are in developer-initiated, multi-unit projects, demonstrating that these pioneering developers believe that ZNE makes solid business sense — and not just at the high end of the market," Edminster's introduction reads. "The inventory includes thousands of units of ZNE workforce housing and production homes, in a wide range of US climates. The takeaway is that ZNE is highly affordable when you know how to do it."
Net-zero for electricity use
Exactly what "net zero" means often depends on who you ask. Loosely speaking, a net-zero energy house is one that produces as much energy as it uses over the course of a year through a combination of energy-efficient building design and on-site energy production. But definitions can include both "site" and "source" energy and require designers to calculate energy equivalencies between various types of fuel and where the energy was generated.
In this case, the 2019 version of Title 24 requires builders to include a large enough PV array to offset typical electrical loads, Edminster said in a telephone call. Mixed-fuel houses — houses that burn natural gas as well as use electricity — won't have to include solar panels that generate the equivalent of gas-produced energy. But the next version of Title 24 may be different, and by 2030 the state could be imposing net-zero standards on commercial buildings as well.
California will require that architects submit their designs, along with a Title 24 report, showing how the building complies with the code. But it doesn't require any documentation on actual energy use after occupants have moved in. Compliance grows more complicated with the addition of "time-dependent valuation" that's designed to set the relative value of energy based on when it is produced and when it's used.
Although challenging in some of the details, Edminster calls the code changes "ZNE light, or ZNE-ish," far from the intent of Gov. Arnold Schwarzenegger's original and sweeping net-zero pronouncement back in 2006.
Building details for everyone
Edminster said the guide is aimed not just at California architects, but the entire building community, and should be relevant well beyond the state's borders.
"In simplest terms, ZNE is nothing more than a very efficient building with photovoltaics on top," Edminster writes. The guide outlines how architects can address the three keys to meeting net-zero requirements: building an efficient thermal enclosure, choosing highly efficient mechanical systems, and installing solar energy systems.
Complaints from architects about the new energy standards and solar requirements have been muted.
"Anybody who's been paying any attention knows this has been coming for quite a long time," she said. "We've had a dozen years since the original pronouncement and the implementation, which still falls fairly significantly short of that aspiration. So I don't think anybody's really startled."
Even the building industry's trade groups, which normally might be digging in their heels at new requirements, have found the new codes "pretty reasonable," she said.
One exception: architects who cater to the wealthy. It will be harder and harder for them to get away with floor-to-ceiling glass in the houses they design, Edminster said, because plans can't swap more PV for lower building efficiency.
"There will be some resistance," she said. "But they will cope."
Weekly Newsletter
Get building science and energy efficiency advice, plus special offers, in your inbox.