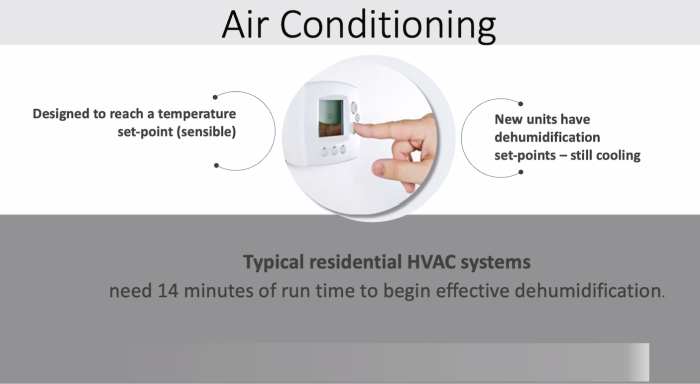 In this episode of the BS* + Beer Show, Nikki Krueger explains why dehumidification is so critical—particularly during the shoulder seasons, "when dehumidifiers shine." Her superb presentation includes high dew point (DP), relative humidity (RH), and temperature (T) maps of the country and what they mean for dehumidification best practices. (Nikki recommends DPCalc for calculating combinations of T, RH, and DP.) We learn why HVAC equipment is commonly oversized—because it is designed for peak conditions, which occur 1% of the time—and how partial loads (and 55% dew point) should be used for most HVAC designs. Nikki explains why it is critical to know the sensible heat factor of equipment for right-sizing, the value of dedicated dehumidification, the meaning behind "A.C. is King, Dehumidifier is Queen," and why dehumidifiers in encapsulated crawlspaces are a good strategy—among many other valuable building science lessons. She also references Joe Lstiburek's "Built Wrong from the Start." So, get ready to take some notes.
Enjoy the show!
Bio
Nikki Krueger is director of marketing and business development for Santa Fe Dehumidifiers. She has been in the indoor air quality industry for over 20 years. She is a RESNET-certified home energy rater, a member of the ACCA Manual Low Load Homes (LLH) Advisory Committee, and member of the Resource Efficiency and Indoor Environment Quality task group for the 2024 NGBS Standards update.
 The BS* + Beer Show schedule
The next show is on November 2, 2023, from 6-7 p.m. ET.
Use this link to register for The BS* + Beer Show
____________________________________________________________________
 Kiley Jacques is senior editor at Green Building Advisor.
Weekly Newsletter
Get building science and energy efficiency advice, plus special offers, in your inbox.