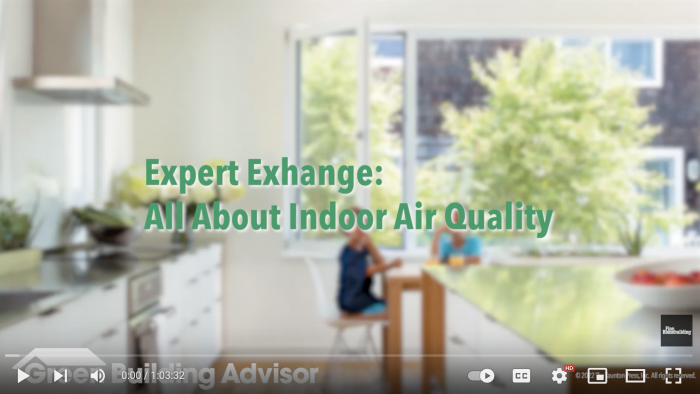 In this Expert Exchange webinar, our panelists identify conditions that create poor indoor air quality and explain how to prevent or fix them to ensure the indoor air we breathe is as fresh and healthy as possible. Allison Bailes gives a subject-overview presentation before guests answer questions collected from industry pros. Topics covered include the role of humidity in indoor air contamination, crawlspace dehumidification and pressurization, DIY filtration, ERV/HRV systems integration, the problems with oversized HVAC equipment, home data collection, and the importance of low-level CO2 monitoring, among others.
The panelists
| | | |
| --- | --- | --- |
| | | Allison Bailes III, PhD is a speaker, writer, building-science consultant, and the founder of Energy Vanguard in Decatur, Georgia. He has a doctorate in physics and writes the Energy Vanguard Blog. His book, A House Needs to Breathe . . . Or Does It? will be available in fall 2022. |
| | | |
| | | Monica Rokicki is founder and CEO of Better Building Works whose mission is to help clients implement intentional, cost-effective strategies for context-driven, high-performance new construction, development projects, and improvement of existing buildings and campuses. She holds various building performance certifications, including LEED AP BD+C and EBO+M, BPI, and HERS. |
| | | |
| | | Nikki Krueger is director of marketing and business development for Santa Fe Dehumidifiers. She has been in the indoor air quality industry for over 20 years. She is a RESNET-certified home energy rater, a member of the ACCA Manual Low Load Homes (LLH) Advisory Committee, and member of the Resource Efficiency and Indoor Environment Quality task group for the 2024 NGBS Standards update. |
| | | |
| | | Cramer Silkworth is a licensed engineer providing Passive House consulting and mechanical system design. In 2012 he founded Baukraft Engineering to provide energy efficiency consulting for residential and small-scale commercial projects in NYC and the Hudson Valley and is a PHI-trained Passive House Trainer. |
| | | |
| | | Jon Harrod is owner of Snug Planet, a home-performance company based in Ithaca, NY. He is a BPI-certified Building Analyst and Efficiency First board member. He is a regular contributor to Green Building Advisor and his articles on high-performance showerheads, construction waste management, and the role of home performance in climate change resilience have appeared in Home Energy magazine. |
Weekly Newsletter
Get building science and energy efficiency advice, plus special offers, in your inbox.