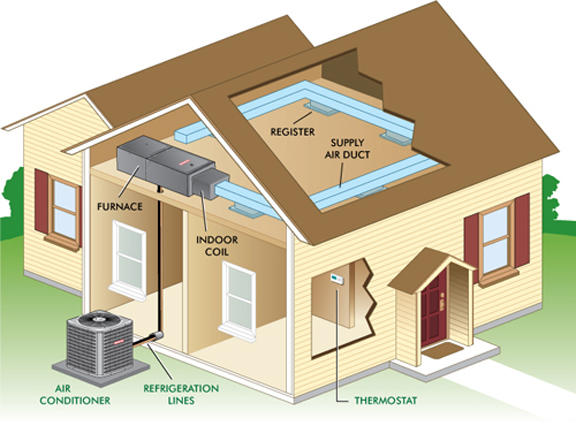 UPDATED on March 2, 2017 with information on the Dettson furnace rated at 15,000 Btu/h.
Many different appliances can be used to heat a house, including boilers, water heaters, heat pumps, and wood stoves. However, most homes in the U.S. are heated by a forced-air furnace.
These devices are connected to ducts that deliver heated air to registers throughout the house. Different types of furnaces are manufactured to burn a variety of fuels, including natural gas, propane, oil, and firewood. The most common furnace fuel in the U.S. is natural gas.
In Europe, where furnaces are almost unheard of, most homes are heated by a boiler that distributes heat through hot-water pipes. Unlike Europeans, however, most Americans insist on central air conditioning in their homes. It's easier to provide whole-house air-conditioning in a home with a duct system. Once you have a duct system for cooling, it's cheaper to install a furnace for winter heating than to install a boiler with a separate distribution system.
Even though the smallest available furnaces are often oversized for a high-performance home — a problem I addressed in a 2009 article, Heating a Tight, Well-Insulated House — furnaces still have virtues that are hard to ignore. They are inexpensive, widely available, and easily serviced by local HVAC contractors. For many North American homes, they are a logical way to supply space heat.
[Author's note: Since this article was written, a Canadian manufacturer has begun selling a gas furnace rated at 15,000 Btu/h. For more information, see Finally, a Right-Sized Furnace.]
Defining AFUE
When it comes to fuel efficiency, residential furnaces in the U.S. are divided into two main categories: so-called "medium-efficiency" furnaces and "high-efficiency" furnaces.
Furnace efficiency is usually calculated using a laboratory procedure that measures an appliance's "annual fuel utilization efficiency," or…
Weekly Newsletter
Get building science and energy efficiency advice, plus special offers, in your inbox.
This article is only available to GBA Prime Members
Sign up for a free trial and get instant access to this article as well as GBA's complete library of premium articles and construction details.
Start Free Trial
Already a member? Log in