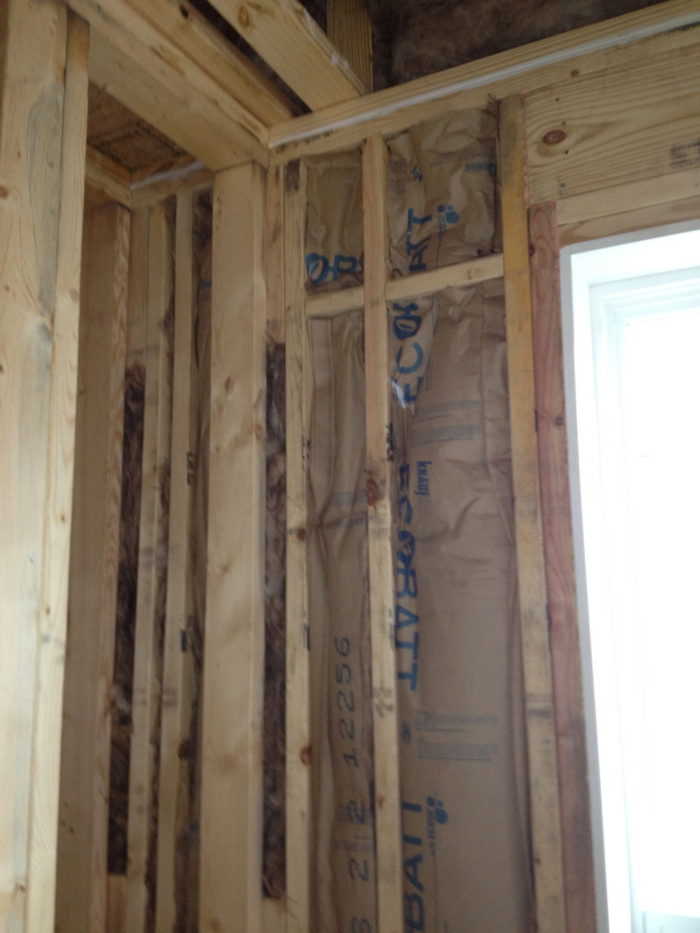 I recently performed the pre-drywall inspection on a small home seeking LEED certification. The local building inspector had visited and approved the batts for covering up.
When I arrived, I immediately noticed that the kraft-paper-faced batts were installed, as is typical, at about a Grade III level, with significant gaps and compressions. (For more information on the definition of a Grade III installation, see Installing Fiberglass Right.) And because the facing was stapled to the studs, I couldn't do a thorough inspection for proper trimming around wires and pipes without causing major damage.
I've come to the conclusion that in most cases, unfaced friction-fit batts are a better solution. They don't have the gaps where tabs are stapled and can be pulled out for inspections without ripping the facing.
I don't think I can count the number of times I have warned my clients about using batt insulation. I can explain the problems with installation, get eye-to-eye contact with their installing contractor who tells me that they can do Grade I work, but so far, in every case, the result is inferior work.
My guess is that the subcontractor doesn't know, or care, about high-quality insulation, and even if they do, the need for it is never communicated to the field crews.
Most installers want to do a good job
Most workers on the job site are happy to learn how to install batts correctly. On a large multifamily building I certified under the National Green Building Standard several years ago, I worked closely with the field crews, showing them what a Grade I installation looked like. The result was consistently high-quality work, until they switched crews and we had to start all over.
Interestingly, it was the field crew, rather than the supervisors, who understood the process and worked hard to make things right. With the luxury of a long-running, multi-unit project, they could take the necessary time and develop a process for quality work.
Single-family homes, particularly one-off models, don't offer the same opportunities. I arrive when they are itching to start hanging drywall and rarely willing to pull out some or all of the insulation unless absolutely necessary.
Inspectors aren't helping
Even worse than the poor quality insulation on the LEED home were the missing air barriers. Neither the builder nor the inspector were aware of the current energy code requirement for rigid air barriers at all tubs, chases, soffits, and stairs on exterior walls.
The house passed and was ready for drywall with these noticeable code violations. Since they are required for certification, the builder installed spray foam and rigid barriers to correct the problems. What frightens me is that the inspectors simply don't know the code well enough to enforce it.
I also perform code required blower-door and duct-leakage testing for code compliance on homes that are not being certified. I am not in a position of authority to enforce any other energy code requirements other than the testing, but in almost all cases, I see major violations in missing air barriers and poorly sealed ducts.
In re-reading my 2010 post on outlawing batt insulation, I am coming to the realization that not enough has changed, and I don't expect to see much progress in the near future.
Weekly Newsletter
Get building science and energy efficiency advice, plus special offers, in your inbox.