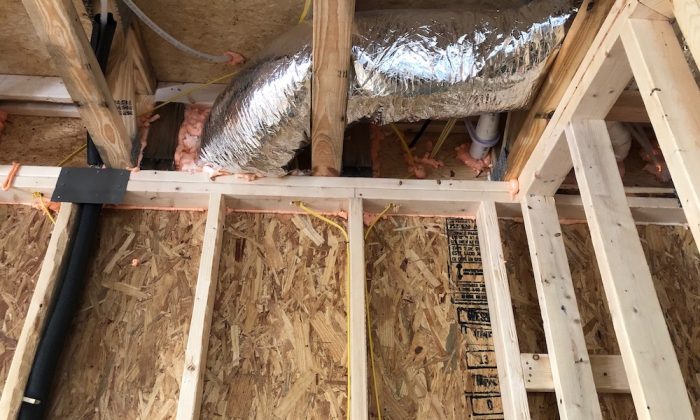 I recently visited a home being built by a national production-home-building company. As you can tell from the title of this article, I have good news and bad news. The good news is that building enclosures have improved, especially the air barrier. The bad news is that ducts still don't get the attention they deserve. Let's take a quick look at some of the things I saw.
Building enclosures have improved . . . mostly
The lead photo above shows the ceiling joists going across the wall between the garage and the living space. I've seen some horrible jobs of blocking and sealing those joist openings above the wall. This builder got it right. They filled the openings and sealed the edges and penetrations. They even lined up the open-web trusses to have vertical members above the wall to make blocking easier. Also note the ladder T-wall that allows them to put insulation at that intersection of two walls.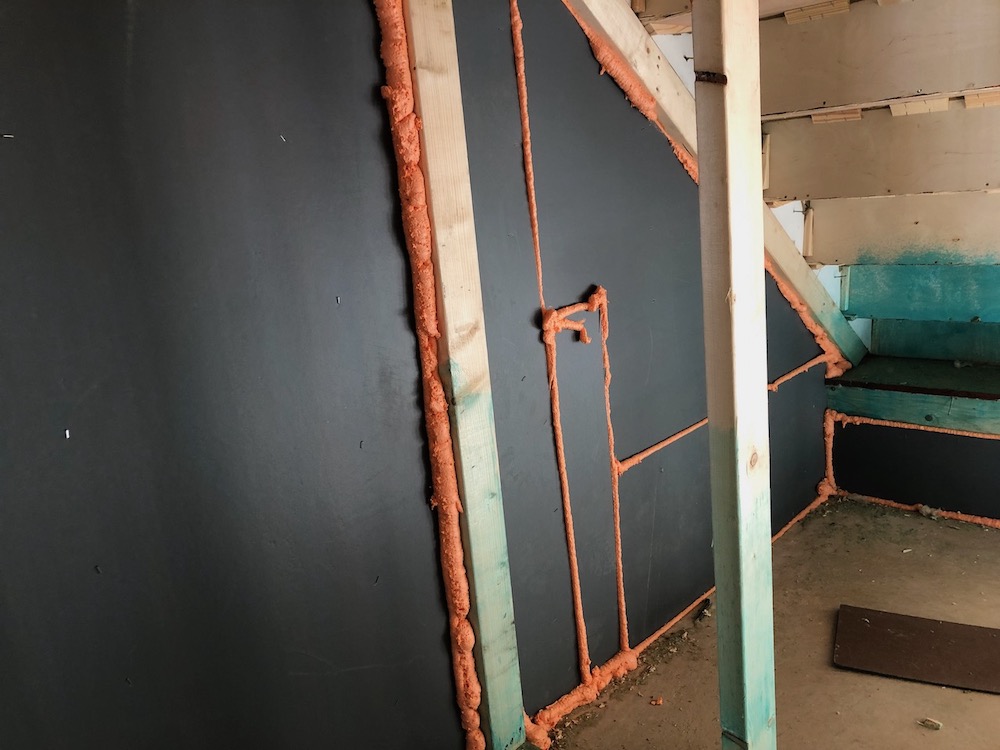 Another big improvement over days of yore is that interior walls that need sheathing but didn't used to get it now have that sheathing. The photo above shows the exterior wall beneath the stairs. They did the same thing in the fireplace chase and behind bathtubs on exterior walls. (Locating tubs on exterior walls is another matter, but I guess we need to take that up with their designers.)
And it's all sealed up. I did see some bits of insulation around those areas, so I assume it's insulated behind the sheathing, too. Yeah, it's fiberglass batts, and no, it's almost certainly not grade 1. But 20 years ago, many of those walls got nothing. (Now you know why your shower is so cold.)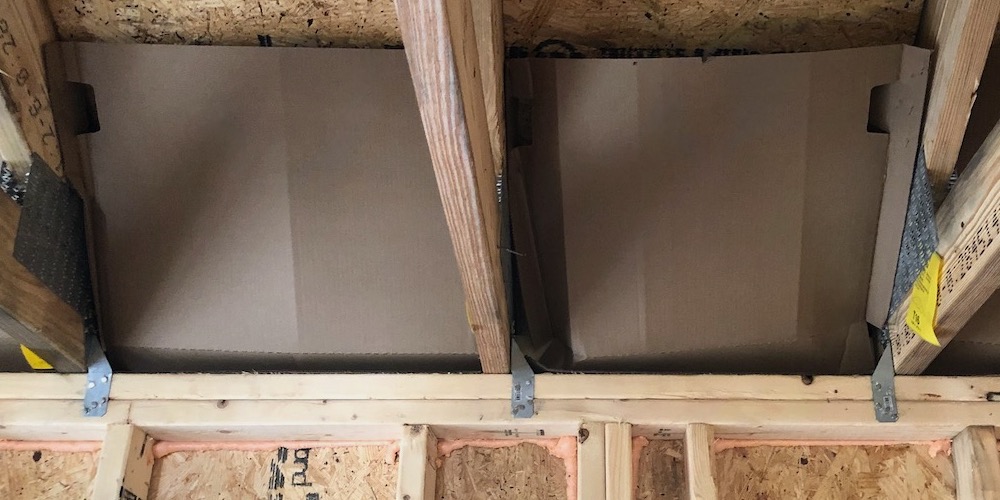 But it's not all puppies and candy. Yes, building enclosures have improved overall, but some details still need more attention. Take those attic venting baffles in the photo above. They're bent in a way that will allow almost no insulation over the top of that exterior wall. It's bad enough that they're not using raised-heel trusses that allow full insulation depth there. Maybe this builder has a walk-through to fix things like that before the drywall goes up, so it could still get fixed. But not doing it right the first time is a problem.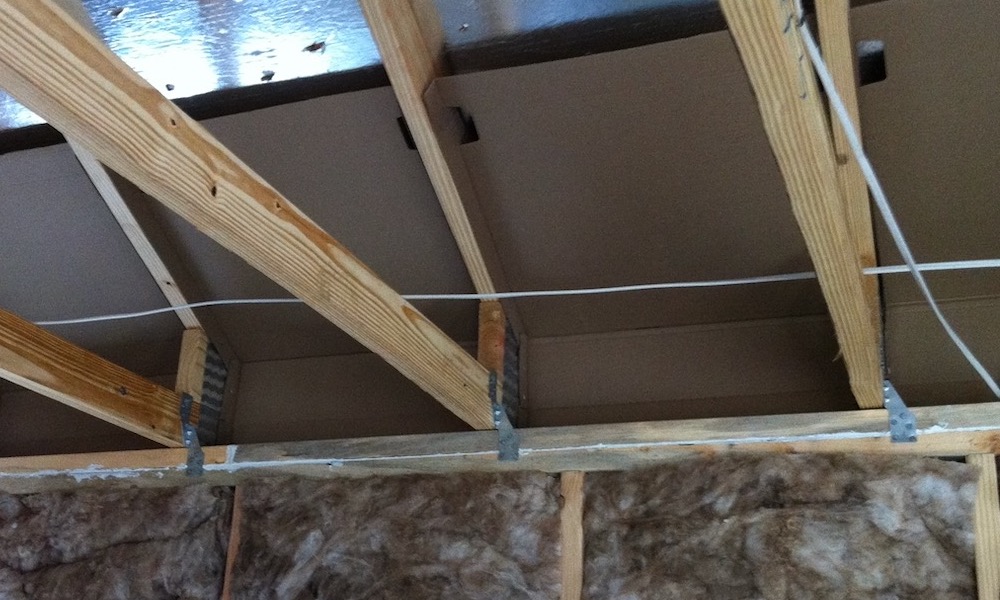 The photo above shows what the venting baffles should look like. I took this photo at a Habitat for Humanity project in Nashville, Tennessee.
The ducts are still a mess
The design of the home still calls for a lot of ducts in an unconditioned attic. We know that's the worst place to put them, and we have many ways of getting them into conditioned space. This house also used flex duct for everything coming off the plenums. Some of them were run high in the attic, where summer temperatures are the highest.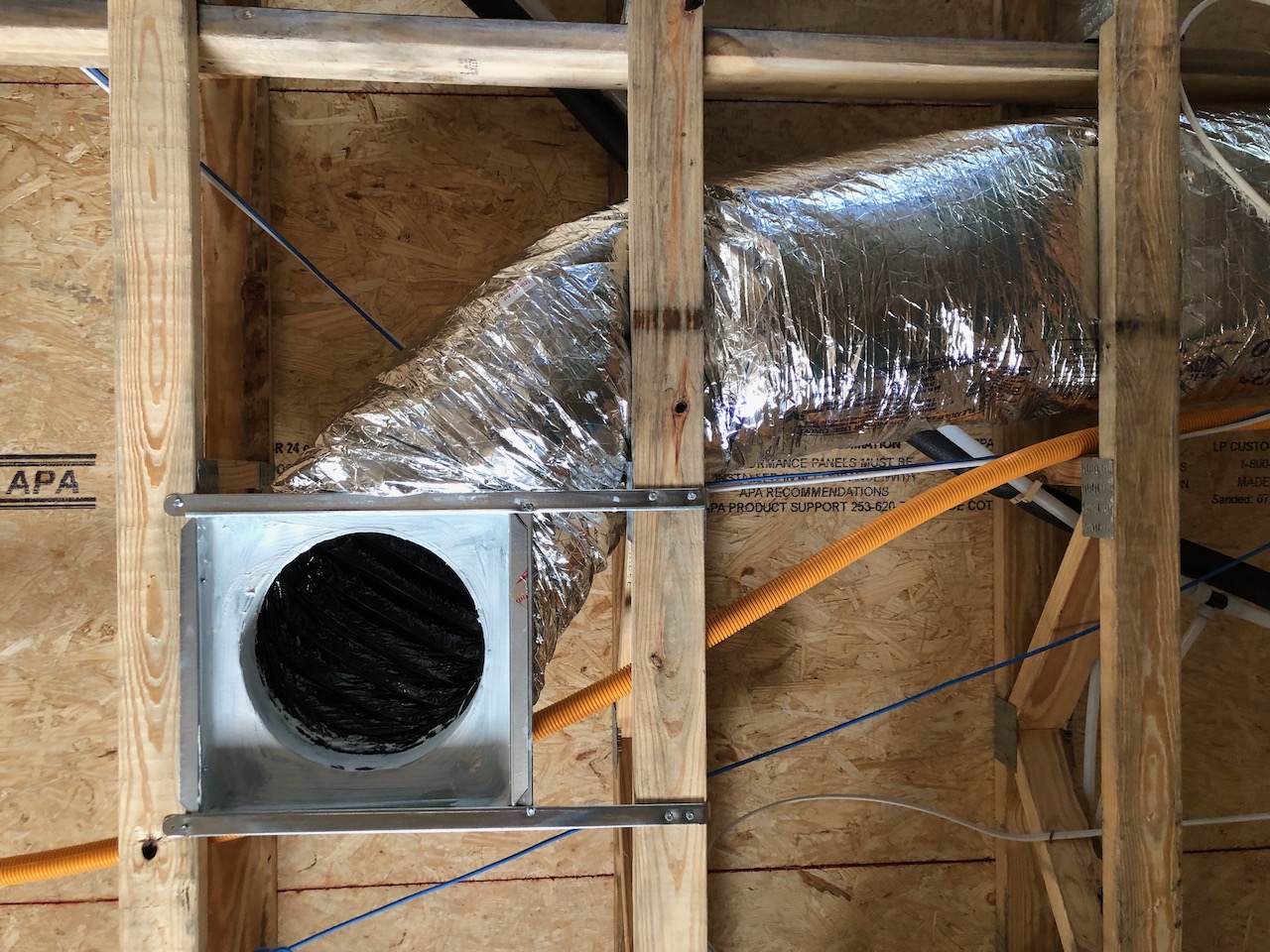 The photo above shows another problem. A 12-in. flex duct comes through the open web trusses and makes a sharp turn onto the metal boot you see here. You can't really tell in the photo, but that sharp turn changed the shape of the duct. Instead of being a 12-in. diameter circle, it became an ellipse that was 12 in. in one dimension and about 4 in. in the other.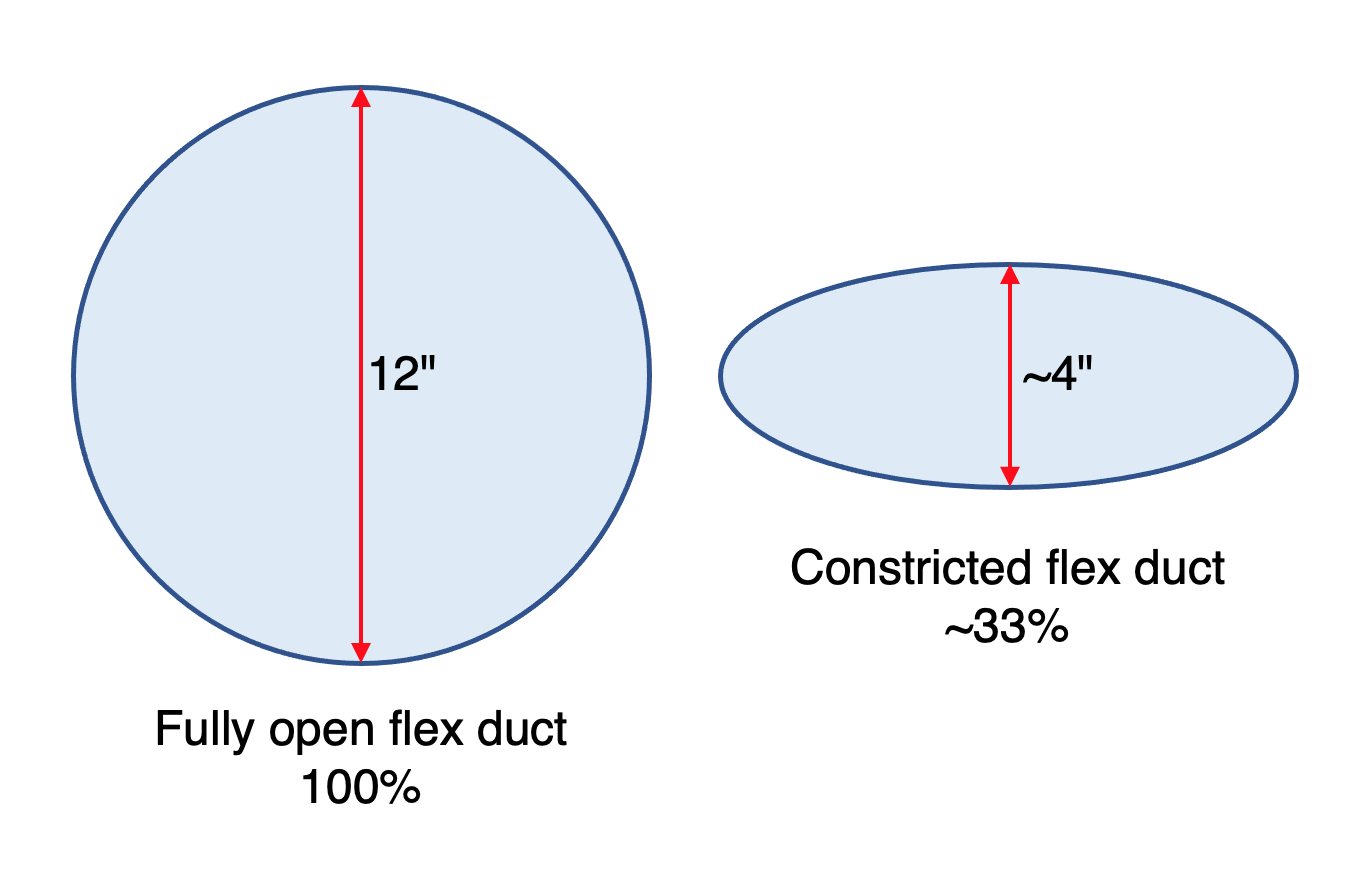 The diagram above shows what that does to the area available for airflow. Instead of having the full 113 sq. in., the air now gets forced through the smaller 38-sq.-in. constricted flex duct. That creates more resistance to airflow. And this is a return duct, which may well be undersized already.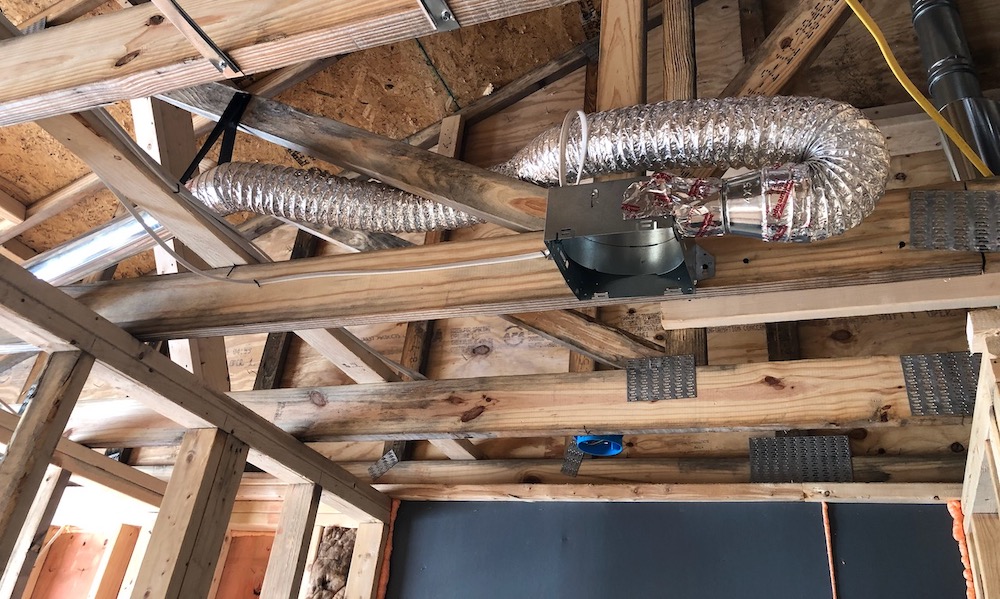 And then there are the bath fans. The photo above shows one of them roughed in, with the classic 180° turn the duct makes immediately upon leaving the bath fan. This creates a lot of extra resistance, as does the flex duct not being pulled tight. But hey, they connected to a piece of rigid sheet metal duct, so all's good, right? Nope.
The role of building codes
The big reason that building enclosures have improved so much, especially the air barrier, is that we've been requiring blower-door tests on all new homes for a decade now. When builders know their homes will be tested, they do the work to make sure they pass. Performance testing like this results in more improvement than do visual inspections.
Duct systems for heating and cooling get tested for leakage, so that part of duct systems has improved. Most building codes do not require that ducts get tested for airflow and efficient delivery of heating and cooling. That's why builders still get away with bad installations. The Air Conditioning Contractors of America (ACCA) has developed standards for quality installation and verification of HVAC systems, and using them would be a good idea.
We know how to do this stuff right. It's just not being done because it costs money upfront, which the builder pays. Putting in sub-par mechanical systems saves the builder money, but it locks in extra costs—in money and comfort—for the homeowners for decades.
_________________________________________________________________________
Allison A. Bailes III, PhD is a speaker, writer, building science consultant, and the founder of Energy Vanguard in Decatur, Georgia. He has a doctorate in physics and writes the Energy Vanguard Blog. He is also writing a book on building science. You can follow him on Twitter at @EnergyVanguard.
Weekly Newsletter
Get building science and energy efficiency advice, plus special offers, in your inbox.