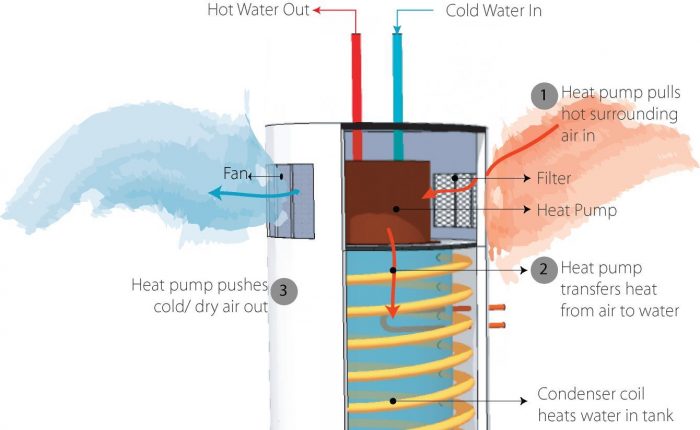 The most common type of heat pump water heater takes heat from the air and puts it into water. Of course, that's what all heat pumps do, right? Take heat from one place and put it in another. By removing heat from the air and putting into water, though, a heat pump water heater also cools and dehumidifies the air. Which is exactly what an air conditioner does. So, can you get rid of the air conditioner and just use the heat pump water heater?
Factors to consider
The first thing we need to know is how much cooling capacity we can get from a heat pump water heater. That will depend on a number of factors, the main three being:
Location of water heater
Inlet water temperature
Amount of hot water use
You won't get any cooling in the house if the heat pump water heater isn't located in the house. Some heat pump water heaters have the option to duct the intake or exhaust, so the water heater could be outside but sending the cool exhaust air into the house.
Temperatures can change significantly over the course of a year. The cooler the inlet water temperature is, the more heat you'll have to extract from the air and the more cooling you'll get. Here in Atlanta, my inlet water temperature gets up into the mid 70s Fahrenheit in summer. In a cold climate where toilet tanks sweat in summer, the water comes in colder.
Another huge factor is how much hot water you use. If you have only a couple of people in the house and do your best to conserve water, it's probably game over right there. With several occupants in a larger house, you'll get more cooling . . . but you'll also need more cooling. (Hmmm. Where is this headed?)
Can it do enough cooling?
The photo below shows the temperature and relative humidity of the air being exhausted from my heat pump water heater. At 51°F, the exhaust air is definitely providing some cooling. We could do calculations to figure out how much cooling (in BTUs per hour or kilowatts) we'll get. In fact, we have more than one way to approach the problem.
But let's keep it simple here. The most electricity I've used to run my water heater in the summer is about 30 kilowatt-hours (kWh) in a month. The uniform energy factor (UEF) of my water heater is 3.7. That means it moves 3.7 units of heat from the air into the water for each unit of electricity that I pay for.
Here's how to find the amount of heat moved into the water, and thus the amount of cooling provided to the space around the water heater.
E = 30 kWh in one month

Q = 30 kWh x 3.7 = 110 kWh (rounded)

Conversion factor: 1 kWh = 3,412 BTU
Q = 110 kWh x (3,412 BTU/kWh) = 375,000 BTU (rounded)
Wow! That sounds like a lot of cooling, doesn't it?
Maybe it is. Maybe it isn't. OK, it isn't. Here's why. Although it's in the hundreds of thousands of BTUs, a BTU is a small amount of heat. Also, that's the total for a whole month of water heater use. The main floor of my house has a cooling load of about 21,000 BTU per hour. Using my result above, I can calculate the hourly cooling rate of my heat pump water heater:
Q = 375,000 BTU ÷ (30 days x 24 hrs/day) = 520 BTU/hr (rounded)
So, my heat pump water heater doesn't come close to being able to cool my house. It couldn't even meet the cooling load of the basement (~9,000 BTU/hr), where it's located. In fact, I'd have to have about four of them in my bedroom to meet the cooling load there. (But then I'd need four times the hot water use, too.)
Sum and substance
I've ignored some of the issues involved in doing a rigorous analysis of the cooling capacity of a heat pump water heater. The split between sensible and latent cooling will have some effect, as will the air temperature and the efficiency of the heat pump water heater. But with such a large discrepancy between water heater cooling capacity and the cooling load in my house, getting rid of the air conditioner is not a viable option.
Would it ever be possible? Well, for it to work, you'd need a low cooling load and probably a lot of hot water use. Having a low inlet water temperature would help, too. If your toilets sweat in summer, you have a low inlet water temperature. Building a passive house in a cold climate and using enough hot water might get you close.
For most houses, though, no, you're not going to be able to cool and dehumidify your house with only a heat pump water heater. And that's especially true in hot or mixed humid climates. But if you try the experiment, let me know how well it works.
________________________________________________________________________
Allison A. Bailes III, PhD is a speaker, writer, building science consultant, and the founder of Energy Vanguard in Decatur, Georgia. He has a doctorate in physics and is the author of a popular book on building science. He also writes the Energy Vanguard Blog. For more updates, you can subscribe to our newsletter and follow him on LinkedIn. Photos courtesy of author.

Weekly Newsletter
Get building science and energy efficiency advice, plus special offers, in your inbox.